Wajatta Releases New Album CASUAL HIGH TECHNOLOGY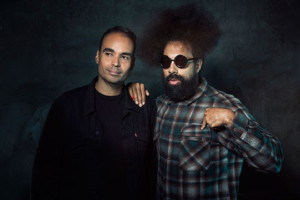 Wajatta - The New Group formed by beat-boxer/comedian/musician Reggie Watts and electronic music artist/DJ/producer John Tejada - offers Casual High Technology, its first album, on May 11, 2018 via Comedy Dynamics. Presented as a cosmic collection of funk-infused techno, Casual High Technology is the culmination of decades' worth of Watts and Tejada's favorite electronic music shaped to fit a new dance sensibility. Check out the first single, "Runnin'," on SoundCloud and the latest offering, "Get Down (With Ya Bad Self)" [feat. Justin Maxwell] at https://soundcloud.com/comedydynamics/get-down-with-ya-bad-self. Pre-orders are live now: http://radi.al/WajattaTechnology.
89.9 KCRW Presents Wajatta, the official album release concert, takes place on Wednesday, May 23, 2018 at the Teragram Ballroom (1234 W 7th Street, Los Angeles, CA 90017). Doors open at 7:00pm. Dntel kicks off the night with a DJ set at 8:00pm. Next, Wajatta will take the stage for a live interpretation of Casual High Technology, showcasing the duo's collaborative vision. Tickets for the all-ages show are $26. For more information, please visit https://www.teragramballroom.com/event/1661303-wajatta-los-angeles.
Wajatta (pronounced wa-Ha-ta), as the name suggests, is a mash-up of the artist's last names. Having grown up with similar musical influences, Austrian-born Tejada and German-born Watts draw from their love of urban, electronic music. Exploring the intersection between influences and innovation, the two describe Wajatta's music as "electronic dance music with its roots in Detroit techno, Chicago house, '70s funk and New York hip hop." Tejada's deep, melodic production makes the perfect backing for Watt's wide vocal range and live looping skills.
The Wajatta catalog began in December 2017 with the digital release of its first single "Runnin'." One of twelve tracks to have been created during the duo's early jam sessions at Tejada's home studio last year, "Runnin'" also has the distinction of being Wajatta's first physical release. A special 7" record featuring a radio edit of "Runnin'" with an instrumental b-side entered the world of things on March 30th. The full-length album's digital release on May 11th anticipates a double vinyl edition scheduled for June 29, 2018. With the BPM rate jogging between 88 and 139, Casual High Technology spans a range of styles and tastes in a constellation of tracks engineered to produce maximum danceability. Watts showcases his multi-octave soul pipes and celebrated knack for existential quandaries on album opener "We Know More (Than We Let On)" as Tejada lays a subdued electro R&B rhythm beneath clouds of ambient texture. Casual High Technology accelerates as Tejada wields the trademark electronic music production that he's honed on elite record labels around the world including Kompakt and his own, Palette Recordings. Tracks like "Slippin'," "Make Some Sense," "Je Wa Soto," and "Red and the Blue" showcase a cosmic harmony between Tejada's arrangements and layer after layer of Watts' simultaneously percussive and soaring vocals.
The album winds through powerful turns at dub craftsmanship on "The Solution" and "Easel Does It" before flirting with infectious synth-waves on "Synchronize." The hypnotic fade out of album closer "Somethin' Bout the Way" is a kinetic kiss goodnight on an album of earworms that answers the hypothetical question: What are the possibilities when two virtuosos armed with high technical aptitude and a knack for musical improvisation collide?
TRACK LIST: 01. "We Know More (Than We Let On)" 02. "Slippin'" 03. "Get Down (With Ya Bad Self)" [feat. Justin Maxwell] 04. "Make Some Sense" 05. "The Solution" 06. "Runnin'" 07. "Je Wa Soto" 08. "Red and the Blue" 09. "Let Me Come To Your Party" 10. "Easel Does It" 11. "Synchronize" 12. "Somethin' Bout the Way"
Reggie Watts - Reggie Watts is an internationally renowned musician/comedian/writer/actor who currently stars as the bandleader on CBS's The Late Late Show with James Corden. Using his formidable voice, looping pedals, and his vast imagination, Watts blends and blurs the lines between music and comedy, wowing audiences with performances that are 100% improvised. Watts' first Netflix special, Spatial, was released in 2016 to massive critical acclaim, with the New York Times calling it "a giddy rush of escapist nonsense," and dubbing Watts, "the most influential absurdist in comedy today."
As a solo performer, Watts' brand of musical/comedy fusion has led to sold out headlining tours in the U.S. and Europe, including mainstream festivals such as Bonnaroo, SXSW, Bumbershoot, Just For Laughs, Pemberton and more. On the small screen, Watts had a 70-episode run as the co-host opposite Scott Aukerman on the critically acclaimed IFC variety series, Comedy Bang! Bang!
Watts also co-starred alongside Anna Kendrick, Rebel Wilson and Skylar Astin in Universal Pictures' musical comedy Pitch Perfect 2, which has garnered over $279 million at the box office. He will next be heard as the voice of "Carl" on Original Force's Duck Duck Goose animated feature film with Jim Gaffigan, Zendaya and Carl Reiner. And tonight his new game show kicks off - Taskmaster - on Comedy Central. [twitter.com/reggiewatts | instagram.com/reggiewatts]
John Tejada - John Tejada is a Vienna-born, Los Angeles-based electronic music composer and DJ. Tejada's professional output of music began in 1994 and has never let up, including four albums for the revered label Kompakt, plus releases on Pokerflat, Cocoon, Plug Research, Seventh City, Playhouse, Defected, and his own label of 21 years, Palette Recordings. He has traveled to more than 30 countries DJing and performing live at clubs, festivals and esteemed venues such as Decibel Festival (Seattle), Dekmantel Festival (Amsterdam), Mutek (Montreal and Mexico), Sonar Festival (Spain and Tokyo), Berghain (Berlin), Fabric (London), Rex Club (Paris), the Guggenheim Museum Bilbao, the Dorothy Chandler Pavilion and twice at Walt Disney Concert Hall, both in Los Angeles. Also in high demand as a remixer, he has remixed well over 100 songs for the likes of The Postal Service, Bomb the Bass, Télépopmusic, Kevin Saunderson, Way Out West, The Field, Darren Emerson, Gui Boratto, Simian Mobile Disco, and many more. [facebook.com/johntejadaofficial | twitter.com/johntejada | instagram.com/johntejadaofficial]
Comedy Dynamics - Comedy Dynamics, a Nacelle company, is one of the largest independent comedy production and distribution companies, producing Kevin Hart's Guide to Black History, Animal Planet's Animal Nation with Anthony Anderson, the new scripted comedy on Hulu, There's... Johnny!, History's Join Or Die with Craig Ferguson, MTV2's Wild 'N On Tour, and Hulu's Coming To The Stage. The company has worked with a wide range of established and emerging comedic talent including Kevin Hart, Aziz Ansari, Jim Gaffigan, Katt Williams and many more. In total, 12 of Comedy Dynamics' albums have been Grammy-nominated, with two wins. [www.comedydynamics.com | facebook.com/comedydynamics | twitter.com/comedydynamics | instagram.com/comedydynamics]
Visit Wajatta's socials: • https://twitter.com/Wajatta4real • https://www.instagram.com/wajatta
Photo by Robyn VonSwank