Review: The West Coast Premiere of VINO VERITAS Arrives at Theatre 40 Just in Time for Halloween
VINO VERITAS by David MacGregor debuted in Michigan in 2008 and won the state's Purple Rose for Best New Play. The current Theatre 40 production is being presented as the second show of its 2017-2018 season, arriving as a perfect comedy for the Halloween season. Taking its title from a Latin proverb, which literally translates as "in wine, the truth," the skin of the blue dart tree frog wine consumed on Halloween night by two middle-aged couples as they prepare to attend a friend's annual party causes them to share an unpredictable and hilarious night of unbridled honesty that stretches the bounds of their friendship and their relationships forever.
Michael Karm expertly directs a cast that includes (in alphabetical order) Christine Joëlle, Daniel Kaemon, Kirsten Kollender and Shawn Savage,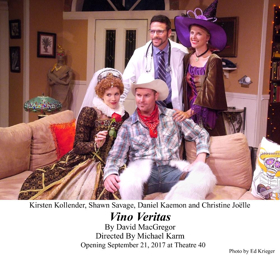 on another magnificent set created by Jeff G. Rack, lit by Brandon Baruch to evoke the spirit of the season with sound effects by Joseph "Sloe" Slawinski. With many spooky props added in by Ernest McDaniel and a wild assortment of costumes put together by Michèle Young, this team knows how to present a somewhat unbelievable premise and make it come to life as a reality of comic detail.
We first meet Lauren and her husband Phil (real-life, gorgeous couple Christine Joëlle and Shawn Savage) as she rushes to clean up their home after their kids' Halloween party so they can get ready for their neighbors and best friends, married couple Claire and Ridley (Kirsten Kollender and Daniel Kaemon), to arrive so the two couples can attend an adult Halloween party together elsewhere.
While cleaning up and deciding on hors d'oeuvres, Lauren suggests they make the night even more memorable by serving the tribal ceremonial blue wine she bought during their recent Peruvian "working vacation" as photographers. Phil, fearing the truth will set free more than is bargained for, urges her to put the wine away and not offer it to their friends. Of course, Lauren will not listen, knowing what usually turns out to be a boring night for her will be enhanced to the limit if the truth comes out about what she thinks is really going on between Phil and Claire.
Claire arrives dressed to the hilt as Queen Elizabeth (designed by Angela Nicholas) while Ridley, a medical doctor, arrives dressed in a white lab coat as if he has just walked into his office to meet a patient. Kollender charms as she struts across the stage as the Virgin Queen, a title that sets the others off in fits of laughter. After Lauren and Phil run upstairs and return as a purple-clad witch and chaps-wearing cowboy, familiar traditions slowly unravel when the foursome share a toast with the truth serum wine, all but the hesitant doctor Ridley who is on call for the next two hours.
As the effect takes place, Kollender transforms as she opens up about her disappointment with Ridley's lack of costume as well as her sexual frustration with his much-too traditional outlook on marital relations. As she gets more and more graphic, poor Ridley is mystified by his wife's hidden desires, while Joëlle's suspicious expressions let us know that Lauren suspects Phil is helping her live out those fantasies, especially when the two admit to meeting every Thursday afternoon.
I don't want to spoil the fun and won't reveal the truth, especially since I have not partaken of the mystical blue wine! But I will share that Kollender looks spectacular in the stunning black lingerie she strips down to as the scene plays out and the two couples reveal their truest feelings. Will their friendship and marriages survive? Hint: this is a comedy so of course, all the laughter leads to everything working out for the best in the end.
All four actors completely immerse themselves in the roles, with each taking on realistic mannerisms and attitudes you will no doubt recognize in people you interact with in your own lives. No doubt the laughter generated throughout the play as truths are revealed will get you thinking about what you, your mate or closest friends might say if such a truth serum were consumed by all of you at the same time. But don't even consider it - just see VINO VERITAS at Theatre 40 and let these four talented actors create an unforgettable, comedic evening of truthful theatre for you!
The West Coast Premiere of the new comedy VINO VERITAS written by David MacGregor, directed by Michael Karm, and produced by David Hunt Stafford (who is a riot dressed in costume as he delivers the welcoming speech) continues at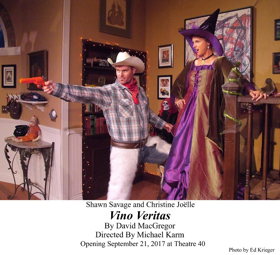 Theatre 40 in the Reuben Cordova Theatre (a professional company on the Beverly Hills High School campus), 241 S. Moreno Drive, Beverly Hills, CA, through October 15, 2017 on Thurs.- Fri.-Sat. at 8:00pm, Sun. at 2:00pm, Mon. at 8:00pm. Tickets are $30 and available by calling (310) 364-0535, online at www.theatre40.org, or at the box office starting one hour prior to each performance.
Feel free to wear your own Halloween costume to increase the mystical atmosphere created by this talented group of dedicated theatre professionals! And be sure to enjoy a shot glass of an unknown blue liquid offered in the lobby at intermission. I dare you!
Photo credit: Ed Krieger