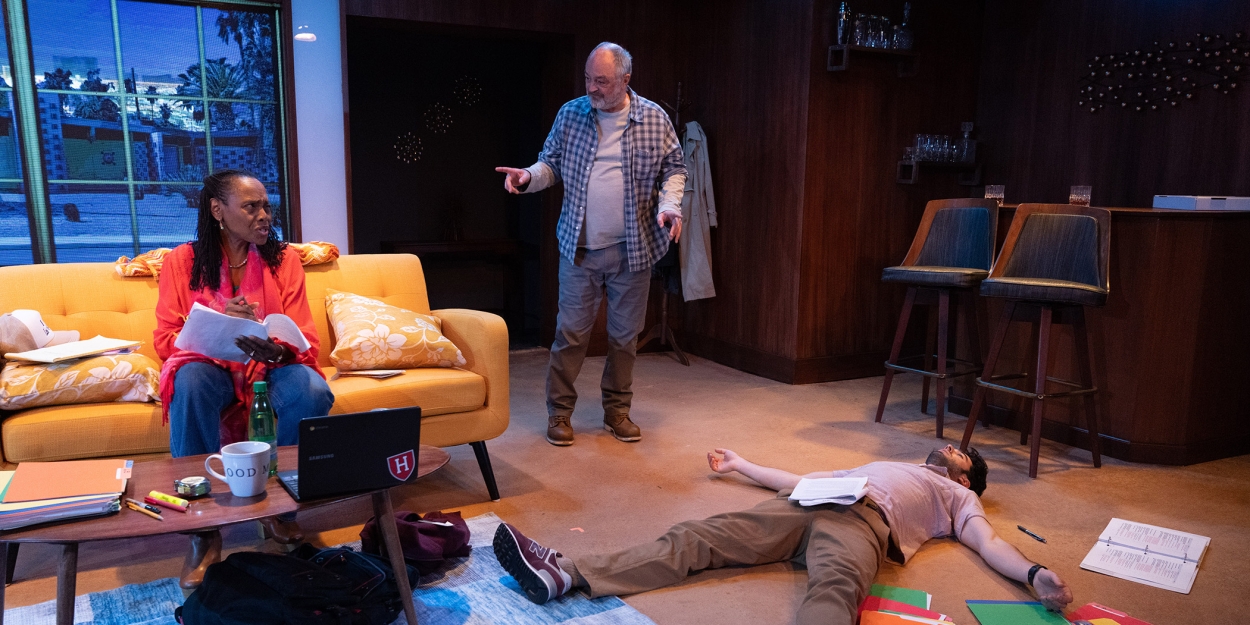 Review: THE LIFESPAN OF A FACT at Fountain Theatre
Book-inspired three-hander is a winner at the Fountain
Truth vs. embellishment. Ethics vs. essence. Article vs. essay. What I as a journalist might label a fact - something knowable and verifiable - a creative writer could transform into something untrue but still utterly beautiful.
These contradictions construct the rabbit hole that is THE LIFESPAN OF A FACT. Written by Jeremy Kareken, David Murrell and Gordon Farrell - adapting the book by John D'Agata and Jim Fingal - the 80-minute play is a three-handed intellectual argument couched in drama. Simon Levy's production at The Fountain Theatre is a smartly-acted brain-tickler that makes its points and lands its blows with humor and intellect. The time spent with author D'Agata, fact-checker Fingal and editor Emily Penrose should make any thinking theatergoer eager to start reading, start writing or at the very least, hop the next flight to Las Vegas.
Sin City - and specifically a suicide that takes place there - is the subject of a lengthy cover story (don't call it an article!) written by D'Agata for the latest issue of a high end New York literary magazine. The mag's editor, Emily (played by Inger Tudor) enlists an intern, Jim Fingal (Jonah Robinson), to conduct a final fact check. Jim gets the assignment on a Wednesday with the completed fact check due Monday without fail. She has picked the right man. Jim, a recent Harvard graduate who is looking to impress, takes a very close and penetrating look at the article. Since D'Agata (Ron Bottitta) has a reputation for getting a bit, ahem! creative ("John's been known to take his little liberties," cautions Emily), Jim is due for quite the weekend.
As are D'Agata and Emily. Turns out the liberties aren't always so little. D'Agata changes times, colors, numbers, places of origins and a lot of other stuff whenever it suits his narrative intent. "The wrong facts," he tells Jim, "get in the way of the story." Hell no, counters the fact-checker, reality is not subject to negotiation. The magazine is in New York. D'Agata is in Vegas. A meeting - collision, reckoning - is coming. Joel Daavid's set finely depicts both the magazine's upscale offices (lots of wood along with video screens and magazine covers) as well as the decidedly blue collar Las Vegas digs formerly owned by John D'Agata's mother, now occupied by the author himself.
The clash we proceed to witness is one not just of old guard vs. young buck or even necessarily accuracy over ideals. Jim can recognize the value of a well-told story and in D'Agata's ability to spin it, but he's also got a job to do. In a role played by Daniel Radcliffe in the play's 2018 Broadway run, Robinson combines eager beaver boyishness with the tenacity of a pitbull. Inhis hands, Jim a guy you absolutely believe can whip up a Vegas street map complete with traffic patterns in the name of doing a job correctly. Or even go to more drastic measures. When he meets Jim in person, Bottitta's D'Agata finds his arrogance and intimidation methods don't have quite the same effect. If he doesn't physically rip the kid's head off, D'Agata may buy this kid a drink (Or, as it turns out in real life, collaborate with him creatively.) Levy taps the push-pull dynamic between these two men for all its potential both comic and dramatic. Then when Tudor's Emily is thrown in to referee and shuffle her own ethical deck of cards, matters get even more interesting.
The character of D'Agata is the axis around which the whole endeavor pivots and Bottitta makes him a piece of work indeed. We're dealing with scruffy, flannel-wearing literary genius who argue with eloquence and boast of his degrees in Latin and Greek. Bottitta turns D'Agata into equal parts heroic crusader and thug. D'Agata Volunteered for a suicide hotline and part of his research involved talking to the dead boy's parents. They claim D'Agata's essay/article captured the essence of their dead son., messy facts and all. Does that count for anything?
THE LIFESPAN OF A FACT isn't quite certain, and happily embraces its ambiguities. Presented with these sizzling performances and some tasty brain food, Fountain Theatre attendees should share that embrace.
THE LIFESPAN OF A FACT continues through April 2 at 5060 Fountain Ave., LA
Photo of Inger Tudor, Ron Bottitta and Jonah Robinson by Jenny Graham.