Review: DEAR JOHN, WHY YOKO? Musically Celebrates the Love that Survived Despite Overwhelming Odds
Every June, I attend many shows at the Hollywood Fringe Festival, the annual event taking place on Theater Row and in surrounding areas. But so far, none has impressed me as much as "Rock and Roll's Greatest Lovers" which I saw in June 2014. With music by Anzu Lawson and Joerg Stoeffel, book and lyrics by Anzu Lawson, it told the Romeo and Juliet story of John Lennon and Yoko Ono, two rebels from opposite ends of the world who stood together in the name of LOVE, only to face every kind of hate directed at them from fans, the press, and especially the United States government who viewed the outspoken former Beatle as a threat to the re-election of Richard Nixon in 1968.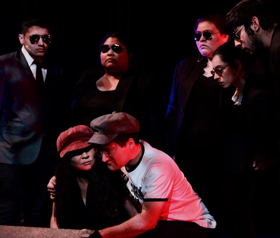 Playwright Anzu Lawson portrayed Yoko Ono with amazing vitality and honesty about who the misunderstood artist really was back in the halcyon days when she met and married John Lennon, after their chance meeting at a small London art gallery where she was invited to display her off-beat art pieces. Lawson dedicated the play to Yoko Ono for her strength of spirit to carry the message of love to us, still to this day, and for anyone who has ever been misunderstood for speaking their own truth authentically.
After that performance, I spoke with Lawson and Stoeffel about how the performance moved me and spoke to the teenager I was when the Beatles burst on the scene, and how John Lennon's death deeply affected me in December 1980. It felt like a door shut on the truth and halted the hope that speaking out against hate and war might actually affect the world's betterment for all people. And I am sure I was not alone in those feelings, given the reaction of other audience members in the house when I attended the Fringe show.
So, imagine my joy when I found out the musical had been expanded into a full production and was to be staged at Cal State LA in April 2018, directed by Stephen Rothman with choreography by Mia Hjelte, in the hope negotiations for either a feature film or other media production could be done with Yoko Ono's "seal of approval."
And if you are reading this review, Ms. Ono, please know that Lawson and Stoeffel have created a beautiful and awe-inspiring story which allows its audiences to better understand how your partnership with John Lennon inspired you both to live out your dreams, no matter what obstacles stood in your way. With your message of "Peace and Love" even more relevant and needed in the world today, please give them your blessing to share their honest vision of your love story with as many people as possible.
You see, their play now titled DEAR JOHN, WHY YOKO? tells the untold story of a love that changed the world and defined an era fraught with the same type of protests taking place now. It is my hope by sharing your story, we may all be lucky enough to live out our own dreams in a world where peace and love really exist between all people and war is dead. And we will have John Lennon and Yoko Ono to thank for that vision.
Now infused with 24 originals songs written to reflect the unfolding love story between John and Yoko, we first learn of her WWII terrifying childhood experiences in Japan in "I Know War,"
to both recounting how life seems to be just "About the Money" as their careers take off and their careers start to get in the way of their marriages. So when the moment arrives and John climbs that "White Ladder" to read the single word 'yes' it speaks to his soul, beckoning him to learn more about Yoko as the artist and as a person. It is to the credit of Anzu Lawson's Yoko and Alex Keane''s John portrayals that these two (in)famous lovers become more to the audience than just who the media said they were, but two real people searching for someone who just "got" who they really were.
As their soul mate attraction builds ("Wonderful"),
John and his wife Cynthia (Ingrid Weeks) take off for the often-talked-about Beatles trip to India in February 1968 to study with transcendental meditation the Maharishi Mahesh Yogi. Finding him constantly reading and quoting a book from Yoko, Cynthia confronts him about his obsession, while back home Yoko's husband Tony Cox (Terrence Robinson) questions her infatuation and what a rock musician's lifestyle would do to their daughter during "Half a Moon." This song is performed in front of split screen images, showing that even though they are half a world apart, John and Yoko are ensconced in each other's hearts, forcing these two half Moons to realize they need to be together to make their lives whole and complete, despite the overwhelming odds.
Their love story does survive despite public outcry and the emotional ramifications between
John and his fellow Beatles when he insisted she attended their recording session with him, which many felt led to their split as a group. But perhaps younger members in the audience never realized that getting involved with John forced Yoko into a decades-long custody battle for her daughter Kyoko with Cox; her longing for their reunion heartbreakingly shared in "Don't Forget to Remember."
While I would love to talk about all the magnificent protest songs in the updated production, which I would do if I could write a 10-page review, let me just share what really spoke to me as a life-long Beatles fan who first struggled to accept John partnering with such an off-beat woman when he could have had anyone in the world to live at his side. Lawson and Stoeffel have created many songs which allow you to focus on the beliefs shared between the two soulmate lovers so that it is easy to see how connected they were to each other, even during their separation when John lived on the West Coast to "find himself" while Yoko remained in New York.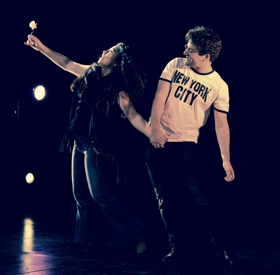 Those wild and crazy days led John into getting hooked on drugs until "Elton Enters" (sparklingly portrayed by Edgar Rodriquez) his life and gets him back onstage performing. After attending that Madison Square Garden concert, Yoko agrees to take him back as long as he can "Shake the Monkey" of addiction. Videos by Leonel Nunez airing during this segment reflect the conflicting forces at work during this time in their lives, as do the ones shown during the infamous "bed-in" honeymoon, protest marches, and the joys shared after the birth of their son, Sean.
After being a house husband and the primary care given for Sean, John and Yoko decide it is time to get back into the studio together.
While working on their album "Double Fantasy," Yoko receives a call from David Geffen, the only major record executive who agrees to release the album exactly the way they want it done. Though initially poorly received when it was released in 1980, the album is notable for its association with Lennon's murder three week after its release, whereupon it became a worldwide commercial success, going on to win the 1981 Album of the Year at the 24th Annual Grammy Awards.
And those of us who were old enough to remember where we were when we heard the news on December 8, 1980 can tell you how shocking and senseless it was, rocking our world to its core.
And like me, those I spoke with after experiencing DEAR JOHN, WHY YOKO? can point to the exact place we were during the 10-minute moment of worldwide silence requested by Yoko a few days later, as well as how it united us as a generation dedicated to finding a way to support bringing love and peace into the world. I am even more committed to it now thanks to Anzu Lawson and Joerg Stoeffel's inspiring new examination of rock and roll's greatest lovers.
And I hope once the movie is made, television special is screened, or fully-mounted musical production takes off on a worldwide tour that everyone else will join the bandwagon and rock this world into the place where it needs to be: filled with love, peace, hope, and equality for all.
Photo credit: Barlo Duran