Photo Flash: Creative Planet School of Arts & VOX Femina's Stage Show/Concert
Vox Femina Los Angeles and the students from the Creative Planet School of Arts WOW'ed the audience at ZIPPER HALL in downtown Los Angeles on Saturday night during their live stage performance and concert -- Touch the Future-Teach Them Well.
With musical selections performed by VOX Femina that included Corner of the Sky (Schwartz), Everybody Says Dont (Sondheim), The Song of Purple Summer (Sheik), and with apologies to Rossini, The William Tell Mom Song, with text by Broadway Belle, Susan Egan.
VOX was joined by Creative Planet School of the Arts for Oye (Papoulis), African Lullaby (Szymko), Bring on Tomorrow (Levy) and Everybody Rejoice (Vandross). Creative Planet is a private arts magnet dedicated to providing a space for accelerated Academic training, intense Arts education, creative expression, and community outreach. By offering a disciplined and challenging curriculum that strives towards academic excellence through high expectations coupled with high energy teaching; they provide a gifted-level of education to all children regardless of pre-conceived abilities or previous standards. They hold to the belief that students who are creatively challenged, believed in, and given a clean slate to learn upon can achieve high levels of academia beyond their present expectations. By offering a diverse selection of classes in music, dance, acting and the visual arts taught by high level professionals from the entertainment and arts communities; They provide an equal opportunity for children from all racial, financial, social and geographical situations a chance to explore and/or pursue the Arts.
The evening also honored five remarkable women whose work on behalf of children have positively Touch the Future -
Alison Arngrim, Formerly Nellie Oleson of Little House on the
Prairie, an activist and lobbyist on child protection issues for
PROTECT.org
Dr. Ronni Sanio, Director of the UCLA Lesbian, Gay, Bisexual,
Transgender (LGBT) Campus Resource Center and the director and
Professor for the Masters of Education in Student Affairs
Teresa DeCrescenzo, Founder and Executive Director of Gay and
Lesbian Adolescent Social Services (GLASS);
Dr. Virginia Uribe and Gail Rolf, (Debbie Smith accepted on their behalf) Founder and Program Director (respectively) of Project 10, a Los Angeles Unified School District program that provides education and support services for lesbian, gay, bisexual, transgendered, questioning (LGBTQ) students, and other sexual minority youth.
VOX's third concert of this season, explored the many ways in which older generations can positively influence the lives of younger generations and in so doing can touch the future. As part of the evening, they honored these Los Angeles based women whose life work has been devoted to empowering young people. VOX offered their audience an unique experience and excitement of today's youth in a concert dedicated to empowering all children.
Vox Femina Los Angeles, is a women's choral ensemble dedicated to the performance of quality choral literature with an emphasis on music by women composers. Choral singing is one of the oldest performance arts in existence, but Vox is excited to perform new works and accept new
challenges for themselves and for the audience. Dr. Iris S. Levine founded Vox in 1997. In the past 11 years, Vox has established itself as one of the preeminent women's choruses in the United States with a demonstrated ability to perform highly eclectic repertoire, some of
which can be heard on several recordings. It has actively fulfilled its goals through an exciting schedule of performances, touring and educational outreach. Vox Los Angeles is funded through grants and private donations.
The 2009 season is supported, in part, by the Los Angeles County Board of Supervisors through the Los Angeles County Arts Commission.
Photo Credits: MATTHEW MIXON
Dr. Iris Levine with the Honorees holding their awards and certificates from the CA State Senate, City of West Hollywood and the City Council woman Wendy Greuel.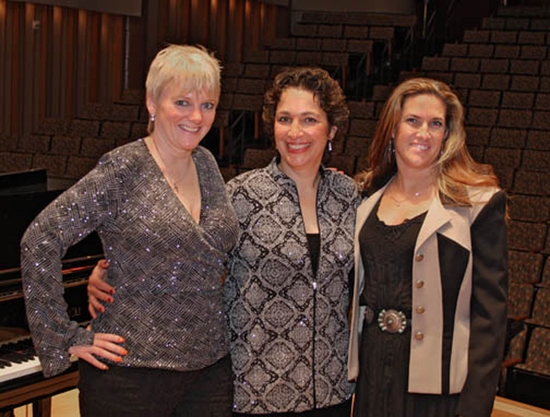 Alison Arngrim with Dr Iris Levine and Little House on the Prairie co-star Rachael Lindsay Greenbush (Carrie Ingles)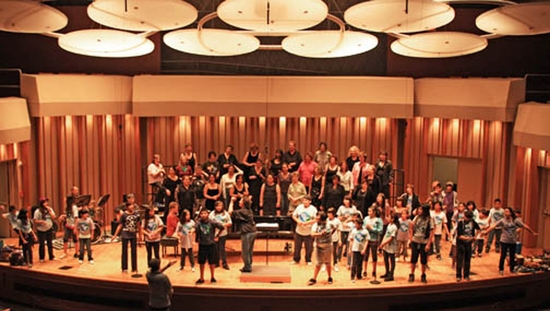 Finale rehearsal with VOX and Creative Planet.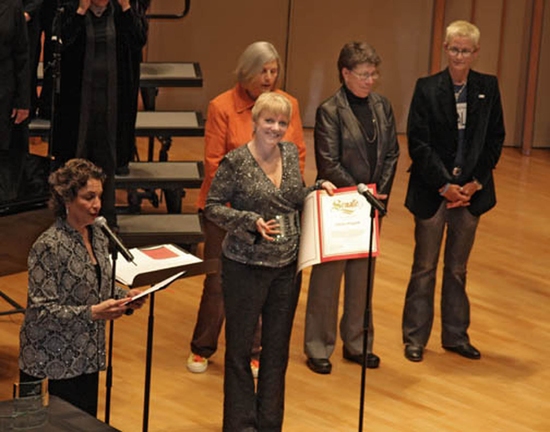 Alison Arngrim accepts her certificate of merit from the CA State Senate.

Related Articles View More Los Angeles

Stories

Shows
More Hot Stories For You