Los Angeles Premiere Of FIFTY WORDS By Michael Weller Opens March 1st At Lounge Theatre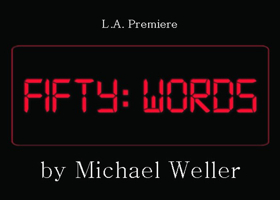 The Los Angeles premiere of Fifty Words by Michael Weller has been announced for a limited run at the Lounge Theatre in Hollywood. Featuring Olga Konstantulakis and Eric Larson and directed by Shane Stevens, the limited run opens March 1 at 8pm and runs through April 7 only.
Adam and Jan are alone together for the first time in almost 10 years. Without the buffer of their nine-year-old son (who is away at his first-ever sleepover), this smoothly scripted multi-layered play reveals how closely love and hate can be linked in marriage how with each problem experienced as parents, each subsequent layer that's revealed shows yet another problem in their marriage. The play is an incisive close-up of the emotional battleground of contemporary relationships and the lengths to which a couple will go to save it.
Olga Konstantulakis is an actor/producer and a theatre animal by trade. She produced and played Seta in Beast on the Moon at the Lee Strasberg Studio (Ovation Recommended, Backstage and LA Weekly Critic's Pick), and she produced and played the title role in Miss Julie at the Centaur Theatre in Montreal which garnered a MECCA nomination and was called, One of the most memorable productions of 2005 by the Montreal Gazette. LA theatre credits include Agnes in staged readings of The Shadow Box (ATC), Leah in The Ride Down Mt. Morgan (Malibu Stage Company), Masha in Three Sisters or Perestroika, Beatrice in Modigliani and Mademoiselle Y in The Stronger (People's Theatre), Collette in Four Dogs and a Bone (Lisa Robertson Studio/Coast Playhouse), Bess in Bury the Dead (ICAP/Union Film & Theatre Co.), and Cecily in The Importance of Being Earnest (ICAP Theatre). She currently studies acting with Larry Moss and is working next on finishing her solo piece Becoming / per nt/.
Eric Larson co-produced and played the lead in David Harrower's Blackbird (Grove Theatre Center) which was Ovation Recommended and was designated as a Stage Raw Top 10 production in 2017. He also played the lead while co-producing Time Stands Still by Donald Margulies (Complex Theatre) which was awarded an Encore! Producers' Award in the 2016 Hollywood Fringe Festival. He was a Drama-Logue Award-winner for the original LA stage production of Toe to Toe at the Cast Theatre. He performed the lead in Little Darling, an American Film Institute thesis project, earning a Best Actor nomination at the 2018 World Music and Independent Film Festival.
Shane Stevens has worked in all aspects of entertainment. From Chicago to New York to Los Angeles, his involvement has included directing, acting, casting, and producing for film, television, and theatre. Theatre highlights include co-founding Soho's igLoo Theatrical Group in New York and acting in and producing Jim Thompson's The Killer Inside Me, BUK: The Life and Times of Charles Bukowski and Terry Neil's Future. Los Angeles acting and producing includes The Engagement (Hudson), Lobby Hero (Odyssey), The Shape of Things, Boy's Life, The Lonesome West, and Fat Pig, among others. Directorial credits include theatre productions of Frozen, Savage in Limbo, and Adaptation, numerous film shorts, commercials, and his feature film debut The Longer Days of Happiness which traveled the festival circuit garnering praise and winning several awards.
John Mahr is the set designer, Kaitlin D. Chang is lighting designer, and Noah Donner-Klein is sound designer.
The running schedule is Friday and Saturday at 8pm and Sunday at 3pm through April 7. General admission seating is $20 and tickets may be purchased online at fiftywords.brownpapertickets.com or by calling (800) 838-3006.
The Lounge Theatre is located at 6201 Santa Monica Boulevard (just east of Vine, at El Centro), in Hollywood, 90038.