London-Based Duo Young Gun Silver Fox to Launch First Ever US Tour With Dates in Brooklyn, Chicago & More
The duo fuses the talents they've mastered in their respective careers to create the unique and distinctive sound showcased in their music.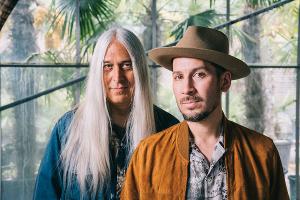 London-based Young Gun Silver Fox will be performing in the US for the first time ever. The dynamic musical duo of Andy Platts and Shawn Lee are touring in support of Ticket To Shangri-La, their fourth studio album and finest work to date. The ten-track album is a masterful blend of mid 70s to early 80s contemporary Pop/Soul, AOR, and sunny beachside grooves. Young Gun Silver Fox is excited to bring the west coast vibe showcased in their music to the US. Shawn states, "Bringing this music back to it's spiritual home is a dream come true for us." Stream their latest album Ticket To Shangri-La here.
Young Gun Silver Fox's upcoming tour dates will be the first opportunity for fans to see the London-based dyad perform live in the US. Joined by Dave Page on bass and Adrian Meehan on drums (and two horn players for select shows), Young Gun Silver Fox's live show takes the essence of their records distilled down to a live band format. Andy states, "Our live show is all sunshine and feel-good vibes plus I would also say that we double down on the groove and soulful side of things. Expect intense aural pleasure!" Hearing the music live promises a unique experience, Shawn explains, "We do smooth and buttery of course but there's an intensity and explosiveness to what we do live that gives our songs a supercharged lease of life."
The band has built a strong reputation globally with their stellar live performances which has led to them finding fans in the many far flung corners of the world and securing the endorsement of musical legends. "I was surprised to discover how many Brazilian musicians were fans when I was in Rio doing some recording," enthuses Shawn, "and I was very pleased to hear that Jeff Lynne from ELO was a big fan."
The creative forces behind Young Gun Silver Fox are Andy Platts and Shawn Lee. With an unprecedented musical chemistry, the duo fuses the talents they've mastered in their respective careers to create the unique and distinctive sound showcased in their music. Andy Platts is a world renowned songwriter/vocalist best known for his work with British Soul sensations Mamas Gun as well as his songwriting collaborations with legends like Rod Temperton and Brian Jackson. Shawn Lee's extensive catalog of recordings with the likes of Ping Pong Orchestra and his well-received solo albums have placed the producer, composer, and multi-instrumentalist at the forefront of the global soul and funk community. Shawn has also produced for acclaimed artists such as Lana Del Rey, Amy Winehouse, Alicia Keys, and Leeann Rhimes. Since uniting as Young Gun Silver Fox in 2015, the duo has released four studio albums, amassed millions of streams worldwide, and garnered critical acclaim from Pitchfork, PopMatters, Glide Magazine and more.
The duo's fourth studio album showcases a band at the very top of their game, fine-tuning their potent brew of sun-kissed pop-soul, west coast AOR and natural groove with a skill for composition and production that sees them forging ahead down a musical highway blessed with blue skies and positive vibrations. Aptly titled Ticket To Shangri-La, the record transports the listener to a magical, mythical world of sunshine and good vibes, a musical and spiritual ethos born from the minds of two gifted musicians that stands as the embodiment of all they do best, whilst providing the perfect invitation into their unique world.
Catch Andy and Shawn as they bring the Young Gun Silver Fox live experience to North America this Spring. See the full list of tour dates below. Buy/Stream Ticket To Shangri-La: https://slinky.to/TickettoShangriLa
Tour Dates
3/9 - Brooklyn @ Bowery Ballroom - Tickets
3/12 - Toronto @ Adelaide Hall - Tickets
3/14 - Chicago @ Lincoln Hall - Tickets
3/20 - Los Angeles @ Troubadour - Tickets
3/21 - San Francisco @ The Independent - Tickets
Links