Laguna Art Museum Celebrates New Philanthropic Giving Group With Inaugural Dinner and Awards Night
The Directors Circle giving directly supports the museum's major initiatives, education programs, exhibitions and community engagement.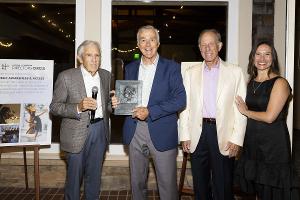 Expanding support efforts and enhancing its mission to take the museum to greater heights, Laguna Art Museum recently created the Directors Circle, a new high-level patron group of museum members whose philanthropic support will allow the museum's mission to flourish.
The Directors Circle giving directly supports the museum's major initiatives, education programs, exhibitions and community engagement. Members of this special group have access to unique opportunities and connect with other patrons to learn about museum initiatives and help the organization continue to grow as a sustainable and dynamic institution.
"While we have a strong staff and Board of Trustees at the museum to guide us, it will take individual members of our community to achieve our goals and vision of being a locally loved and nationally recognized organization," said Julie Perlin Lee, Executive Director of Laguna Art Museum. "In the past year, we have developed several programs, public and private, and among the most important is the establishment of the Directors Circle."
On September 15, the museum celebrated the newest giving group with an inaugural dinner and awards night held at the beautiful Montage Laguna Beach, a major sponsor of the evening. The event was filled with energy and excitement, as Haddy Music provided entertainment, with florals from Cargo Creative, and delicious food and cocktails. Guests were also treated to limited-edition Electro Florals created by the 2022 Directors Circle featured artist Baldemar Fierro, and joined by artist John Sonsini, whose work is currently on display at the museum, and the forthcoming 2022 featured Art & Nature artist Rebeca Méndez.
The evening also toasted California Art Historian Nancy Dustin Wall Moure for receiving the Wendt Award for her contribution to the arts and honored Ranney and Priscilla Draper with the Anna Hills Award for their generous support of the Laguna Art Museum and establishing a $1 million museum endowment fund, as well as their dedication to supporting the arts, environmental and educational causes that strengthen the local community.
"One of the highlights of the night was the presentation of the Anna Hills Award to Ranney and Priscilla Draper for their generous gift of $1 million to the museum's endowment," said Perlin Lee. "After the event, the museum received word that the Draper family's generosity inspired not one, but two, individuals to pledge $100,000 gifts to ensure the longevity of Laguna Art Museum in our beautiful city."
The museum offers a variety of support groups and membership levels that help keep art access alive and thriving. For more information about Laguna Art Museum, visit lagunaartmuseum.org. To stay connected and learn about upcoming events, follow the museum on Facebook, Instagram, and Twitter.
More Hot Stories For You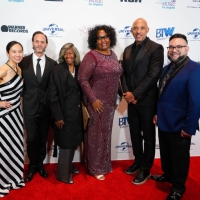 Award-Winning Artists Celebrate the Continued Success of Education Through Music-Los Angeles at November Gala

December 1, 2022

Education Through Music-Los Angeles (ETM-LA), a 501(c)3 nonprofit, hosted their 17th Year Celebration Benefit Gala last night, the evening of Wednesday, November 30th, 2022 at the Skirball Cultural Center.
---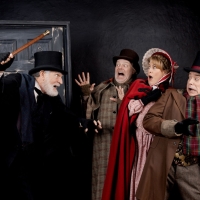 Ensemble Theatre Company Announces Very Special 'Family Day at ETC' Performance of A CHRISTMAS CAROL

December 1, 2022

Ensemble Theatre Company (ETC) has announced the addition of a special performance of A CHRISTMAS CAROL, made possible by generous donations from Sara Miller McCune and the Léni Fund!  
---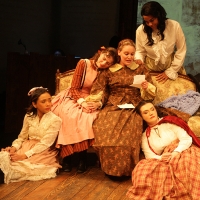 Photos: First Look at LITTLE WOMEN at Chance Theater

December 1, 2022

Chance Theater, Anaheim's official resident theater company, will remount the poignant and captivating "Little Women - The Broadway Musical". Book by Allan Knee, music by Jason Howland, lyrics by Mindi Dickstein; directed by Casey Long, with music direction by Gabrielle Maldonado. Check out photos here!
---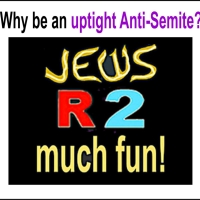 WHY BE AN UPTIGHT ANTI-SEMITE? JEWS R 2 MUCH FUN Comes to Santa Monica Playhouse

December 1, 2022

Kathy and Stanley are deeply in love. They want to get married. Stanley is Jewish, Kathy's a Catholic. Interfaith marriages happen all the time in America. But Kathy's father Chris considers Stanley's father Marv to be a hated, sworn enemy and has felt this way for many years. Kathy and Stanley's families are to be united in matrimony. In order to prevent Chris' hate from derailing their happiness, they devise a plan. Stanley's family, aided by Kathy's mother Mary, are about to give Chris a very special education. Hilarity ensues. Chris will ultimately have to deal with the question Why Be an Uptight Anti-Semite? Jews R 2 Much Fun.
---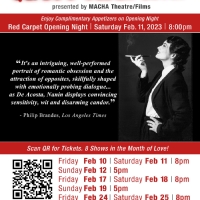 GARBO'S CUBAN LOVER Comes to Casa 0101 Theatre in February

December 1, 2022

MACHA Theatre/Films will present the critically acclaimed play Garbo's Cuban Lover. First produced in 2001, the new mounting will be a 'reimagined production' of the show, with more music, dance and multimedia.
---