California Premiere Of Lucas Hnath's THE THIN PLACE to be Presented at Echo Theater Company
In The Thin Place, Hnath toys with perceptions of reality and the omnipresence of death.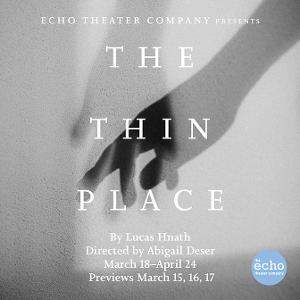 Linda can speak with the dead. Hilda wants to. The Echo Theater Company presents a spine-tingling new play that questions the things we don't know and can't understand. Abigail Deser directs the California premiere of The Thin Place by Obie Award-winning playwright Lucas Hnath (Broadway's A Doll's House, Part 2; Hillary and Clinton; Dana H), running March 18 through April 24 at Atwater Village Theatre. Three Pay-What-You-Previews are set for March 15, 16 and 17.
Can we talk with the departed? Communicate with loved ones we've lost? In The Thin Place, Hnath toys with perceptions of reality and the omnipresence of death. Are psychic abilities real, or merely a cunning illusion that awakens our deepest desires?
Linda (Janet Greaves) promises that if you listen - really listen - she can take you to the "thin place," the fragile boundary between our world and the next. Hilda (Caitlin Zambito) is grappling with loss and seeking answers. She is listening - hard.
"Grief and loss can propel us into this unfamiliar, unrecognizable and often alarming territory where our questions ring loudly and answers are elusive," says Deser. "Our varied religious and scientific structures that we hold true cannot fully explain where the anima, the soul of our loved ones, has disappeared to when their corporeal expression has been shed, left lifeless."
Joining Greaves and Zambito on the Echo stage are Justin Huen and Corbett Tuck as fellow questioners Jerry and Sylvia.
Spiritually charging the atmosphere is the scenic design by Deser and Amanda Knehans, lighting design by Matt Richter, sound design by Alysha Grace Bermudez and costume design by Dianne K Graebner. The associate producer is Chelsea Spirito, and the production stage manager is Irene Lee. Chris Fields and Kelly Beech produce for the Echo Theater Company.
Lucas Hnath is a resident playwright at New Dramatists and his plays have been produced or developed at Actors Theatre of Louisville, The Culture Project, Ontological-Hysteric Theater, Ensemble Studio Theatre and Rattlestick Playwrights Theater, among others. His play A Doll's House, Part 2 premiered on Broadway in 2017 and received eight Tony nominations including "Best Play" and an Outer Critics Circle Award nomination for "Outstanding New Broadway Play." Other plays include Hillary and Clinton, Dana H, The Christians, A Public Reading of an Unproduced Screenplay About the Death of Walt Disney, Red Speedo, Isaac's Eye, Death Tax and The Courtship of Anna Nicole Smith.
Founded in 1997, the Echo Theater Company has gained a reputation for producing and developing exciting new work. Under the artistic leadership of Chris Fields, the company has championed playwrights for a quarter century, producing and commissioning numerous world premieres and introducing Los Angeles to playwrights David Lindsay-Abaire, Adam Rapp and Sarah Ruhl among others. The Echo has won countless Los Angeles Drama Critics Circle, Ovation, LA Weekly and Stage Raw awards, and is frequently cited on end-of-the-year "Best of Lists" including by the Los Angeles Times, LA Observed and NPR affiliate KCRW 89.9 FM, among others. The company was anointed "Best Bet for Ballsy Original Plays" by the LA Weekly and was a recipient of a "Kilroy Cake Drop" to honor its efforts to produce women and trans writers. KCRW declared that "Echo Theater Company is on a fierce journey," and Los Angeles Times theater critic Charles McNulty wrote, "Artistic directors of theaters of all sizes would be wise to follow the [lead] of the Echo's Chris Fields, who [is] building audience communities eager for the challenge of path-breaking plays."
The Thin Place opens on Saturday, March 18, with performances continuing on Fridays and Saturdays at 8 p.m.; Sundays at 4 p.m.; and Mondays at 8 p.m. through April 24. Three preview performances are set for Wednesday, March 15; Thursday, March 16; and Friday, March 17, each at 8 p.m. Tickets are $34 on Fridays, Saturdays and Sundays. All Monday night performances, as well as previews, are pay-what-you-want. Atwater Village Theatre is located at 3269 Casitas Ave in Los Angeles, CA 90039.
For more information and to purchase tickets, call (310) 307-3753 or go to Click Here.