BWW Review: Under The Moonlight MOVES AFTER DARK Shines at Walt Disney Concert Hall
On a warm summer evening, a full moon highlights and envelops the outdoor three-piece dance concert at the intriguing and wondrous Walt Disney Concert Hall. Unlike the musical concerts and programs that are normally held there, these three dance pieces were choreographed, each in a different area outside or around the exterior of the Hall's structure, and sometimes even on the structure!
Three female Choreographers are Presenting three unique Site-Specific Dance pieces. I was very impressed with each Choreographer's ability to find new ways of using space, objects, shapes, emotion and perception of time. We (the in-motion, movable, audience) went on an interesting journey, inside, out, in again, outside again, through flights of stairs, winding, often, to stop at a site.
There were three location changes in the first piece. They were all nearby each other, but all different settings that we would walk to and gather around. The title of the piece is "Mixed eMotion Theatrix; Gatsby Redux," and the theme was the Roaring Twenties era. It began outside; inside Keck Amphitheater, where we were faced away from it and told to look in the direction of an arced set of heavy concrete benches. Very simply, unnoticed at first, somewhere in the distance music starts drifting in as you sense something, then see it, and a wonderful dance story unfolds, using, as the term suggests, site-specific choreography. The dancers were attired in elaborate beige flapper dresses, each a little different from the other and smart looking suits for the men. All with a pale hue that went so well with the light and cheerful melodies from that era. The use of the concrete benches was maximum, as they would sit next to each other, then step down a bench as they lifted each other to and from different levels, sometimes laying down, leaping up, working their way in and out of the benches. The dancers were mainly paired in couples and in a flirtatious mood throughout the entire piece.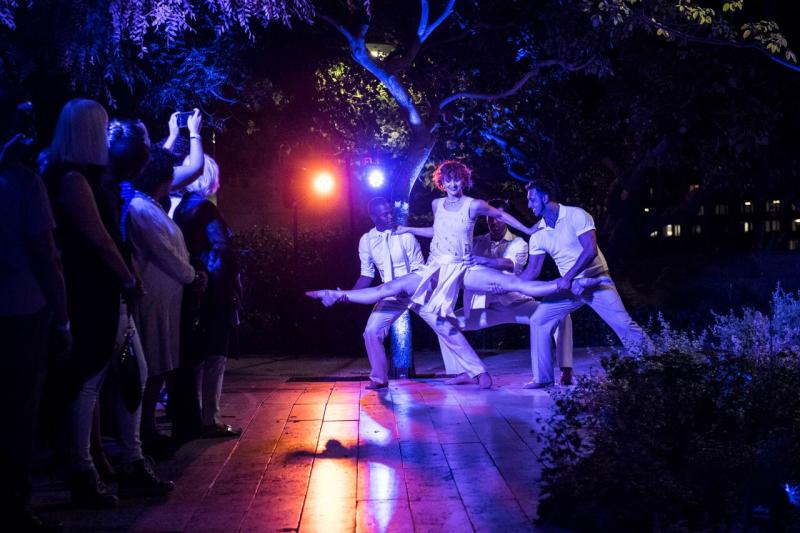 Then we moved to The Blue Ribbon Garden, a small intimate garden setting where they continued dancing in couples, in and out of the bushes and trees, this time the dance becoming more passionate and involved, with many interesting lifts and encounters with each other that seemed to dictate what their next moves would be.
Led next to The Fountain Plaza, a much more open space with an elegant fountain, we come upon a Great Gatsby style garden party in progress. Very upper crust body language and attitude, mixed with some clever dance combinations, highlighting the strong technique and balletic ability of all the dancers, it felt like we were a part of this swingin' soiree'.
The Disney touch was cleverly accomplished by flashing a black-and-white vintage Mickey Mouse cartoon above the area in the Fountain Plaza, as a background to the choreographed Garden Party section and finale.
Janet Roston did a superb job on the lively, upbeat and sometimes jazzy choreography, and gave each dancer the opportunity to shine on their own. The dancers; Alexandra Espana, Ava Gordy, Robert Gomez, Leah Hamel, Jacqueline Hinton, Dominique McDougal, Michael Quiett, Daniel Valentine and Tiffany Wolff were all excellent and very together timingwise and performancewise. Lovely Costuming by Allison Dillard.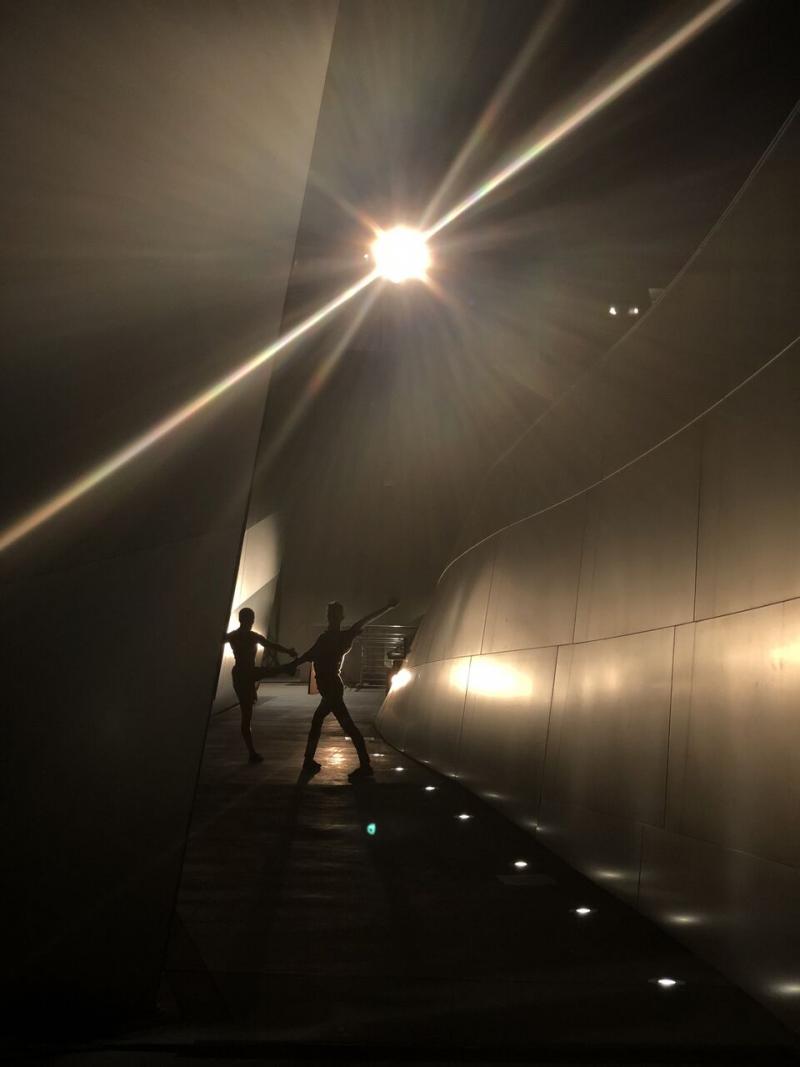 "Clairobscur Dance; Concert Walls." Next we climbed an interior stairway all the way to the very top; then let out a door which put us on a thin outdoor winding path up against the stainless steel panes of The Hall that kept changing which way the path led, like we were on a secret pathway. We wove around and at a certain point came upon a lone dancer off in a corner of the passageway that we went by, as we began to hear techno-sounding music. Every so often, turning on the path, there would be more dancers off in a distant corner, partnering, changing positions, as we kept on winding, going up, then down, hugging tight toward the steel panes of the building, discovering the dancers along the way. At one landing there was a cello player playing along with the dancers, and as we went by them the male dancers lifted up the female dancers who were literally hanging upside down and dancing along the outer Wall of Disney Hall as their partners carried them forward.
At the next bend, we came upon an outdoor area, way at the top of the building, again, still outside, that had some smooth stone bleachers facing a huge steel wall, where we sat. The dancers never stopped moving, with the assistance of a drummer this time. This last section used all the dancers, some doing certain strong or quirky movements together, others seemed to have their own thing going on, spread out along the wide surface, even one girl using the bleachers to dance her own dance. The music was appropriately "out there" sounding, and the choreography reflected a feeling of being in limbo. Every little while one of the dancers would begin twitching, awkward movements, appearing that she was possessed by something other-wordly. One section had somewhat like karate moves, very strong and accented movements; another where there was an echoing sound heard as the dancers did some interesting, intricate footwork, more lifts where the girl is carried sideways, wild squiggly arm movements, contortions and contractions as the music increases in volume and other weird sounds begin. The music switches to a rhythm guitar strain with popping techno-sounds hitting the accents as all the dancers do different moves to that same rhythm, spinning, becoming wilder in their partnering of each other; the women Penche'ing out of pirouettes, the men triple-pirouetting en Dedans, all constantly changing formations and positions. Another section was like a slow-moving kata, which is a fluid martial arts pattern, and the next moment awkward isolated movements to accents are countering it.
As the volume of the music increases, the dancers become more frantic in movement, with a tin-canny rhythm being tapped out, as they close into a tight circle, facing inward; slowly, individually breaking out and then all traveling to the other side of the stage, some in slow motion, as a single girl breaks away, twitching and twerking, now against the wall, sliding down into a ball on the ground, as if she has lost her mind completely. Finis.
This off-beat piece was choreographed by Laurie Sefton and demanded much strength and agility from the dancers, which they delivered on. A very well-performing, well-disciplined, hard-working troupe: Ellen Akashi, Camila Arana, Samantha Blaz, Sophie Diamond, Isaac Huerta, Clay Murray, Haylee Nichele, and understudy, Natalie McCall.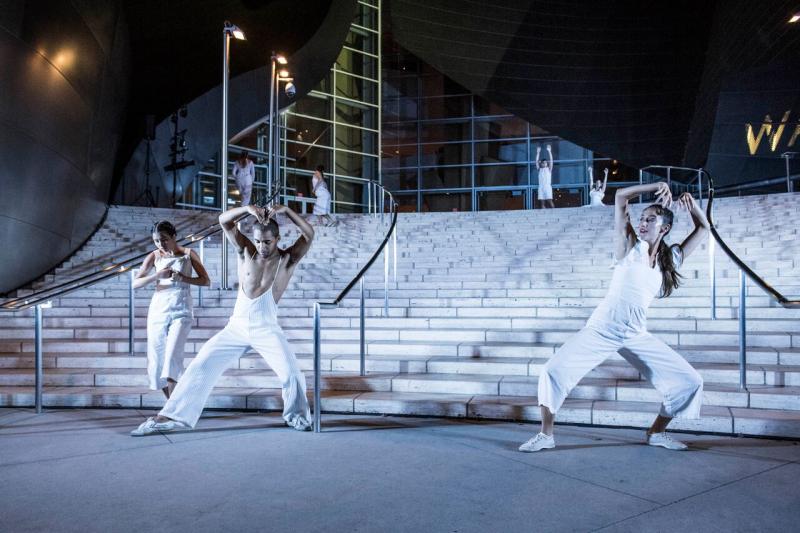 The third and last piece of this unique evening was entitled "Strange & Elegant Dance; Under/Current."
We were taken all the way down to street level, and wound around to end up at the front of Disney Hall, on the corner, where there are what are called the "Grand" stairs leading up to the entrance.
Symphonic sounds begin as the dancers enter at the base of the stairs and slowly work their way up to the top, where a male soloist dances a modern combination, then starts to move down to meet the others. There are nice sections with floorwork, beautiful, off-center lifts, in between the slow-motion odd movements as they utilize the stairs in many different ways. They crawl up and down the stairs using only their arms to move, as their legs are smoothly dragging behind them in a frog-leg position; others are at different levels of the staircase moving independently; the men sit the girls on top of a shoulder and very slowly make their way up or down the stairs, they lay down across a step, or roll down some, climbing under the bannisters, all very slow motion movement, while techno music (similar to the last piece) plays.
It is as if the dancers are all in a trance, as they look out into space, staring, with no emotion, their legato movements blending with the music. Their lines are clean and precise, especially when moving in unison, with beautiful port de bras designs. The music changes and we hear whooshing sounds, as they spin and leap with more angular moves now, and a strange voice is heard over the music, muttering something unintelligible. The modern movements are more off-center than not, giving a weird feeling of uneasiness, added to by the strange sounds that waft through. Abruptly, a disco beat starts, the accents become stronger, with a pounding gavel sounding rhythm as the dancers walk into a tight clump. As they begin to spin out, individually, a more melodic sound gives the dancers a moment to do more flashy choreography, with fan kicks, deep lunges in second position, plie'd pirouettes, all doing something different. Suddenly they freeze for a few moments, then slowly, again, in different groupings, some alone, some in pairs, walk either facing back or front, up or down the stairs, blankly staring out. One by one they make their way down and individually wander off and away.
Strange, yes, and definitely Elegant in presentation. This last piece was deftly choreographed by Holly Rothschild, with music by Luke Rothschild. The agile, powerful dancers were Genevieve Carson-Baker, Lavinia Findikoglu, Kearian Giertz, Tess Hewlett, Genna Moroni, JM Rodriguez, Carrissa Songhorian and Jamal Wade.
The lighting design for each Dance piece was imaginative and enhancing and was quite extensive, covering so many different areas outside the Hall ~
You can still catch this All-Female Choreographed Dance Evening tonight, July 31st and tomorrow, August 1st, at 8:30 pm; tickets are $30.
For information call 213.972.0711 or musiccenter.org/moves.
Photos Courtesy of The Music Center
Related Articles View More Los Angeles

Stories

Shows