Review: The Porters Take Flight with a TEMPEST On The Fly

A gaunt Leon Russom conjures up more pathos than normal as the aged Prospero in the Porters of Hellsgate's production of THE TEMPEST. Whether it is due to the fact that the actor has been battling pneumonia, which took him out of the show opening weekend mid-performance, or that his interpretation of the role centers on the last actions of a dying man, this is a Prospero we haven't seen before.
Physically, the character goes through a marked decline over the course of the play. As his outward strength slowly ebbs away and his vacant eyes begin to wander out into space, a great sadness emerges in the character's speeches. It is as if the effort to forgive the brother who wronged him, and the weight of providing a legacy for his daughter, both now executed with magic and will, have all but usurped the once powerful figure's life force, leaving in its place a frail wisp of flesh and bone.
Russom possesses the sad eyes of a man who knows he is rounding the last turn. Each outburst leaves him feebler than the one before. His reflections on the fleeting passage of time and the random inconsequential nature of life eerily communicate what many have interpreted as Shakespeare's own thoughts in his twilight years. Here, simply saying the words without artifice makes them land with superb grace.
As an actor you're taught to use what you have and, in this case, it is a paring of life circumstance, role, and actor that merge to create a walking phantom in the flesh. And although we get the happy ending of a Shakespeare comedy, methinks this is one Prospero who is never leaving the island.
As a first-time director, Alex Parker demonstrates a good working knowledge of both the play's themes and the story's intrinsic theatricality. He incorporates a variety of magical elements into his staging, and Ariel (Christine Sage), the spirit who serves Prospero, literally goes aerial for the production in a front and center performance on aerial silks rigged from the theater's highest beams.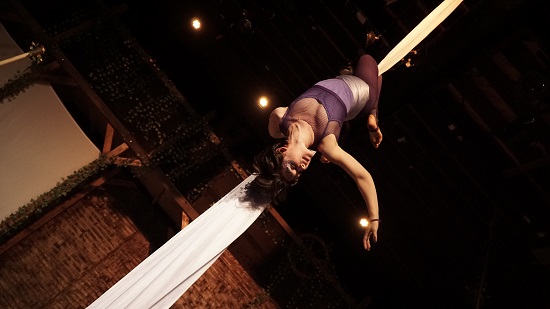 The amount of real estate she occupies in the intimate space means this is an Ariel you can't ignore. Even when cocooned in dark silk for scenes she isn't in, her presence is always felt. Her importance is also a by-product of Parker's edit of the text. Prospero wields the staff but she carries out his demands so tipping the theatrical balance to highlight her actions feels right within this variant of the play.
Prospero freed Ariel from a tree where Sycorax, a witch long since dead, had imprisoned her, and although she is bound to serve him until such time as he decides to release her, this sprite is no flitting nymph.
If this were musical theatre, I'd say she is the "sadder-but-wiser-girl" version of a spirit. Sage's performance captivates throughout. Perhaps it is because we know the level of skill she must have in order to perform on the silks, or perhaps it is the slow deliberate way she moves, or maybe it is the deep voice no typical nymph could employ. Like Russom, a worldly-wise Ariel is an uncommon choice and one that suits the play. Plus, the addition of this cirque-ified artistry elevates the sophistication of the piece and allows for some breathtaking stage pictures. Her final moment is beautifully earned.
Miranda (Kita J. Grayson) and Ferdinand's (Will Block) romance takes on less importance in this more mystical world. Block mines the part for bumbling comedy but Grayson's cursory intensity is better suited to tragedy, making this mismatched couple a surface level assignment.

A gender switch for Sebastian (Whitton Frank), plotting to overthrow Alonso, King of Naples (Sean Faye), with the duplicitous Antonio (Matthew Jayson Cwern), comes with an intriguing undercurrent of sexual attraction. Stephano (Thomas Bigley) and Trinculo's (Tim Portnoy) comic patter contrasts well with the smoother, more wavelike pacing of the production but false comedy bits like Portnoy spitting a tooth out after a slap don't land when overplayed. Bigley's drunken scurvy songs are a diligent actor's side trip into intentional foolishness. Faye masters the art of the one-word answer.
Nick Neidorf's ethereal sound design, Brian Rupp's lighting, and Parker and Bigley's scenic design provide atmospheric depth, making the island and the sea seem infinitely larger than the physical space they occupy.
The Porters strengths are visibly on display in Shakespeare's THE TEMPEST and the auspicious star under which they are presently working only raises the stakes for future productions. In their journey through Shakespeare's canon, the count stands at 23 down, 1 in the works, 11 to go. For sheer vision and creativity, their TEMPEST is an artistic win. Don't miss it.
THE TEMPEST
April 27 - June 3, 2018
The Porters of Hellsgate
Whitmore-Lindley Theatre Center
11006 Magnolia Blvd.,
North Hollywood, CA 91601
Tickets: Porterstempest.brownpapertickets
Photo credit: Ted Ringeisen