Review: Seize the Stage! Rousing NEWSIES Leaps Over to OC's Segerstrom Center
Many---myself included---couldn't believe that it took Disney almost two decades before finally unveiling a stage adaptation of the studio's 1992 live action movie musical that depicts the real-life Newsboys Strike of 1899.
Sure, Newsies was a huge box office bomb when it was first released in movie theaters, which may be a strike against it (though I'm proud to say that I contributed my $4.50 to its coffers when I saw it opening weekend). But, surprisingly enough, this flawed but cute little song-and-dance film about a bunch of young, turn-of-the-century paperboys found a new lease on life as a deeply-beloved cult favorite in the early days of home video (remember VHS, kids?), spawning entire generations of young (and, ahem, young at heart) fans singing "Seize the Day" while crossing their fingers for an eventual Broadway adaptation.
Reportedly, it has long been one of the most requested titles from the Disney catalog to be re-envisioned for the stage. But, alas, their theatrical arm instead dove into their more reliable animated feature lineup for source material.
Fast forward to Fall 2011 and NEWSIES - THE MUSICAL finally danced to life as a world premiere limited-run production at Millburn, New Jersey's Paper Mill Playhouse. Expanding from its cinematic blueprint with more songs and lots of smart new narrative changes, the brand new stage musical---directed by Jeff Calhoun and featured dynamic, wow-inducing choreography by Christopher Gattelli---reunited composer Alan Menken with lyricist Jack Feldman to revisit the songs from the film and write a few new ones to fill out its running time. In addition, and most notably, the show's producers also wisely recruited playwright-actor-script doctor Harvey Fierstein to write a new book.
Spiritually similar to the film, the most notable change in the stage iteration is the introduction of a new character, Katherine Plumber, a strong-willed cub reporter who falls for the show's central hero Jack. This new, more intriguing love interest is a hybrid of two separate periphery characters from the film---a faint, bland love interest and a male reporter covering the strike played in the movie by Bill Pullman.
To no one's surprise, the show was an instant hit with both audiences and critics, which, naturally, triggered the go-ahead for an even more celebrated Broadway bow in the Spring of 2011, a run that would eventually last for more than a thousand performances, much to delight of "fansies" everywhere, many of whom have long held a special place in their hearts for this plucky little musical (yes, including myself). Along the way, the Broadway transfer earned eight Tony Award nominations (including Best Musical) and winning two---for choreography and for original score.
Now after more than a year, the show's North American First National Tour is nearing its conclusion, finally stopping at Orange County's Segerstrom Center for the Arts in Costa Mesa through May 29 (the musical will motor down to San Diego the following week). After seeing the original Broadway production in NYC and then seeing its Los Angeles debut at the Pantages Theatre last year, experiencing this buoyant stage musical again here in my own home turf felt like a special gift. NEWSIES is a fun, uplifting night at the theater... and continues to be in subsequent, multiple viewings.
An exuberant, high-energy, smile-inducing crowd-pleaser with some of the most astonishingly explosive choreography outside of a Cirque du Soleil show, NEWSIES is an endearingly tenacious show with heart and passion, performed by an extraordinarily talented cast with a fearlessness that is synonymous with the very youthful audacity its story illustrates.
Just like the moxie and pluck displayed by its young characters yearning to be heard, the stage musical adaptation itself exudes that same palpable spunk we all want to root for, especially in this historically-based story that pits the poor little guy against the rich scary giant---the very kind that urged these underage kids to organize and stand up for themselves against the city's most powerful news moguls whom they all felt are treating them unfairly. The fact that they sing and dance their pain/anger/joy throughout the show with such fierce intensity is the awesome bonus.
In the sweltering heat of a New York City summer in 1899, the city's army of young paper-sellers (most of whom are poor, orphaned, or even homeless) become incensed by the sudden price hike placed on the purchase of a bundle of papers---a revenue-enhancing measure enacted by greedy Joseph Pulitzer (Steven Blanchard), publisher of The Evening World.
Instead of charging the consumer more for a single issue of his paper, Pulitzer decides that the newsboys must now all have to pay 60 cents for a bundle of 100 papers, forcing the "newsies" to have to sell twice as many "papes" than before just to make the same paltry amount of coin they used to earn. It's not exactly an easy task to begin with since they're already having some difficultly hawking the papers in the first place---thanks to boring, repetitive headlines about the trolley strike that aren't as enticing as, say, headlines about earthquakes, wars, scandals...
Charismatic, seasoned newsie Jack Kelly (the riveting Joey Barreiro)---a talented painter/artist who dreams of one day escaping his harsh life in New York for the clay-covered hills of Santa Fe---urges his fellow newsboys to go on strike to combat this injustice, with some assistance from his best friend Crutchie (the adorable Andy Richardson) and new acquaintances Davey (Stephen Michael Langton) and Davey's little brother Les (Ethan Steiner at the opening night performance). Smarty pants Davey feels that although the newsies are a bunch of young-in's, they should all collectively come together from all the boroughs in New York to form their own makeshift union anyway, as a sign of their strength, and that they mean business and should be taken seriously.
After facing some initial reluctance from his fellow newsboys, Jack---with guidance from Davey and support from theater owner Medda Larkin (the divalicious Aisha de Haas)---manages to incite more interest in their strike, much to the disdain of vendors Wiesel (Michael Gorman) and his goons the Delancey brothers (Devin Lewis and Alex Prakken). With a united front, the newsies could essentially "seize the day" so that "wrongs will be righted."
The good news is that Jack's crush, a witty young cub reporter named Katherine Plumber (the wonderful Morgan Keene) is super interested in covering the newsboys' story in depth and promises to give them above-the-fold prominence in The New York Sun so that all of New York can learn of their cause. The bad news? All this attention to the protest makes Jack an easy target for not only Pulitzer himself, but for Snyder (James Judy), the sadistic Warden of the Refuge, a dilapidated, badly-run juvenile detention facility.
Infectiously gleeful thanks to its memorable music, peppy, engaging story, witty banter, and its winning ensemble of honest-to-goodness triple threats, NEWSIES is a rousing, irresistibly entertaining stage musical that celebrates the tenacity of oppressed groups that stand up for what is right even if it is against a powerful adversary.
Though its easy to see why young audiences absolutely love this youth-centric musical, adults (and those, like myself, who have fond memories singing along to their worn-out videotapes of the original movie) will appreciate this show's nostalgic, historical roots and its impressive theatrical artistry. NEWSIES on stage is most definitely a worthy upgrade.
The intricate choreography of Tobin Ost's massive, mobile metallic tower sets coupled with Sven Ortel's gorgeous projections (adapted on the tour by Daniel Brodie), and enhanced by Jeff Croiter's lighting schemes and Ken Travis' sound design create an exciting, vibrant environment to envelope the actions of the show. Jess Goldstein's period costumes (that feel remarkably timeless, actually) complete the illusion. Danny Troob's orchestrations and Michael Kosarin's arrangements give Menken and Feldman's already familiar songs from the movie a boisterous refresh, sounding better than ever. And, of course, Gattelli's magnificent choreography is just beyond brilliant. He truly deserved that Tony for his work here which continues to be the show's most eye-catching aspect.
While certainly not a perfect musical, the stage adaptation is a vast improvement from the movie in pretty much every aspect, from its revitalized story to its approach to the characters (don't get me wrong, though, I'm still fond of the original film). Film-to-stage adaptations seem to still be a go-to for Broadway producers, and I can honestly say that NEWSIES, at least for myself, counts as one of the more successful transfers.
But, really, at the end of the day, what gets audiences coming back over and over again to NEWSIES is to watch these amazingly talented young people do this show and do it well. Seriously, you will be floored by their palpable joy and gusto (by the way, the adults in the cast are by no means less impressive even though they're not leaping from one end of the stage to the other).
As our central character Jack, Barreiro brings a compelling, robust stage presence to his portrayal, balancing a charming swagger with a fiery inner turmoil. His explosive outbursts are just as riveting as his quieter, more serious moments. With every appearance, he really commands the scene, and even more so when he's singing (his "Santa Fe" is glorious). Even though he doesn't get to do the acrobatic tricks his fellow dancers get to do, he holds his own by simply being a man you'd gladly stand side-by-side with in a crisis.
Barreiro has great, believable chemistry with co-star Keene who is incredible as Katherine in her own right. Her "Watch What Happens" really made me smile, as she displays a knack for mingling quirkiness, vulnerability, and effervescence within the same sentence. She's also enjoyable just being the sole girl amongst the soot-covered boys in most scenes, and yet doesn't look at all out of place.
Other co-stars worth noting include Richardson, who I saw on Broadway play the same role of Crutchie, Jack's adorable, cheerful best friend saddled with a crippled leg. This time around, he gets his own solo number, a lovely new song "Letter from the Refuge" which was added into the national tour. If you don't fall in love with Richardson and/or his character during this song, then perhaps you need to check your pulse. It's cutesy but not saccharine.
Langton is a standout as nerdy know-it-all Davey, who straddles sheepish and self-confident really well. Steiner is amusingly precocious as Les, Davey's younger brother (Steiner alternates the role with Turner Brithisel). I also love scene-stealer Meredith Inglesby in her brief appearances as Pulitzer's secretary Hannah. Her deliciously layered line deliveries certainly don't go unnoticed. Another scene-stealer is Kevin Carolan's Governor Roosevelt, who shows up late in the second act for a brief but oh-so impactful cameo.
Blanchard is also excellent as the menacing bully Pulitzer, the boys' adult adversary. De Haas makes a memorable (if all too short) appearance as Medda Larkin, the vaudeville theater proprietor who shelters Jack and provides him monetary compensation for his gorgeous backdrop paintings. She does a wonderful job with her lone solo "That's Rich," a brassy and sassy number that the show needed at that moment.
And, of course, it goes without saying that the show would be nothing (well, at least less rousing) without its remarkable title characters, those "papes"-selling guys who dance and leap and tumble up a storm, earning every bit of the roar of applause they receive all throughout the show. How these guys can muster up this much unbound energy at every performance should be applauded. Daniel Switzer, Sky Flaherty, Andrew Wilson, Michael Rios, Iain Young, Anthony Zas, Nico DeJesus (hilarious as Romeo), Nicholas Masson, Joshua Burrage, Michael Dameski, and Chaz Wolcott all wowed collectively on opening night. Even better? They all look like the age of the characters they play.
Overall, NEWSIES, now just months away from the end of its national tour remains a must-see musical which you should not pass up when you have the chance to see it near you with this cast (the show has likely been earmarked for in-demand regional productions across the country after its final tour stop this fall). With its winning combination of incredibly acrobatic dancing, family-friendly comedy, engaging story, awesome singing, and dazzling showmanship, there is a lot to love with this show---whether you're 5 or 95.
Heck, it certainly made a #Fansie out of me.
** Follow this reviewer on Twitter: @cre8iveMLQ **
Photos from the National Tour of NEWSIES by Deen van Meer ©Disney, courtesy of Segerstrom Center for the Arts. Review also published in OnStage.
---
Performances of the National Tour of NEWSIES The Musical at Segerstrom Center for the Arts continue through Sunday, May 29, 2016. Tickets can be purchased online at www.SCFTA.org, by phone at 714-556-2787 or in person at the SCFTA box office (open daily at 10 am). Segerstrom Center for the Arts is located at 600 Town Center Drive in Costa Mesa. For tickets or more information, visit SCFTA.org.
Related Stories
A So. Cal. Contributing Editor since 2009, Michael Lawrence Quintos is a talented, mild-mannered Designer by day. But as night falls, he regularly performs on various stages everywhere as a Counter... (read more about this author)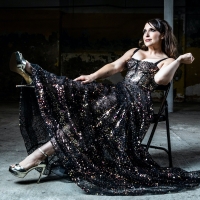 Review: Jessica Vosk is Beguiling in Solo Cabaret Debut at OC's Segerstrom Center

November 21, 2022

Broadway fan favorite Jessica Vosk's solo cabaret debut at Segerstrom Center for the Arts---which opened Thursday, November 17, 2022 and continues for two additional shows through Saturday, November 19---is, quite possibly, the most enjoyable cabaret concert this reviewer has experienced at the Center's lovely and intimate Samueli Theatre.
---
Review: Overwhelming Splendor Arrives with MOULIN ROUGE! at OC's Segerstrom Center

November 17, 2022

Loosely adapted from Baz Luhrmann's 1999 hit movie, the campy, sensory overload that is the Tony Award-winning stage adaptation of MOULIN ROUGE! THE MUSICAL---now playing at OC's Segerstrom Center for the Arts through November 27, 2022---is an entertaining pop-music-tinged feast for the senses.
---
Review: Excellent Performances Empower A FEW GOOD MEN at La Mirada

November 4, 2022

Undeniably compelling but also, at times, comfortably predictable, Aaron Sorkin's A FEW GOOD MEN is, for all intents and purposes, really a showcase for enthralling live acting performances. The McCoy Rigby Entertainment production continues at the La Mirada Theatre for the Performing Arts through November 20, 2022.
---
Review: Musical Theatre West Hits Another Grand Slam with Fun-Filled DAMN YANKEES

October 21, 2022

A truly fun-filled, ecstatically-performed iteration of this classic musical, MTW's Broadway-caliber production (now on stage at the Carpenter Performing Arts Center through October 30) is a definite must-see. The production's trio of terrific leads---Lesli Margherita, Jeff Skowron, and James Olivas---are themselves reason enough to see it.
---
Review: Powerful Play NINA SIMONE: FOUR WOMEN Stirs at South Coast Repertory

October 18, 2022

Beautifully acted (and sung) by an exquisite ensemble of gifted actors, South Coast Repertory's production of NINA SIMONE: FOUR WOMEN is a thoughtful, gut-wrenching play---punctuated with spectacular musical performances---that dives deep into the soul-baring creative process of an artist hoping to craft a seminal work of musical art, and to ensure to have that art say something profound.
---