BWW Review: Saffron Burrows is Jackie Kennedy in JACKIE UNVEILED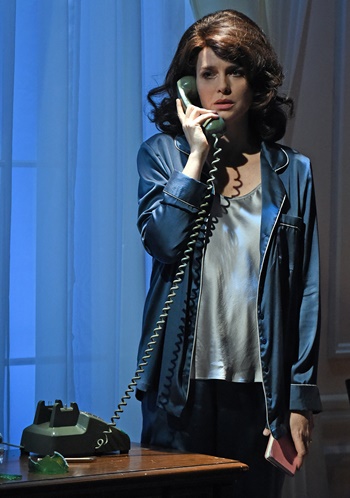 In Act 1 of JACKIE UNVEILED, Tom Dugan's new solo play about Jacqueline Kennedy Onassis, she repeats a single phrase over and over. "I'm no good alone." The chain smoking, alcohol indulging former first lady has just learned that her brother-in-law (and secret lover) Bobby Kennedy has been assassinated. Now, in the wee hours of the morning, she is distraught.
It is the final stinger in a life she has meticulously sought to protect following the death of her husband, President John F. Kennedy, five years earlier, and she is ready to throw in the towel. Death has become the most enticing option in her search for safety. She is even convinced her children will be better off without her. But first, we are asked to hear her confession.
Bobby and Jackie's not-so-secret affair is one of the most shocking subjects she discusses in the play, although if you've read C. David Heymann's Bobby and Jackie: A Love Story, you're ahead of the game. According to the book, Bobby was her one true love and the man who shielded her from a world giddy to invade her privacy.
For the first half of this 2-hour monologue, directed by Jenny Sullivan and performed by Saffron Burrows, we suffer through this dark night of the soul along with her. Burrows, tall and lissome, roams through her chic New York apartment (designed by Francois-Pierre Couture), cigarettes and excuses in tow. She talks about meeting Jack, losing her virginity, her dysfunctional family, and how she felt about her husband's numerous affairs. Though humiliated, she never left him, saying, "Would you give up your front row seat to history?"
It's a scattershot journey, to be sure, and one that doesn't yet pay off. We know she isn't really going to commit suicide, and it is one of the biggest dilemmas in Dugan's narrative. At the end of Act I, Jackie walks offstage, presumably to do the deed. We don't see her change her mind. In fact, nothing in the act has given us pause to think she might choose to live. That makes it all the more unsettling when the play picks up after intermission some 26 years later. It feels like we've been tricked.
Now we see a happier Jackie who has seemingly made peace with her demons. This act is a waiting game. She's waiting for a phone call from her doctor to see if her cancer has returned. She's also waiting for her family to arrive for a birthday party. We're waiting for something that tells us how these two moments in time are related.
In lieu of an answer, we get more stories revealing Jackie's unfortunate knack for attracting difficulty. She tells us why she really lost three children, how she was humiliated by Aristotle Onassis, and what happened the day Jack was shot. Disturbing as some of the stories are, they still feel like filler. Or maybe it is that she has perfected the art of the cool façade to such a degree that even now, in the twilight of her life, we can only see the Jackie she wants us to see.
The audience's purpose for this act is to keep her company but, like a garden party guest making small talk while sampling cardboard canapés, it feels like a trivial exchange unworthy of our fascinating host.
Burrows delivers the herculean task of presenting a two hour solo play with finesse but is also undermined by Jackie's accent. Though carefully studied and phonetically perfected, it is centered around one pitch and never varies much from it. The limited vocal range combined with a downward emphasis at the end of every sentence becomes monotonous with its predictable rhythm. And while she is working very hard to connect with the audience, it never feels like we truly get to see behind the veil. Something in the eyes still keeps us at a distance and that is a missed opportunity.
Jackie Kennedy is as intriguing a subject today as she ever was. I wanted this to be the production that gave the woman her due. Unfortunately, while it fills in some of the gaps, it didn't make me care about her any more than I did before.
Finally, speaking to the topic of theatrical convenience: for a woman who orchestrated every detail of her life to appear perfect, I don't for a minute believe she would keep a first aid kit in a toy basket on the floor next to her sofa, and I know of no woman who wears a bra under silk pajamas to bed.
JACKIE UNVEILED
February 22 - March 18, 2018
Wallis Annenberg Center for the Performing Arts
9390 N. Santa Monica Blvd.
Beverly Hills, CA 90210
www.thewallis.org
Photo credit: Kevin Parry
Related Articles View More Los Angeles

Stories

Shows