Click Here for More Articles on ART & MUSEUMS
BWW Review: Recontextualizing Architecture as Art in Pacific Standard Time LA/LA's CONDEMNED TO BE MODERN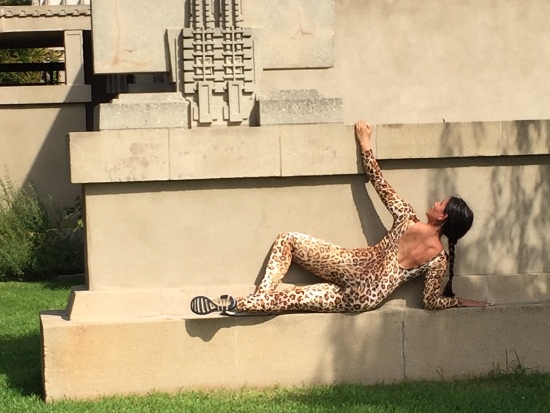 While watching Crystal Sepúlveda perform during the opening of Pacific Standard LA/LA's Condemned To Be Modern exhibit, I couldn't help but think of a quote by Frank Lloyd Wright: "Space is the breath of art." Poetic in its simplicity, it is an observation that is particularly eloquent when considering the way this collection of artists is recontextualizing architecture through the lens of the visual artist.
For the opening, Sepúlveda recreated portions of the mesmerizing performance art piece she choreographed and performed in Clarissa Tossin's 18-minute short film, Ch'u Mayaa (Maya blue), using Wright's Hollyhock House in a reimagined pas de deux for human and house. I'd have to say that's a first but I hope it's not the last.
Tossin's film is a unique addition to Condemned To Be Modern and will remain on display at the Los Angeles Municipal Art Gallery at Barnsdall Art Park through January 18, 2018. Those 18 minutes will have a profound effect on your psyche.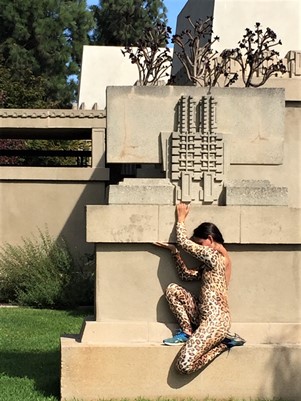 Ch'u Mayaa is as fluid as a ballet but performed in a distinctly Mayan style emphasizing the interplay between angularity and liquidity, light and shadow, space and density. Sepúlveda wraps around the concrete like a lizard clings to a wall, her movements slow and deliberate, yet stunningly graceful against the sturdy structure.
It is a canvas against which she winds and unwinds her body, over and over, while Tossin's haunting soundscape of native flute, drums, and the music of thunder, wind, breaking glass, and birds unspools in the background. Always the pulse of the heartbeat can be heard. Even the magnificent Hollyhock House vibrates like a living, breathing entity, partnering with Sepúlveda in a tactile expression that merges artist and architecture as one. Her use of space and the way cinematographer Jeremy Glaholt captures the imagery is striking; the effect, hypnotic.
Tossin was born in Brazil but lives and works in Los Angeles. Ch'u Mayaa was originally commissioned and produced by the City of Los Angeles Department of Cultural Affairs specifically for this exhibition. Her inspiration came from the images of the maize god and bird dancer so often seen on Mayan pottery, and the bright blue pigment they used in sacred rituals.
You watch the film in a tiny, darkened room at the far end of the gallery behind a heavy curtain. If you're lucky, you'll be the only one there, and I mean that with all sincerity. It is the perfect setting to experience the piece - no distractions, no bombardment from the outside world. What that enables is a connection to the work that is deeply moving...or calming, or emotional, or contemplative. Your experience will be unique to you. The entire exhibit at Barnsdall Park is free which allows for repeated viewings whenever the spirit moves you. It should move you to seek it out.
In addition to Tossin's film you can view the work of twenty other Latin American artists whose responses to modernist architecture in Brazil, Cuba, and Mexico express vivid points of view encompassing a broad range of political, social, and contemporary perspectives. Collectively, their work expands a critical conversation that examines architecture "not as a static structure but as a living organism that changes meaning and purpose over time."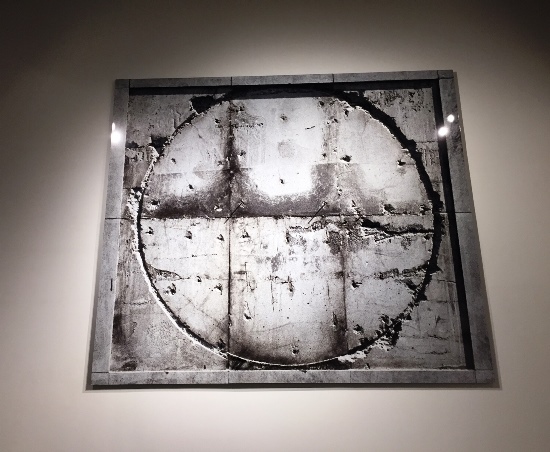 All of the work is admirable however I was personally moved by several pieces in the exhibit, one being Tercerunquinto's Dismantling and Reinstallation of the National Coat of Arms. The large photograph and accompanying video documents the removal of the Mexican coat of arms from the wall of the former Department of Foreign Affairs building in Mexico City. It was removed for 24 hours on the forty-year commemoration of the Tlatelolco Massacre in 1968, and then reinstalled.
No one knows exactly how many students died in the massacre, which took place shortly before the '68 Summer Olympics in Mexico City, but the government's attempt to politically suppress those who opposed it resulted in a bloody affair. The compelling black and white image somehow captures the grit in what it doesn't show rather than what it does. I couldn't stop looking at it.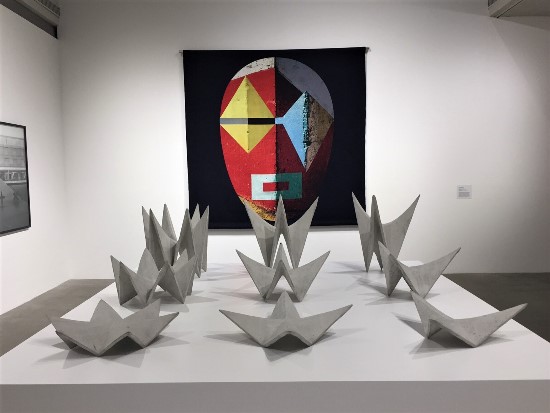 Another highlight was the juxtaposition of Héctor Zamora's Hypars and Alexandre Arrechea's Havana. While not intended to be viewed as companion pieces, their proximity to each other in the gallery created a symbiotic relationship one could not overlook. Zamora's sharp concrete angles signifying the roof shapes of modernistic buildings designed by Oscar Niemeyer and Félix Candela, and Arrechea's bold use of color drawn from chipped paint in Old Havana are breathtaking when viewed together.
A three-dimensional mixed-media installation by Portuguese artist Leonor Antunes titled discrepancies with M.G. adds a lighthearted touch to welcome visitors into the exhibit. Also featured in Condemned To Be Modern are Eduardo Abaroa, Jonathas de Andrade, Alexander Apóstol, Ramiro Chaves, Felípe Dulzaides, Carlos Garaicoa, Terence Gower, Tamar Guimarães, Lucia Koch, Runo Lagomarsino, Renata Lucas, Lais Myrrha, Manuel Piña, Mauro Restiffe, Beto Shwafaty, and Melanie Smith.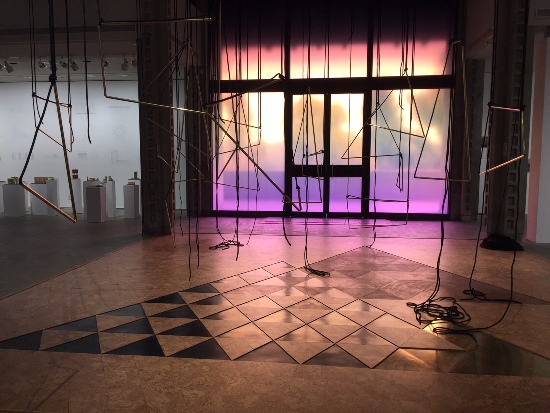 CONDEMNED TO BE MODERN
September 10, 2017 - January 28, 2018
Part of Pacific Standard Time LA/LA
Latin American & Latino Art in LA
Los Angeles Municipal Art Gallery
Curated by guest curator Clara Kim
Barnsdall Art Park, 4800 Hollywood Blvd.
Los Angeles, CA, 90027
Admission is free. Gallery hours: 12:00pm - 5:00pm, Thursday-Sunday
Closed Monday, Tuesday & Wednesday
For more information: LAmag.org/exhibitions
All photos by Ellen Dostal
Special Gallery Talks will take place on the following dates.
Saturday, September 16th at 3pm
Terence Gower and Susan Morgan in conversation.
Thursday, December 7th at 7pm
Felípe Dulzaides and John Loomis on Havana's National Art Schools.
Related Articles