BWW Review: ON YOUR FEET! Pulsates with High-Energy Rhythms at Segerstrom Center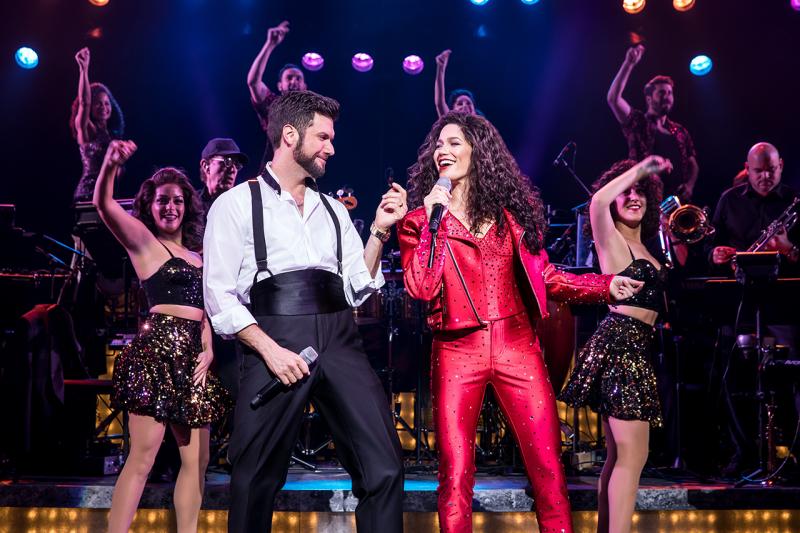 I believe the best way to describe the sensation one gets when experiencing the Broadway stage musical adaptation of multi-platinum selling recording artist Gloria Estefan's life story is to actually use one of her very famous songs: "The Rhythm is Gonna Get You."
That is exactly what happens to an ecstatic audience in attendance of ON YOUR FEET!, the infectiously high-energy 2015 jukebox musical chronicling the professional and personal lives of Gloria and Emilio Estefan, arguably the Latin music world's most successful power couple, who first rose to wide fame in the 80's pop music scene thanks to his production prowess and genius tenacity and, of course, her undeniable musical and writing talents. The pair, along with their band, the Miami Sound Machine, can be attributed to bringing Cuban-fusion sounds first to worldwide acclaim.
From start to party-like finish, the Estefan discography comes alive in this smile-inducing bio-musical, with nostalgic goodness and a fiery, determined spirit that will have everyone elated and entertained. And wedged within its familiar musical goodies is a story of perseverance, love, and triumph that connects in many different ways to its audience, no matter what background they may come from.
After a year on the road, the musical has finally made its way to Orange County's Segerstrom Center for the Arts, where it continues its two-week engagement in Costa Mesa through September 2.
While not as narratively ambitious as other musicals based on real life personalities produced of late, ON YOUR FEET! is still a very satisfying, above-average execution of a genuinely fun jukebox musical, providing an enjoyable outlet to showcase the Estefan catalog beautifully while also just allowing for the bullet points of this interesting couple's lives to be intermixed---so as to, perhaps, not totally distract from the show's real draw (which is, again, the music itself).
Under the active direction of Jerry Mitchell, the musical feels as if it is always moving along, piercing forward with the buzz of a show itching to get to the next buoyant scene, so that any time spent in sadness or melancholy is kept to a minimum. It's a great strategy to keep the audience engaged, because despite the repeated motif of the Estefans always facing one dissenting voice after another that's keeping them from achieving their goals, there's always great triumph and success at the next corner.
This sense of liveliness and vibrancy---the main reasons why ON YOUR FEET! is so enjoyable---is present in pretty much every aspect of the show, from the dazzling colors of Emilio Sosa's costumes to the eye-popping visuals of David Rockwell's scenic designs. Sergio Trujillo's vivacious choreography is a great fit for Estefan's music, full of vigor and pop star-flash, while, of course, the music---and how they're staged---is like being in a stadium tour throwback concert.
It figures that many former members of the Miami Sound Machine make up the rousing on-stage band, including musical director Clay Ostwald, adding an air of authenticity to the wall of amazing sound they produce. It's a great complement to the already awesome vocal sounds this splendid cast is producing night after night.
And, gosh... the songs! Estefan's greatest hits are all here, from the aforementioned "Rhythm Is Gonna Get You," to chart-toppers like "Conga," "Everlasting Love," "Anything For You," "Don't Wanna Lose You," "Live For Loving You," "Reach," and her cover of "Turn the Beat Around." Many songs are performed concert-style, but some have been repurposed as character-sung tunes to convey a specific moment in the story. Whether given its own solo spotlight or crammed within a hits medley megamix, Estefan's hits sound incredible framed within the context of a Broadway musical.
The story begins (as a flashback) where we first meet a younger Gloria (Carmen Sanchez during the Wednesday opening), daughter of Cuban immigrants, living with her family in the colorful Little Havana neighborhood of Miami. Gloria's father José (Jason Martinez) is overseas fighting in the Vietnam War, leaving Gloria to be raised by her stern mother (Nancy Ticotin) and her Grandmother Consuelo (the wonderfully feisty Debra Cardona).
The musical makes clear very early on that young Gloria---who composes songs for her far away dad---already possesses an innate talent for music, something her mother would rather not have her daughter pursue. She would rather see her daughter pursue something more practical and life-sustaining---a wish most immigrant parents want for their children growing up in America. To that end, Gloria moves forward to study psychology while helping to care for her Vietnam vet dad now home, but suffering from Multiple Sclerosis, pushing her musical prospects off to the side.
Luckily, the now slightly older Gloria (the awesome Christie Prades) has a spitfire for an abuela, who often encourages her to keep pursuing her dreams despite what she might think is needed of her.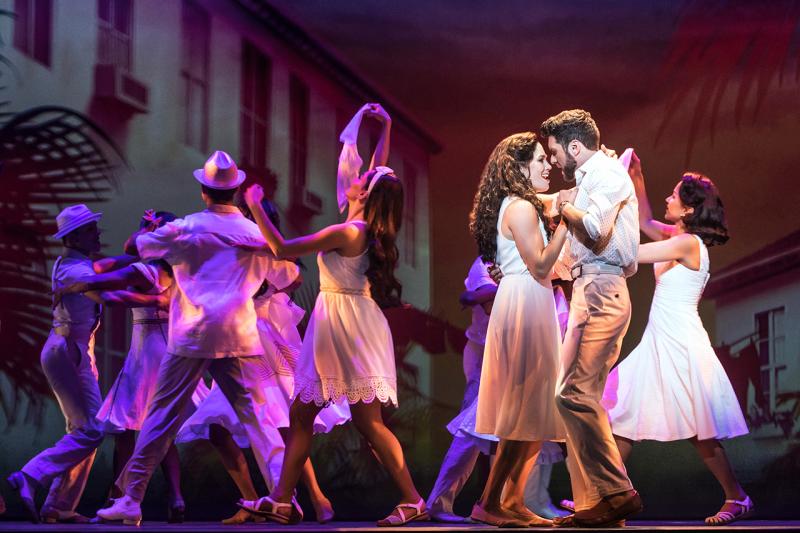 In fact, it is through Gloria's grandmother that the 17-year-old Gloria is introduced years later to musician Emilio Estefan (the dashing Mauricio Martínez), the confident and sharp leader of a local Cuban music band The Miami Latin Boys. After a fruitful demo sung at a band rehearsal---accompanied by her sister Rebecca (Claudia Yanez) for "moral support" background vocals---Gloria impresses Emilio, both musically and, uh, perhaps in other ways.
Under his guidance, Gloria continues to break out of her shell and realizes music may be something that's for her, despite very vocal protests from her own mother. Eventually Gloria becomes the lead vocalist for the Miami Latin Boys (later renamed the Miami Sound Machine), and the group spends years as a hit with the Spanish-speaking Latin market, even touring the world.
But ever the big-picture guy, Emilio, naturally, wants to tap into audiences outside their usual demographic, but their record label boss Phil (Devon Goffman) doesn't think it's a good idea that they release their songs in English. As expected, Emilio goes forward to prove him wrong---having Gloria rewrite their back catalog with English lyrics and compose a new song that he feels would help the group "cross over" to the Pop charts.
And... well... along the way, both Gloria and Emilio also begin to fall for each other.
Soon, after taking on gigs from Bar Mitzvahs to Weddings to try to prove to Phil that it's possible to satisfy a mainstream audience with their Latin sounds, a dance-party breakout of their song "Conga" at a Shriner's convention becomes the tipping point that would set the group forward to mainstream success.
While the first act tracked the couple's meteoric rise in a sort of Cliffs Notes version---with a few nods to a recurring mother-daughter conflict that everyone can easily predict will get resolved later---the second act focuses on Gloria's success that is suddenly sidelined by the infamous 1990 accident that found her tour bus colliding with a semi truck during a harsh snowstorm. That severe, near-fatal accident broke her back, necessitating emergency spinal surgery that had many questioning whether she would be able to walk again, let alone return to her demanding, high-energy routine of concerts and performances---which were already becoming a stress on her prior to the accident.
But, of course, as we've learned from her background of tenacity and perseverance, there is no doubt that her determination would help her pull through and recover after rehabilitation. The show culminates in her triumphant "comeback" at the 1991 American Music Awards where she performs her gospel-anthemic "Coming Out of the Dark" to a cheerful audience.
Upbeat, fun and musically insatiable, ON YOUR FEET! is a pleasing jukebox musical that will have you tapping your feet to the rhythms whether you're a fan of Estefan's music or not. Yes, the music is likely the draw for most in attendance of the show, but beyond these songs lay a great story of cultural triumph from a child borne of immigrant parents.
During a debate on whether or not 80's radio audiences were ready to hear a Latin Pop group sing in English, one specific battle cry received the loudest cheers of any piece of dialogue throughout the entire night:
"Whether you see it or not, THIS is what America looks like!"
For that statement to get such a huge positive reaction in our more divided times reminds me---and many of us---why we love being inside the open-minded, more progressive and tolerant environment of a Broadway show.
Although Alexander Dinelaris' book perhaps compacts some scenes over others more than I would have liked, it's an otherwise captivating tale he weaves, intermixing Gloria and Emilio's genuine (but not that dramatic) romance story with a backstory that includes Gloria's mother and grandmother---and how these two older women helped shaped Gloria into the woman that she is. Many may have believed that Emilio had a lot to do with molding his wife's image and persona, but it's great to learn that Gloria is an independent spirit, too, right from the start.
Another reason to love ON YOUR FEET? Every performer on stage gives their all so much that you can't help but be enchanted by their work. As Gloria, Prades provides an excellent performance as the pop superstar, even nailing some of the real Gloria's vocal cadence, without shifting into full-on impersonation. She can be believably sassy one minute, then heart wrenchingly vulnerable the next.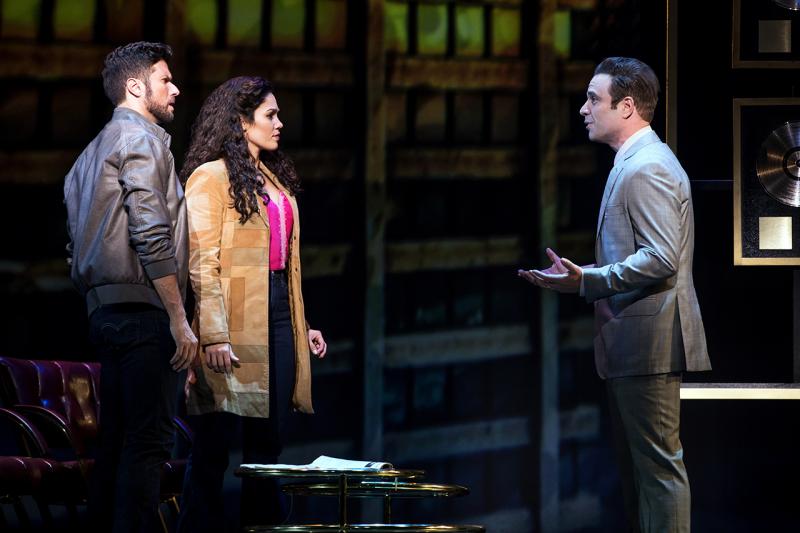 Martínez' impressive portrait of Emilio Estefan straddles everything from smart huckster, funny comic, sweet lover, and even a proud Svengali. The fact that he also has a spectacular voice makes him even more lovable. His chemistry with Prades is quite palpable.
Ticotin creates a fascinating portrayal of Gloria's mother, whose persona is so nuanced that you can't tell whether she's angry or jealous of her daughter's pursuit of music. Her surprisingly defiant vocals in the flashback-to-Cuba song "Mi Tierra" is just superb. As Gloria's ultra-supportive grandmother, Cardona is a frequent scene-stealer, armed with the funniest lines and giving them all the appropriate gusto. She is a such a delight to watch.
A special shout-out to the two pint-sized members of the ensemble: Jordan Vergara who plays young Nayib Estefan, young Emilio Estefan, and a young man named Jeremy; and Carmen Sanchez who plays Little Gloria. (Both young actors alternate their respective roles with Carlos Carreras and Ana-Sofia Rodriguez).
And, of course, ON YOUR FEET! boasts a fantastic ensemble of singers/actors/dancers that help make the show such fun to watch.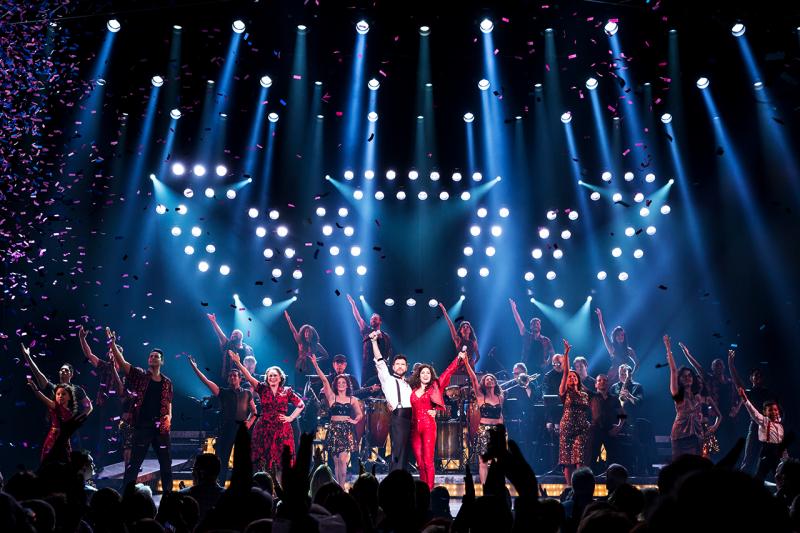 In what has become the cliché way to end most jukebox musicals, the show follows the same inescapable "encore" route of doing audience-sing-alongs of songs they have just heard from the show. It's slightly manipulative, but it also gives the audience what they really want---a punctuated way to join in on the celebratory nature of the music. It's a bit hard to resist doing so especially with Estefan's music, because, yes, everyone knows it's hard to say "no" to a command like "Get On Your Feet!" Lucky for us, we all want to be invited to this dance party.
** Follow this reviewer on Twitter: @cre8iveMLQ **
Photos from the National Tour of ON YOUR FEET by Matthew Murphy, courtesy of Segerstrom Center for the Arts.
----
Performances of the National Tour of ON YOUR FEET! at Segerstrom Center for the Arts continue through Sunday, September 2, 2018. Tickets can be purchased online at www.SCFTA.org, by phone at 714-556-2787 or in person at the SCFTA box office (open daily at 10 am). Segerstrom Center for the Arts is located at 600 Town Center Drive in Costa Mesa. For tickets or more information, visit SCFTA.org
A So. Cal. Contributing Editor since 2009, Michael Lawrence Quintos is a talented, mild-mannered Designer by day. But as night falls, he regularly performs on (read more...)