Review: Nathan Gunn Aims High with FLYING SOLO at the Laguna Playhouse
One of America's most accomplished and in-demand Baritones today---who sounds equally at home in the worlds of opera and musical theatre---Nathan Gunn has one of those deeply lush singing voices that can pierce your heart just as it can effortlessly command the room's attention.
He does exactly both with his impressive world premiere one-man show FLYING SOLO which continues its remaining performances at the Laguna Playhouse in Laguna Beach, CA through April 22. Written and directed by frequent musical biographer Hershey Felder---and inspired by Gunn's own real life story thus far---this leisurely paced yet still quite riveting autobiographical musical is a stunner both with its touching, relatable family-centric narrative and Gunn's entertaining, charismatic performing style.
Using a minimal set (designed by Felder) that bursts to life with the aid of Richard Norwood's mood enhancing lighting and Brian McMullen's gorgeous environmental projections, FLYING SOLO recounts important highlights in Gunn's life that have helped shape the man he's become: a loyal husband, a doting father to five children, a distinguished Opera star, and, most importantly, a very proud son. Though the show does allow Gunn to showcase his undeniable acting and (of course) singing prowess, the show, at its core, never becomes a grandiose, self-congratulatory cabaret act, but instead reveals itself to be a sweet, endearing love letter to his father.
Speaking eloquently of his dad with the kind of palpable, nostalgic love of a son that we all wish we could emulate, Gunn touches often on lovely recollections of his relationship with his father, first while growing up in humble South Bend, Indiana where the living room record player became his introductory class to music, and, later, as a grown man with a large family of his own in New York City and a music career filled with success and notoriety.
Throughout his life, Gunn's every step up and every accomplishment are almost always touchstones to note his father's reaction to them. Rather than dissuade his son from pursuing a career filled with a lot of unpredictability, Gunn's father championed his son to be as GREAT as he can be with his chosen profession instead.
Gunn would later find out from his own mother that his proud Scottish dad---eager for him to carry on as the patriarch of the Gunn Clan---had been his biggest fan and supporter all along. Cue the tissues, please.
Life, of course, is filled with challenges and bumps along the way, but Gunn (as scripted by Felder) finds a way to make them have edge-of-your-seat twists despite being an otherwise drama-free narrative. But drama-free doesn't mean the show is a yawn-inducing chore to sit through. On the contrary, the stories of his life---which range from funny, amusing ditties to heartwarming ones---keep us wholly invested, as he blazes a path from his early training to his first ever Met appearance, to the birth of his (several) children, and, eventually, to the tragic accident that had us all gasping, hoping for a good outcome.
Genuinely appealing, surprisingly humble, and overflowing with musicality, Gunn is enjoyable to watch both as a spry, yet easygoing storyteller and as a well-trained interpreter of operatic masterpieces and classics from the Great American Songbook.
To reiterate the show's intimacy, Gunn is only joined on stage by his unassuming (but hard-working) musical director/pianist Michael Bagby, who pretty much stays behind the piano hidden in the shadows for the show's entirety. By contrast, Gunn moves about on stage throughout, taking on several other roles besides playing himself, as he reaches for props, costume accessories, and other minimal stage props from behind the antique chair that is a replica of the one that used to be owned by his father.
In its audacious simplicity, the very intimately staged FLYING SOLO caresses the audience into feeling at ease within the bare framework of the show, which toggles between compact stories and a beautifully-curated song list of Opera, Oldies, and on stage showtunes that range from Barber of Seville to Camelot.
Both a tribute to his father and how that impacted the way he himself became a father, FLYING SOLO pleasantly touches on the idea of how a parent's best way to show support to a gifted child is to let that child hone those very gifts so that he or she can find their own way to soar to success.
Structured as if we're getting Gunn's story via a casual storytelling sesh from his childhood living room, the whole show feels like an informal fireside chat with Gunn's closest pals (the audience), complete with home videos, slide shows, and lots of spins from the ol' record player. It's a small but still impactful show that, I feel, belongs at the Laguna Playhouse as well as other smaller houses that can take full advantage of the proximity of the audience with its subject.
Just as I was first enchanted with his debut solo show at Segerstrom Center for the Arts back in March of 2011, Gunn here is in similar top form, blessed with a superb voice that gave us a gorgeous rendition of Billy Bigelow's "Soliloquy" from the Rodgers and Hammerstein classic CAROUSEL (beautifully repurposed here as a song about becoming a father that is just magnificent), and even had us in stitches during a humorously recreated "duet" between Opera giant Plácido Domingo and... uh, John Denver. With equal doses of fun and excellence, FLYING SOLO provides Gunn various genres to showcase a voice normally reserved for such Serious Works only.
Gunn makes room for silliness while at the same time, giving us samplings of why he's a star in the Opera world in the first place, with selections from works that include a revival of his star-making turn in Mozart's "The Magic Flute." If you have never heard of Gunn sing live before, this is a wonderful chance to hear his beautiful voice in its most intimate of settings yet.
Curiously, Gunn doesn't playfully mention his notoriety as a "Bari-hunk" nor his distinction of being named one of 2008's Sexiest Men Alive according to People Magazine. Sure, these seem frivolous in contrast to the details of his life that did make it onto the stage. But, man, once you hear his technique, phrasing, and overall mastery of his vocal instrument, you'll agree why he's consistently in high demand---and why FLYING SOLO is a must-see one man show worth your time.
Follow this reviewer on Twitter: @cre8iveMLQ.
Photos from Nathan Gunn: FLYING SOLO by © Ed Krieger, courtesy of the Laguna Playhouse.
-------
The Laguna Playhouse Production of Nathan Gunn: FLYING SOLO continues performances through April 22, 2018. The Laguna Playhouse is at 606 Laguna Canyon Road in Laguna Beach. For more information or to purchase tickets, call (949) 497-ARTS or visit lagunaplayhouse.com
A So. Cal. Contributing Editor since 2009, Michael Lawrence Quintos is a talented, mild-mannered Designer by day. But as night falls, he regularly performs on various stages everywhere as a Counter... (read more about this author)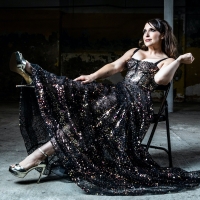 Review: Jessica Vosk is Beguiling in Solo Cabaret Debut at OC's Segerstrom Center

November 21, 2022

Broadway fan favorite Jessica Vosk's solo cabaret debut at Segerstrom Center for the Arts---which opened Thursday, November 17, 2022 and continues for two additional shows through Saturday, November 19---is, quite possibly, the most enjoyable cabaret concert this reviewer has experienced at the Center's lovely and intimate Samueli Theatre.
---
Review: Overwhelming Splendor Arrives with MOULIN ROUGE! at OC's Segerstrom Center

November 17, 2022

Loosely adapted from Baz Luhrmann's 1999 hit movie, the campy, sensory overload that is the Tony Award-winning stage adaptation of MOULIN ROUGE! THE MUSICAL---now playing at OC's Segerstrom Center for the Arts through November 27, 2022---is an entertaining pop-music-tinged feast for the senses.
---
Review: Excellent Performances Empower A FEW GOOD MEN at La Mirada

November 4, 2022

Undeniably compelling but also, at times, comfortably predictable, Aaron Sorkin's A FEW GOOD MEN is, for all intents and purposes, really a showcase for enthralling live acting performances. The McCoy Rigby Entertainment production continues at the La Mirada Theatre for the Performing Arts through November 20, 2022.
---
Review: Musical Theatre West Hits Another Grand Slam with Fun-Filled DAMN YANKEES

October 21, 2022

A truly fun-filled, ecstatically-performed iteration of this classic musical, MTW's Broadway-caliber production (now on stage at the Carpenter Performing Arts Center through October 30) is a definite must-see. The production's trio of terrific leads---Lesli Margherita, Jeff Skowron, and James Olivas---are themselves reason enough to see it.
---
Review: Powerful Play NINA SIMONE: FOUR WOMEN Stirs at South Coast Repertory

October 18, 2022

Beautifully acted (and sung) by an exquisite ensemble of gifted actors, South Coast Repertory's production of NINA SIMONE: FOUR WOMEN is a thoughtful, gut-wrenching play---punctuated with spectacular musical performances---that dives deep into the soul-baring creative process of an artist hoping to craft a seminal work of musical art, and to ensure to have that art say something profound.
---