Click Here for More Articles on SOMETHING ROTTEN
BWW Review: McClure & Pascal Bring the Hilarious High-Jinks of SOMETHING ROTTEN! to OC
In a rarity that doesn't happen too often here in Southern California, a brand new national tour of a recent hit Broadway musical has arrived first in Orange County in advance of a much longer sit-down engagement up the freeway in Los Angeles. And, boy, is this one a marvelous gift from the comedy gods!
Behold, ladies and gentlemen, the merry awesomeness that is SOMETHING ROTTEN!, the multi-Tony Award nominated musical comedy that kicks off Segerstrom Center for the Arts' 2017-2018 Broadway series! A delightful, seemingly non-stop conveyor belt of wit, hilarity, and outrageous high-jinks, this extremely funny 2015 original musical comedy will continue to slay audiences (in a good way) through November 19, 2017 in Costa Mesa before beginning its Los Angeles-area performances.
I have to say that from the second the curtain went up, right up to even the cast's final bows, I don't think I have ever sat through a performance of a musical comedy that has garnered this much hearty laughter and unabashed giggling from the audience in a quite a long time---sounds our world sorely needs more of at the moment, especially in such a genuine, communal way.
Yes, SOMETHING ROTTEN! is that rare comedic perfect storm of script, music, costumes, sets, and cast that surrounds material and storyline that only mildly offends (if at all) yet skewers bitingly with the sharpest of tongues. Don't mistake this as just another broad, middle-of-the-road comedy. Despite its appeal to various ages, demographics, and walks-of-life, this lively, entertaining musical is a whip-smart, joyful, creatively rich stage production that, I predict (much like Nostradamus) will be just as funny centuries from now as it is today.
Featuring a brilliant, wisecracking book by Karey Kirkpatrick and John O' Farrell and impressively amusing music and lyrics chockfull of ingenious wordplay by Wayne and Karey Kirkpatrick, SOMETHING ROTTEN! offers up the European Renaissance viewed through very meta, forward-thinking 21st Century goggles. While its silly but clever storyline seems easy enough to follow, the musical truly impresses with its never-faltering gaze beyond the future, generously peppering every lyric and comedically-delivered line with an allusion to something characters are hilariously unaware of in their timeline, but the audience is from our informed present. Hence, the audience is in collective stitches watching characters navigate through the events and customs of these late 90's---the 1590's, that is---which are lovingly skewered for our amusement.
Of course, a musical comedy is only as good as its execution, and fortunately, under Casey Nicholaw's swift but assured direction (he also choreographed the show), SOMETHING ROTTEN!'s expressively jubilant cast is able to truly savor their given material, resulting in performances that audiences will welcome with outstretched joy. Leading the pack is Tony nominee Rob McClure, whose incredible comic timing, impressive singing chops, and wildly erratic facial expressions will have you laughing constantly as he embarks on one scheme after another.
McClure plays Nick Bottom, one half of the Bottom Brothers, a pair of creatively-gifted but financially-struggling siblings working in the theater during the time of the Renaissance, a period of great artistry and poetic expression in Europe. As the brothers strive desperately for some modicum of success, Nick---often engulfed in a jealous rage---is constantly annoyed by all the attention and fandom bestowed upon the much more liked, and much more famous William Shakespeare (played with palpable mega rock star swag by Adam Pascal), whose latest play "Romeo and Juliet" is a hit with both critics and audiences (and, yep, Nick's brother is a fan).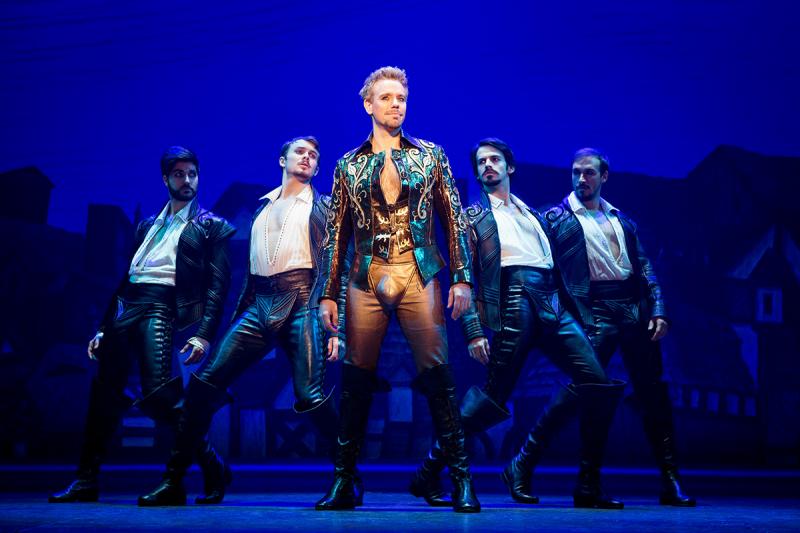 More than anything, Nick wishes he could once and for all one-up his more celebrated rival whom the public has irritatingly dubbed "The Bard."
As Nick and his more timid playwright bother Nigel (the adorkable Josh Grisetti) continue rehearsals for their next show "Richard II" with their rag-tag acting troupe, their patron Lord Clapham (the very funny Joel Newsome) informs them that Shakespeare has announced plans to also do a new play called "Richard II"---a move that irks Nick even more considering Shakespeare had already mounted a production of "Richard III" which is clearly a stupid move backwards. Clapham urges the brothers to come up with something else to open with in a few days---or else he's pulling out his funding altogether.
Despite finance offers from Shylock (the amusing Jeff Brooks), a local Jewish merchant (get it?), and Nick's wife Bea (the playful Maggie Lakis) who promises to take on various male-only jobs in disguise to earn them some seed money, Nick sneaks away to try to fix his problem his own way. Armed with the family money box holding what little savings they have accumulated, Nick visits a sketchy part of town to buy the wisdom of a future-forecaster, Thomas Nostradamus (the spectacular Blake Hammond), the younger, less-famous nephew of that other Nostradamus.
His prediction for the Next Big Thing in theater?
"A Musical!" shouts Nostradamus.
Nostradamus explains that musicals are plays in which dialogue is stopped so that characters can convey the plot or action through song. Some musicals, shockingly, don't even have dialogue at all!
Nick is, understandably, confused and skeptical at first. But thanks to an all-out, song-and-dance, show-stopping extravaganza which features clever homages to many of future history's greatest and most famous musicals, Nick is wholeheartedly sold on the idea and begins to formulate his own musical play. What would be a good current subject? Oh, yeah! The plague!
Meanwhile, as Nigel struggles to come up with some fresh new material of his own, he has a meet-cute with a lovely young lady named Portia (the gorgeous-voiced Autumn Hurlbert). Unfortunately, though, Portia is a Puritan, a group of holier-than-thou, ultra religious citizens under the leadership of the, um, rather effeminate Brother Jeremiah (scene-stealer Scott Cote) who all feel that the world of theater is full of sin, evil, and depravity.
But, alas, Nigel and Portia are totes in love. So, naturally, when Nigel finds himself surprisingly invited to go to "Shakespeare in the Park" (haha) and attend the post-show after-party, Portia is his "plus one" to the event thrown by his idol. But wicked d-bag Shakespeare has an ulterior motive for Nigel's presence: to peruse Nigel's journal and steal some of his ideas! Soon enough, a vengeful Nick vows to steal from Shakespeare, too---asking more help from Nostradamus for any hints on what his rival's next hit is going to be.
And thus begins the humorous tug-of-war between Nick and the Bard. Who'll come out on top?
Filled with a plethora of pun-tastic lines, saucy double-entendrés, hilarious sight gags, and cheeky, self-aware references, SOMETHING ROTTEN! is a truly madcap, laugh-out-loud musical comedy that delivers the funny without dumbing it down for its audiences. The show trusts the theatergoers enough not to overexplain everything it parodies---creating an even more satisfying payoff whenever jokes land... and most of them do. This overly meta approach to material that supposedly takes place in a much more antiquated era is certainly not something new (see: SPAMALOT, Disney's ALADDIN), but this musical does it so well, it's hard not to feel like you're getting it all and that you're laughing at every single joke it doles out with complete comprehension of what it's referencing and why exactly it's so damn funny.
Yet beyond that is the musical's enjoyable wordplay. Though its comedic silliness isn't over the top absurd or heavily reliant on vulgarity, SOMETHING ROTTEN! still manages to be genuinely funny with each passing scene, cleverly straddling the line between total buffoonery and knowing intelligence. It's certainly a testament to this show's great writing and musical lyrics.
And even more impressive which merits repeating: SOMETHING ROTTEN! is an original musical---not based on any previously published or staged material, a label you hardly see sprout on Broadway these days where almost every new musical seems like it's just another musical adaptation of a movie or a book. Because of this very fact, the show is all at once refreshing and unique, even though much of what is experienced feels hilariously familiar or reminiscent of tropes we may have run across before.
But by far the show's greatest contribution to musical comedy is its sensational act-one tribute to the art form of musical theater, which becomes a literal showstopper: "A Musical." Led by Hammond's showmanship flare and McClure's dazzled pupil-in-training, this fantastically-staged number garnered a well-deserved extended applause that basically had the cast catching its breath as it enjoyed a nearly three-minute stretch of claps and cheers from the show's recent press performance in Costa Mesa. A tour-de-force of rapid-fire stamina and encyclopedic musical theater hutzpah, this number name-checks pretty much every iconic musical to ever grace Broadway without outright flashing their titles up on a marquee (it even spills into the second act once the brothers forge ahead with their planned musical).
The added glee of recognizing each musical mentioned in "A Musical" feels like a communal treasure hunt the whole audience can enjoy. This alone is worth the price of admission.
Luckily, though, the price of admission gets you so much more, such as seeing Scott Pask's eye-catching sets and Gregg Barnes' magnificent, billowing costumes---all of which not only look luxe and stunning, but are also quite comedically functional (I mean, how can we not talk about those enlarged cod pieces-slash-fanny packs?)
Also worth noting: Jeff Croiter's transformative lighting design, plus Josh Marquette's daring hair designs and Milagros Medina-Cerdeira's amazing makeup designs. Sound-wise, musical director Brian P. Kennedy leads a terrific-sounding orchestra, though the cast was a bit drowned out volume-wise during the opening number which resulted in some mumbled lyrics that didn't quite come through fully comprehensible. But it's apparently a fixable flaw, because the rest of the show had the audience laughing at every single joke and lyric dispensed by this excellent cast, which also includes standouts Pierce Cassedy (the always in "drag" Robin) and Nick Rashad Burroughs (who sings a terrific opening solo as the Minstrel). In almost every scene, you can tell the entire cast enjoys performing the show---and this joy is definitely contagious.
But this production's ultimate cherry on the top is definitely McClure, a comic treasure of action and reaction. For a solid two-plus hours, he displays an astonishing, manic, hard-working, limber, comically-blessed, grand belter extraordinaire that everyone wants to root for... or, at least, wish well in his wondrous endeavor of creating stage magic. If he represents the guy who brought us musical theater, then, wow thanks, man!
An uproarious musical comedy that deserves every bit of laughter thrown at it, SOMETHING ROTTEN! is definitely a must-see show this holiday season in Southern California. Leave your sadness and toss-able rotten tomatoes at home, because this show is an all-around guaranteed audience pleaser.
** Follow this reviewer on Twitter: @cre8iveMLQ **
Photos from the National Tour of SOMETHING ROTTEN! by Jeremy Daniel, courtesy of Segerstrom Center for the Arts.
----
Performances of the National Tour of SOMETHING ROTTEN! at Segerstrom Center for the Arts continue through Sunday, November 19, 2017. Tickets can be purchased online at www.SCFTA.org, by phone at 714-556-2787 or in person at the SCFTA box office (open daily at 10 am). Segerstrom Center for the Arts is located at 600 Town Center Drive in Costa Mesa. For tickets or more information, visit SCFTA.org.