Review: MACBETH. His Story. Her Tragedy. Our Misfortune.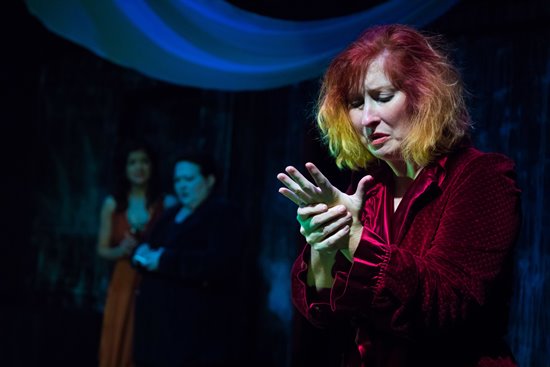 This adaptation of Shakespeare's classic tragedy has been reconceptualized to connect with the modern day #MeToo movement by offering an alternative explanation for one of its leading character's actions. It is built on the notion that all of the women are victims of sexual abuse - most specifically, Lady Macbeth - who, in this version, has been raped by King Duncan while her husband is off fighting the war.
To accomplish this new interpretation, director Heidi Powers and her company of players add interpretive dance and movement pieces between Shakespeare's existing scenes that play out this layer of the story. The problem is, with the exception of the initial sequence in which Lady M (Cyanne McClairian) is taken by Duncan (Ben Atkinson), the rest of the passages are unclear and unconnected to any action taking place in the play itself, at least from what I could see. They're also choreographed (by Heather Lynn) beyond the capabilities of the actors executing them.
In essence, it is an exercise in blending two different theatrical disciplines in an attempt to tell a single new story. But, it's tough to mess with a master unless you bring your A-game, and this well-meaning departure isn't up to the task.
The idea is an intriguing one but the actors are short on technique and demonstrate only a limited understanding of the intricacies of their characters. There isn't much facility with the text or any vocal training on display so nothing goes beyond face value. Most speak in a casual, everyday manner that belies the importance of their words and scream from their throats rendering their more emotional scenes overly melodramatic.
Also out of character is the fact that this new interpretation is laser-focused on the consequences of abuse but the characters are oddly redrawn as archetypes: the Crone (Kathy Deitch), the Mother (Josie Adams McCoy), the Maiden (Esther Mira), the Stranger (Corinna McCoy), the Son (Josey Montana McCoy). It isn't clear why, but embodying a type makes it all the more necessary to choose specific actions and intentions. Active listening is even more critical in this kind of scenario.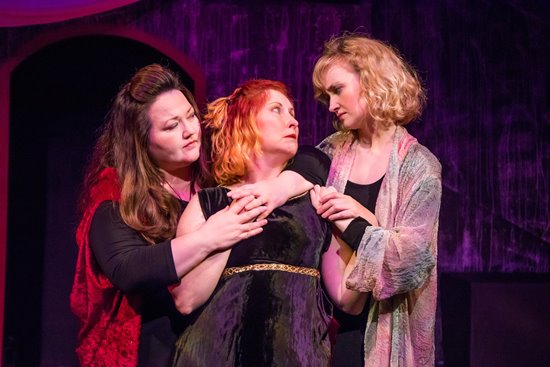 Montana McCoy has the toughest job playing all of the sons but if you don't know the story and the cast of characters you'll be hard-pressed to tell one from the other. He makes distinctions but without a roadmap of relationships you'll be lost. Hint: read the play, or at least a synopsis of it before you go. Even then, you'll have your work cut out for you because other actors also play multiple roles.
A vacuous Macbeth (Brendan Weinhold) doesn't even participate in the play's critical initial battle scene. He stands on a balcony above the action waving his hand as if to show he is directing it, but that detachment has the opposite effect. No participation in battle means no earning the witches' prediction that he will take the throne. And when his soldiers compliment his battle skills in the presence of the king, we've never seen him demonstrate those skills so it's a moot point. If you're going to show us the battle, you've got to show him in action.
The direction effectively emasculates him and hands the play over to his wife. That may be the intent, since this is a story told through Lady M's point of view, but it sticks out like a sore thumb.
Ann Hurd's set concept (additional set design by Azra Abadi-King, Aaron Lyons and Beth Scorzato) makes efficient use of the space, evoking a castle in the mist with paint-splattered walls, draped silks, and a two-story imposing façade, darkly lit by Azra Abadi-King. Original music by Ryan Deremer and Allison Faith Sulock, and the choral/orchestral pre-show and intermission musical changes, conjure a fearless quality that is worthy of a misused queen ready for revenge.
While this first co-production by Fearless Imp Entertainment and CTB Productions may not ultimately end up hitting all its marks, the fact that it attempts to view a significant social issue through a new lens is still important. Abuse in any form is unforgivable and always has consequences. Perhaps that is the takeaway.
MACBETH: His Story. Her Tragedy.
March 30 - April 29, 2018
McCadden Place Theatre
1157 McCadden Place, Los Angeles, CA 90038
Fridays and Saturdays at 8pm
Tickets: brownpapertickets.com/event/3342977
Photos courtesy of Fearless Imp Entertainment
Related Stories
Ellen Dostal is currently the Senior Editor for BroadwayWorld/Los Angeles and a member of the prestigious Los Angeles Drama Critics Circle. She has covered the performing arts community, jazz, and ... (read more about this author)
LISTEN: Podcaster Ashton Marcus and Roberto Williams Discuss George Orwell's 1984

November 23, 2022

Roberto Williams stars as the 'Courage is Cowardice' Winston in George Orwell's 1984 at the Grand Annex, San Pedro. Enjoy!
---
LISTEN: Podcaster Ashton Marcus and A.J. Holmes Discuss YOUNG FRANKENSTEIN

September 29, 2022

A.J. Holmes stars as the hilariously eccentric Dr. Frederick Frankenstein in Young Frankenstein at La Mirada Theatre for the Performing Arts.
---
Listen: Podcaster Ashton Marcus and Jared Machado Discuss AMERICAN IDIOT

August 3, 2022

Jared Machado discusses his portrayal of Johnny in the musical American Idiot at Chance Theater.
---
Listen: Podcaster Ashton Marcus and Troy Whitaker Discuss BLOOD PIG

June 29, 2022

Director Troy Whitaker discusses the play Blood Pig at the Actors Company @ LA Comedy Festival (Other Space Theater).
---
Listen: BWW Podcaster Ashton Marcus and Benjamin Perez Discuss IN THE HEIGHTS at La Mirada Theatre for the Performing Arts

June 8, 2022

Director Benjamin Perez (as Kevin Rosario - whether it's shoe polish or his daughter's education, he knows the right investment) discusses the character he plays in IN THE HEIGHTS at La Mirada Theatre for the Performing Arts.
---