BWW Review: Laguna Playhouse Welcomes Adorably Plucky HAIRSPRAY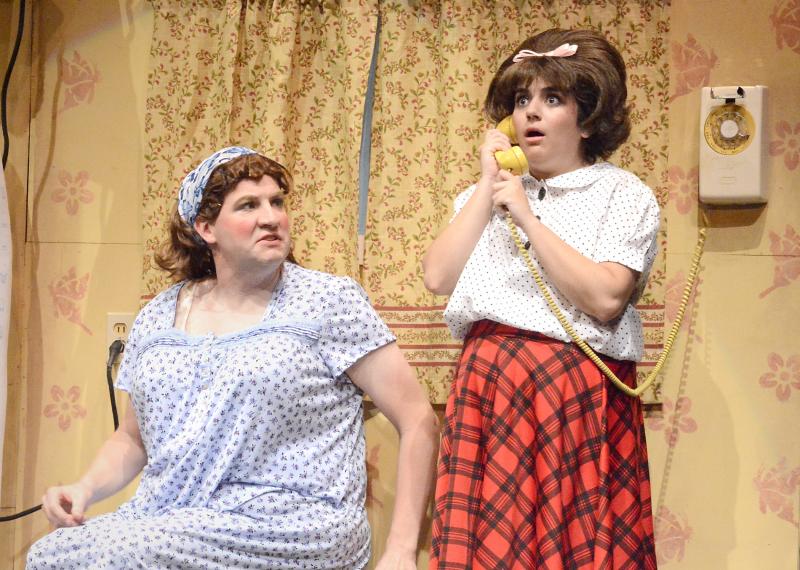 To open its historic 97th season, Orange County's Laguna Playhouse is presenting an admirable new production of the Tony Award-winning 2002 hit musical comedy HAIRSPRAY, which, via popular demand, has now been extended through August 5. Filled with spirited performances, memorably cheeky songs, and an undeniably infectious story, this stage musical adaptation of John Waters' 1988 cult movie classic---even here in Laguna Beach's scaled-down regional production---still manages to be just as likable as it would be seeing it in a larger theater.
Even if this is your first or hundredth time seeing the stage iteration of HAIRSPRAY, it's futile to try resisting to smile during this charming musical about an ample-American teenager living in 1960's Baltimore who becomes an unexpected (and unconventional) TV star while, at the same time, helping to make a bit of history. At its very core, HAIRSPRAY is silly and outrageous yet has a huge helping of heart---a musical that encapsulates the mavericks and outsiders among us who long to raise their voices upon seeing an injustice in their midst.
Everything about the musical is aimed at being a guaranteed crowd-pleaser. Aside from the witty dialogue from book writers Thomas Meehan and Mark O' Donnell, the musical is also blessed with a winning 60's-inspired pop and soul songbook from songwriters Marc Shaiman and Scott Wittman. In a way, it is also a sneaky maneuver to get even the most conservative of audiences a rare moment to temporarily root for the pro-progressive, pro-liberal, pro-equality heroine at the center of the show without completely abandoning their core beliefs.
I'm actually surprised---quite pleasantly---to see this continuation of more mainstream, big-name commercial titles being produced at this venue, considering the Laguna Playhouse's long history of producing much more high-brow, less mainstream fare to compliment the Pageant of the Masters next door, yet still with fanciful sets and luxe production values. But with that said, though, another surprise with this particular production is to see a show mounted here with such community theater-like elements, which is most indicative in this production of HAIRSPRAY's playful but, well, still child-like sets.
But don't let its amateurish, summer musical camp surface facade fool you: this HAIRSPRAY is genuinely entertaining! Much like its lead character, this plucky little production also has lots of charm and spunk, despite its not-so-polished tendencies. Under the direction of Paula Sloan, this HAIRSPRAY may be rough around the edges, but it still packs a humorous punch with every outrageous scene and gloriously joyful outburst of song. The assembled ensemble is indeed a palpably enthusiastic bunch, which helps them become all the more endearing to the audience all pulling for them to give us a great show.
There were, of course, amazing standouts among the cast. Though she starts out a bit more tentative than I expected, Nicole Powell ultimately bursts out of her shell and does a great job leading the team with her version of Tracy Turnblad, the musical's central full-time ne'er-do-well and part-time glass-ceiling breaker---who defies expectations (and her size) and lands not only a spot on the teen dance show The Corny Collins Show, but also assists in the righting of a societal wrong. Even better is the terrific James W. Gruessing, Jr. who plays Tracy's stay-at-home launder-ess mom Edna (in drag, Gruessing for me looks remarkably like Robert Preston's drag persona in "Victor/Victoria" which distracted me humorously at times).
Rick Grossman is a joy to watch as Tracy's open-minded dad Wilbur. Tanner Callicutt is excellent as teen heartthrob Link Larkin, who uncharacteristically ditches the shrill, popular chick Amber (Haley Chaney) for a chance at love with an exciting girl leaning on the right side of history. Together, both he and Powell are adorable, and both are equipped with the kind of natural teenage bubbliness that makes them believable as a pair and in their respective roles. Additionally, a special shout-out to the trio of ladies who make up the "Dynamites"---Essence Tyler, Sydni Session, and Nicole Morris---for their impressive vocal stylings on "Welcome to the 60s."
Others worth noting include the very funny Daniel Berlin, who plays multiple minor adult male roles throughout the show yet manages to make each appearance memorably hilarious. There's also Jovan E. Watlington, who is a smooth dancing machine as Seaweed J. Stubbs. Allison Foote is delightfully devilish as Amber's racist mom-ager Velma. Scene-stealer Kristen Daniels is oh-so-damn-good as Tracy's BFF Penny Pingleton that you'd think she just stepped off the international tour of the musical yesterday. And finally, Dwan Hayes is soulfully glorious as Motormouth Maybelle. She slays her 11 o'clock anthem "I Know Where I've Been" like a pro.
But as buoyant and ultimately enjoyable as this show is overall, it does have a couple of things that miss the mark. Besides the unremarkable sets, the show's decision to use "canned" (pre-recorded) music as accompaniment, unfortunately, reiterates its amateurish surface. While the provided music---under musical director Michael A. Ferrara---for all intents and purposes does what it needs to do, the cast valiantly struggles to try to keep pace with the piped-in musical orchestrations, becoming slightly out of sync and off-beat... highly ironic in a show touting that you can't stop the, um, beat. Nothing, of course, beats (hehe) having a live orchestra conducted in person, so in this instance, Laguna Playhouse's HAIRSPRAY could have benefited significantly with having one.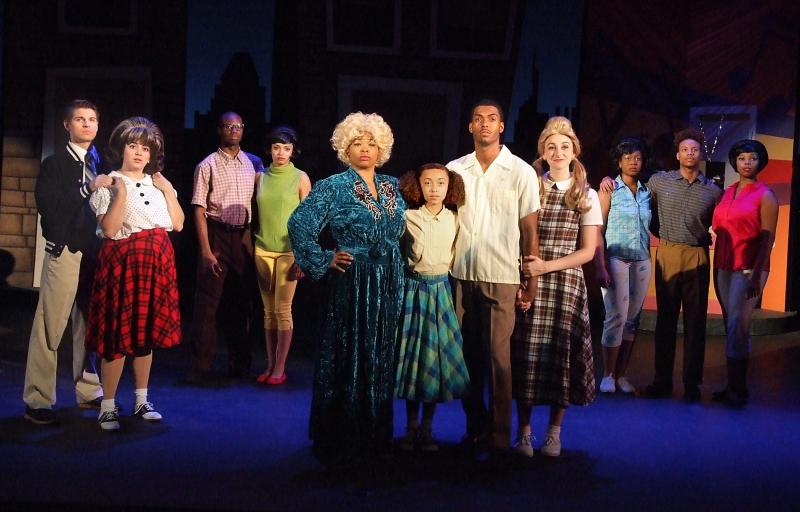 But be that as it may, audiences will still walk away with a great time. What the Laguna Playhouse production of HAIRSPRAY lacks in high-caliber sheen and polish, it makes up for it in undeniable charm and cheeriness. To be fair, it's a show prebuilt to be fun and frothy and this production doesn't really skimp on it.
Follow this reviewer on Twitter: @cre8iveMLQ. Review also published in On Stage.
Photos from the Laguna Playhouse production of HAIRSPRAY by Ed Krieger.
-------
The Laguna Playhouse Production of HAIRSPRAY has been extended through August 5, 2017. The Laguna Playhouse is at 606 Laguna Canyon Road in Laguna Beach. For more information or to purchase tickets, call (949) 497-ARTS or visit lagunaplayhouse.com