BWW Review: Jolly Good MARY POPPINS Flies Into Musical Theatre West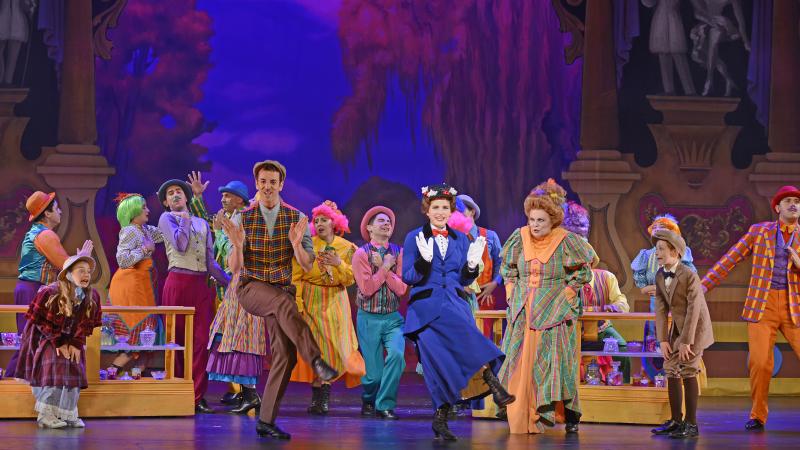 As more U.S. regional theaters, one after another, start producing their own versions of the Disney/Cameron Mackintosh stage adaptation of the Walt Disney classic film MARY POPPINS, you begin to notice subtle differences between them---both good and bad. Luckily for Musical Theatre West, the closing production of their 64th season is mostly jolly good fun. Full of palpable joy, wonderfully-performed songs, and smile-inducing moments, MTW's winning production of the London-set musical continues performances at the Carpenter Performing Arts Center in Long Beach through July 23.
The stage musical is, of course, based on the popular children's stories created by P.L. Travers, which were later adapted into the even more popular 1964 live action movie musical by the Walt Disney Studios that stars Julie Andrews in the title role that would later win her an Oscar®. The film featured some of the most memorable songs from the Disney songbook, including "A Spoonful of Sugar," "Jolly Holiday," and "Supercalifragilisticexpialidocious"--- all penned by Walt's incomparable musical dream team, brothers Richard and Robert Sherman. Forty years later, The Combined efforts of Cameron Mackintosh and Disney Theatricals birthed a magical, eye-popping 2004 stage adaptation, drawing a majority of the material from the film classic and the rest from Travers' many Poppins novels, then merging them together with a new book by Julian Fellows and additional new songs by George Stiles and Anthony Drewe.
For MTW's localized mounting, the theater has recruited Daniel Pelzig to helm and choreograph---a great decision considering his impressive previous work on MTW's smashing local revival of another Brit musical classic MY FAIR LADY. Here, Pelzig has delivered another entertaining crowd-pleaser, brimming with buoyant energy, swift pacing, and lots of cheeky sass. Musical numbers are bursting with life and color and the lively cast feels like they're all having a grand ole time performing for the audience. That jolt of joy comes through so much that the audience can't help but bask in the fun, too.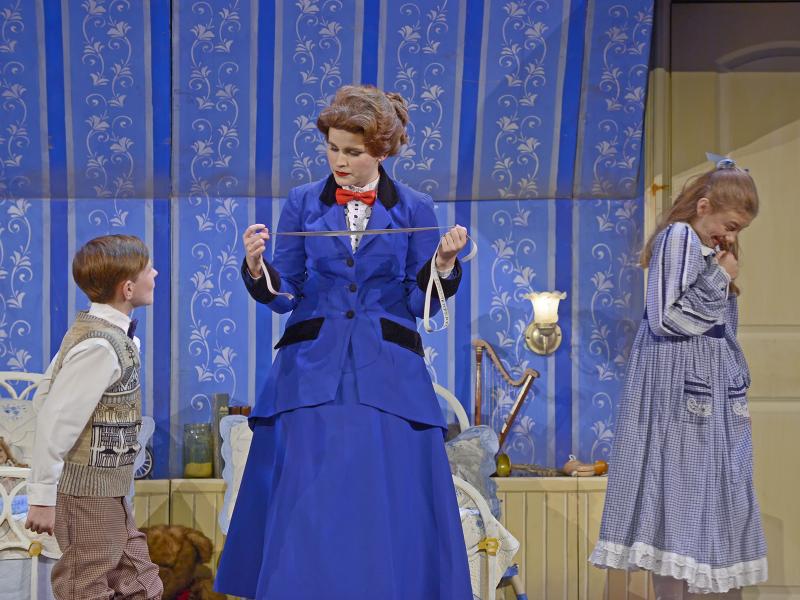 It also helps that the cast is superb. Katharine McDonough---who was incredible as Eliza Doolittle in MTW's MY FAIR LADY---returns with her Brit accent and self-assured wit and confidence to play the titular nanny, who has magically arrived at Number 17 Cherry Tree Lane to assist in the care of two "adorable" children whose family life seems to be in flux. In McDonough's hands, Mary is appropriately playful yet sincere, sassy yet capable of forethought, empathy and care (McDonough is so charming that the audience didn't even bat an eye when she pantomimed having her infamous measuring tape which went inexplicably missing on Opening Night). Her every appearance as Mary is a delight and her singing voice is, indeed, practically perfect for the role.
Despite a star turn, McDonough generously shares the stage with Robert Pieranunzi, who plays the über-friendly, occupationally-varied Bert; Martin Kildare, who plays stern, stubborn patriarch George Banks; Amanda Leigh Jerry as the oft-berated yet still steadfast wife and mom Winifred Banks; Cynthia Ferrer as the shrill maid/cook Mrs. Brill; Jonathan Murrietta as bumbling houseboy/valet Robertson Ay; Debra Cardona as the homeless Bird Woman; Olivia Knox as eldest Banks child, Jane; Travis Burnett-Doering as youngest Banks child, Michael; and the awesomely scene-stealing Janna Cardia as the monstrously wicked Miss Andrew. Rounding out the main cast is Gabriel Kalomas as the Bank Chairman/Admiral Boom, Rebecca Spencer as shopkeeper Mrs. Corry, and nimble Marco Ramos as statue-come-to-life Neleus.
When the entire cast comes together to sing, it's just a wall of wow. Such gorgeous harmonies accompany the full-sounding orchestra under the baton of musical director Ryan O'Connell! Even the cast's attempts at British accents feel genuine and not over-affected, resulting in a much more charming, more comprehensible listening experience in regards to dialogue and singing.
When the musical begins---similar to film---the rambunctious Banks children have once again driven away their latest governess out of the house out of sheer exasperation. Their bank-exec father George is fed up, berating his wife Winifred for not selecting a proper nanny that can enact his kind of stern discipline and order he had experienced with his own nanny growing up.
George dismissively tears up an "advertisement" for a new nanny that the children wrote on their own, but to everyone's surprise, in pops Mary Poppins, with the reconstructed torn ad in hand---and agreeing to comply with every requirement listed.
And thus begins the Banks children's world re-education disguised as adventurous outings and magical games, while the adults, too, are unaware that they are being opened to the wonders of life free from following the impossible shackles of "precision and order," but to, instead, live and enjoy life in the moment and to not let even the little things pass you by.
The musical then has Mary temporarily leaving the Banks household to teach Jane and Michael to, perhaps, achieve better perspectives of the world around them on their own without her guidance. This allows the introduction of a replacement nanny in the form of the "holy terror" Miss Andrews, George's own nanny from his childhood, into their lives. While the Banks household is effectively fearful of Miss Andrews' strict policies, we the audience are eating it up, particularly with Cardia's over-the-top acting and singing performance. Of course, her ultimate comeuppance is enjoyable to watch, too.
Slightly deviating from the film, the stage musical re-orients some of the more iconic numbers from the film: "Spoonful of Sugar" occurs in the Banks' kitchen, where the destruction caused by Ay's clumsiness is restored to order by Mary's magic, "Jolly Holiday" is just a mere stroll through the park, albeit where Neleus the statue comes to life, "Let's Go Fly a Kite" no longer ends the musical but instead becomes a calming song for the runaway Banks children at the park with Bert, and "Supercalifragilisticexpialidocious" now occurs in the middle of a magic sweet shop that also sells, um, words. (Part of me was a tad disappointed seeing that the character Mrs. Corry no longer has a West Indies accent).
Possibly my favorite parts of the stage adaptation, however, are many of the new songs that have been seamlessly integrated into the musical as if they had always been part of the original. "Practically Perfect"---a song that, well, perfectly encapsulates Mary Poppins for the kids---is an inspired, wonderfully bubbly song. "Brimstone and Treacle" is sinister yet still a lot of fun (especially as presented in Cardia's performance). And the final new song, "Anything Can Happen" has The Sherman Brothers' DNA all over it.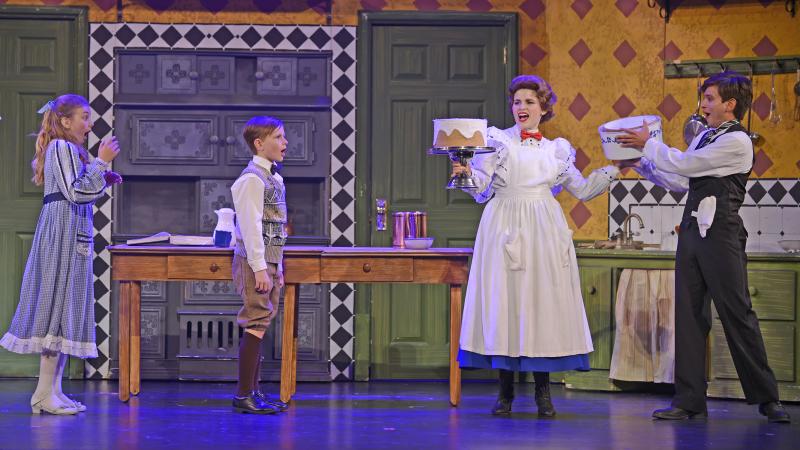 The production does have its short falls, though quite minor. I wish the musical doesn't rush through "Feed the Birds" compared to how much more reverently it is treated in the film. On stage, the number loses some of its rather heartbreaking, emotionally rich impact that was so vivid in the film version, which The Sherman Brothers themselves contend is Walt's favorite song ever. Meanwhile, the Broadway caliber sets and costumes are indeed wow-ful, but a closer examination reveals its rented-quality edges by way of wrinkles, scuff-marks, and off-fittings (is it even possible to give a good steam-ironing or paint touch-ups to those backdrops?)
One of the best "edits" the musical seems to have embraced since the national tour production is completely deleting the nursery toys come-to-life sequence, a truly nightmare-inducing production number that is so oddly out-of-nowhere for the musical. I'm very glad it remains excised out from this production as well.
MTW should be very proud to close their season in such a fun, joyful way. MARY POPPINS is a truly family-friendly people pleaser that audiences will enjoy experiencing with a cast of local talent.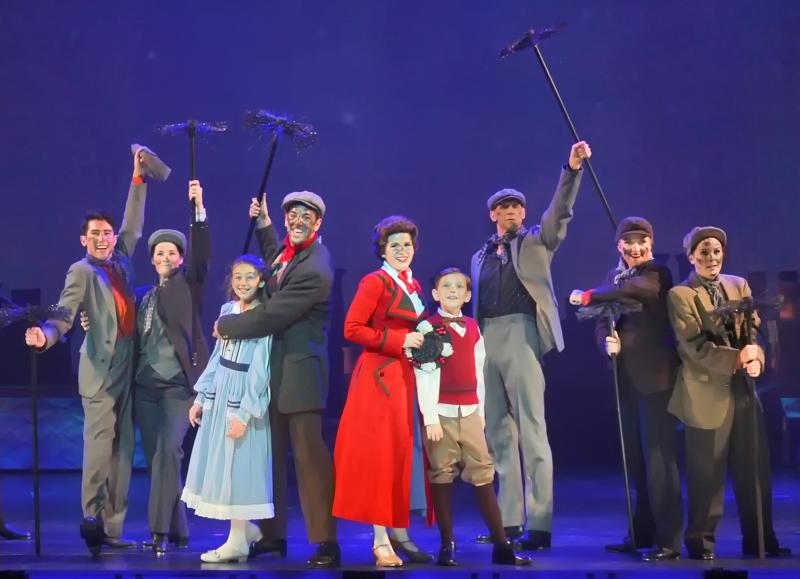 Follow this reviewer on Twitter: @cre8iveMLQ.
Photos © Caught In The Moment Photography/Musical Theatre West. Review also published in On Stage.
---
Final remaining performances of Musical Theatre West's production of Disney/Cameron Mackintosh's MARY POPPINS continue through Sunday, July 23, 2017 and are scheduled Friday and Saturday at 8 p.m., with Saturday and Sunday matinees at 2 p.m. MARY POPPINS is performed at the Carpenter Performing Arts Center located at 6200 E. Atherton Street in Long Beach, CA. For tickets or for more information, please call 562-856-1999 x4 or visit online at www.musical.org.