BWW Review: East West's KENTUCKY Goes Down Smooooth As Its Namesake's Bourbon
KENTUCKY/by Leah Nanako Winkler/directed by Deena Selenow/David Henry Hwang Theater at the Union Center for the Arts/thru December 11, 2016
The East West Players' West Coast premiere of playwright Leah Nanako Winkler's KENTUCKY stuns and enthralls with its highly dramatic, polarizing emotions emoted by its almost perfect cast. Winkler has written a most involving piece of theatre that walks a razor-thin tightrope between knee-slapping comedy and heartstring-tugging drama. Very nice!
Deena Selenow deftly directs her talented cast as they juggle the naturalistic with the over-the-top and the absurd. Not every play where you feel more sympathy/empathy for the cat (played
by a human) than for a main human character (played like a caricature).
Hiro (a wonderful, tightly wound Jessica Jade Andres) plans to go home to Kentucky to stop her Born Again Christian, little sister Sophie (a genuinely, 'glass half-full' Jacqueline Misaye) from getting married. Hiro has thrived in New York City making $60,000 a year (that she constantly interjects to anyone within earshot) since leaving Kentucky, her abusive father, her family and school friends behind years ago.
All of Hiro's people feel abandoned by Hiro with no communications between the New York transplant and the Kentuckians.
The main heart-string tugger, Dian Kobayashi inhabits her role as Hiro and Sophie's mom Masako. Kobayashi's the loving mother who believes homemade onigiri (rice balls wrapped in seaweed) will make everything alright. To the totally devoted, submissive wife to her bullying husband James, her marriage vows literally mean "through sickness and in health." Masako's only dream to look forward to is for James (a totally unsympathetic James B. Harnagel) to actually thank her in a Alzheimer's fog, hopefully in the very near future. Having already lost Hiro to New York City and now 'losing' Sophie to her
marriage to Da'Ran, Masako's only constant companion has been her faithful cat Sylvie (played so deliciously feline by Jenapher Zheng). If you don't blink a tear or two at Kobayashi's 'good-bye' moment to Sylvie, your heart must be made of stone. Actually, any moment with scene-stealing Kobayashi will make you laugh or cry or both! Brava, Ms. Kobayashi!
Zheng effortlessly does triple-time with three distinctively diverse roles as the comic/tragic Sylvie, the sad, lonely Nicole, and the cheerleading Bridesmaid with a voice of an angel. Zheng beautifully duets with the vocally-gifted fellow Bridesmaid Megan Therese Rippey. Rippey also does triple-duty as the enthusiastic Bridesmaid, the pragmatic Laura and the no-nonsense Grandma not admitting responsibility for the horrid way her son James turned out.
Daniel Rubiano superbly performs his two roles of the empathizing Larry, Hiro's New York shrink, and Adam, Hiro's high school crush who still kept a spark for her. Rubiano's Larry would make an ideal friend/confidant/shrink for anyone. Rubiano's Adam (with a charming Kentuckian accent) possesses charisma in spades.
As Sophie's new family, Christian Telesmar's sturdy as the very religious husband-to-be Da'Ran and Mel Hampton's perfectly preachy as Pastor Ernest, Da'Ran's father.
Sara Ryung Clement's handsome and versatile two-story, wood-planked church structure set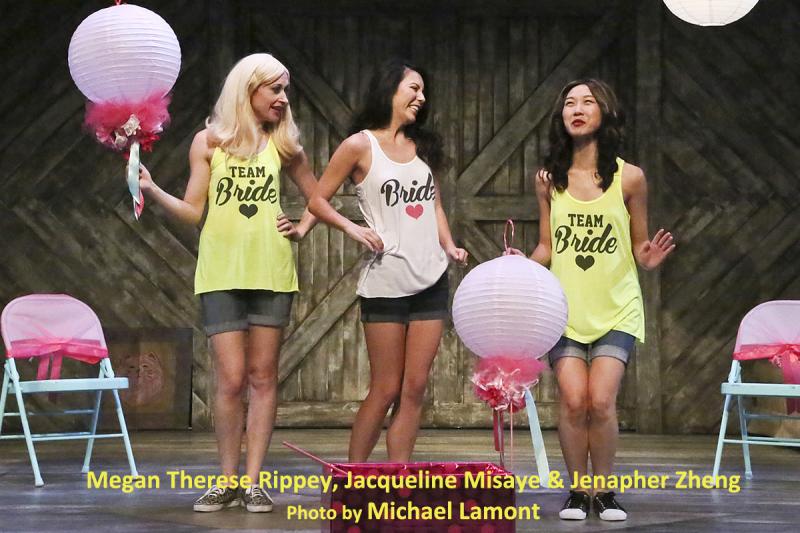 frames the various locations (church, car interiors, bars, shrink's office, bedrooms) without the interruption of set changes.
A much deserved shout-out to costumer Lena Sands for her spot-on, character-defining outfits; from the Pastor's red suit to the ill-fitting bridesmaid dress on Hiro (that perfectly matches the other effervescent bridesmaids' personalities).
Here's one of the many witty lines from Winkler's KENTUCKY - "Who the f*ck leaves Kentucky to go learn how to play the banjo?"
Go visit KENTUCKY. It's certainly worth the trip.