BWW Review: Beautifully Sung Revival of THE COLOR PURPLE Enraptures OC
First, a confession.
My favorite movie of all time happens to be "The Color Purple," the deeply moving 1985 film adaptation of Alice Walker's Pulitzer Prize-winning novel directed by Steven Spielberg.
Filled with riveting performances, marvelous period music, and an absorbing, emotionally-stirring story of resilience and spirit that spans decades, the film went on to earn 11 Academy Award nominations including two nods for its brilliant stars Oprah Winfrey and Whoopi Goldberg---both of whom made their big screen debuts in the film.
It's no exaggeration to say that this movie has burrowed itself deep into my very soul, with every bit of dialogue and musical number imbedded in my brain as if I have been reciting the script all my life.
So when news broke that a stage musical adaptation was to be launched in 2004 at Atlanta's ALLIANCE THEATRE for a future Broadway production, I was understandably ecstatic (and was even more excited when preview tracks from the production showed up online for free download).
Like most fans of the film, many of us unanimously agree that the film is as memorable for its drama and cinematic splendor as it is for its music, provided by the genius Quincy Jones. His creative work in "The Color Purple"---a rich, historically accurate blend of R&B, gospel, jazz, and Southern roots music---essentially made Spielberg's non-science fiction drama an honest-to-goodness movie musical.
Shockingly, though, none of Jones' ear worm songs or orchestral anthems made it into the stage adaptation of THE COLOR PURPLE. Instead, the stage musical features all original songs attributed to composers Stephen Bray, Brenda Russell and Allee Willis. Collectively, the songs are relatively memorable as stand-alone tunes, particularly its vocally-soaring 11 o'clock number "I'm Here" which quickly became a belt-tastic, divalicious anthem of beauty, self-esteem, and empowerment. Meanwhile on the dialogue front, the book was crafted by Marsha Norman combining elements from Walker's original novel as well as the more illustrative moments from Menno Meyjes' screenplay.
All told, the eventual 2005 Broadway production ran for more than 2 years, buoyed by its superb performances, rousing production numbers, and the marketing might of presenting producer Winfrey.
When the tour finally made its way to Southern California, I was, of course, equipped with high expectations. Gladly, my first experience had me enchanted and, yes, moved to tears. While the story presentation felt a bit choppy---like episodic vignettes strung together to form a whole---the show's music just soared, elevated by heavenly voices and theatrical orchestrations that flew up to the back rafters.
The show also kept getting better with each subsequent viewing, providing me with the privilege of seeing the progression of the show to include big marquee names like Fantasia Barrino (the rawest, most vulnerable performance of Celie I had ever seen by that point) and Destiny's Child member Michelle Williams (who showed lots of skin as Shug Avery).
While that original production, as most Broadway shows go, offered the expected big sets, first-rate costumes, and impressive production values, the musical's 2015 Tony Award-winning revival production---currently slaying audiences for a week-long stop at Orange County's Segerstrom Center for the Arts in Costa Mesa through June 24---is decidedly more subdued and scaled-down by comparison, allowing the songs, the story, and the cast performances to shine on their own merits instead.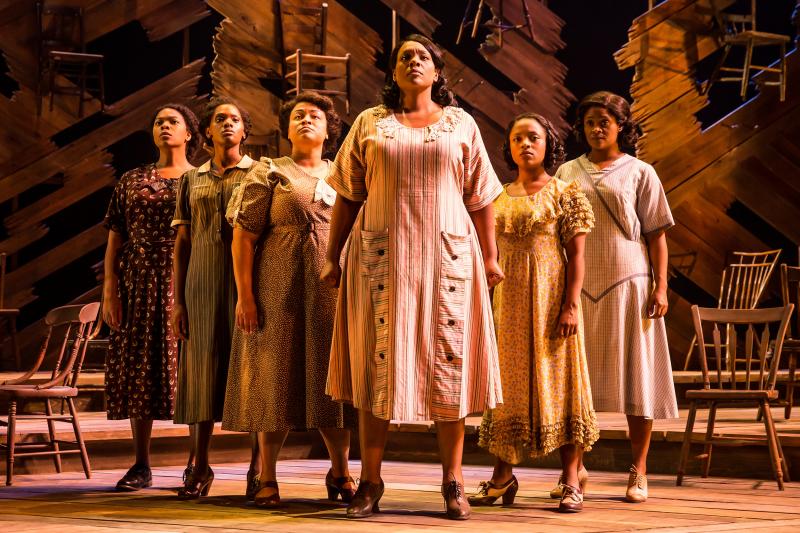 It's certainly a very bold move to tell such a dense, decades-spanning story in such a compressed fashion---but ultimately, it pays off (for the most part). In his more minimalist, almost pseudo black-box staging iteration of THE COLOR PURPLE, Director John Doyle utilizes just a compact footprint and a static stage set to stand in for rural Georgia, circa between 1909 and 1949.
Doyle's own set (which he himself designed) prominently features a tall structure in the center made up of haphazardly criss-crossing pieces of damaged wood---perhaps an homage to the improvised, make-shift shacks and juke joints African Americans built all throughout the South for decades after the civil war. From top to bottom, the whole structure is also lined with mounted chairs of different hues, styles, and ages. At various times, some cast members take these chairs right from the wall to use as set pieces and props throughout the show.
Visually, of course, the structure also serves as an ever-present metaphor for the overall theme of the story: making do with what one has in the face of continuous hardship. The seemingly-rickety structure may be unattractive and perhaps a little worn and damaged, but it certainly gets the job done. Yes, despite its flaws and its lack of sophistication or "beauty," it still exists for a reason---and, therefore, still has worth.
With so few moving parts, THE COLOR PURPLE still manages to feel like a living, breathing piece of alive theater. Here, the busy ensemble cast members---draped in period garb by costume designer Ann Hould-Ward and wigs by Charles G. LaPointe---become the sole mobile set pieces, intermittently walking in and out of scenes in mesmerizing choreographed traffic patterns with either just chairs or baskets, while interacting or just observing. Fabric is beautifully used in a myriad of interesting ways, from swaying laundry to pretend babies. Jane Cox's lighting design makes the space vibrant as well, creating moods that match each scene.
In essence, this cleverly efficient, swiftly-paced revival---a direct transfer of Doyle's own 2013 Menier Chocolate Factory production from London---relies heavily on audience members to fill in a lot of physical objects and narrative spaces with their own imagination, so to speak. And, guess what? We all willingly oblige.
At times, such slightly abstract staging does thrust the story in a too brisk pace, blazing through certain moments in the story that was much more leisurely highlighted in the movie (the Thanksgiving dinner scene where Celie finally lets loose her long-dormant mojo could've been expanded in this musical, but I digress).
Nonetheless, most observers---even ones unfamiliar with the movie, novel, or the original musical production---can still easily deduce the narrative simply because they're forced to pay closer attention to the central action at hand or they'd risk missing a significant plot point. As an added positive, audiences become better at noticing even subtle nuances in cadence or mannerisms not only from the main characters but also from those in the periphery of any given scene.
The resulting show is a powerful, still uplifting one, bathed in a loving, spiritual embrace that shines a light on the struggles, the insecurities, the passions, and the tenacity of African-American women living in the early decades of the 20th Century. I can say without hesitation that this revival production is an excellent way to experience this beautiful, touching, and ultimately triumphant musical. For me---if this is what church is---sign me up!
But, alas, there are demons afoot.
The sole spoiler? This production's sound as presented at Segerstrom Hall.
During the show's Orange County opening night, the production was marred by audio mixing problems. Somehow, the production insisted that the cast's microphones be set at their lowest possible volume settings, rendering many quiet moments of dialogue and singing almost unfairly inaudible. I cannot count how many times I heard "wait... what did she say?" from audience members behind me throughout the course of the evening. Yes, ma'am, the struggle was real.
Luckily, because this extraordinary cast is filled with amazing, out-of-this-world vocalists, many of their shining, vocally exuberant moments still manages to bust through for the audience's full enjoyment. Even non-believers can't help but be spiritually moved by these wonderful talents. The sound mix improved somewhat in the second act, but mostly because the songs required the cast to project more as dictated by the song arrangements and the progressional tone of the story.
For future audiences' sake, I hope they simply turn up the mic volumes a bit more for a better balanced sound between the actors and the terrific orchestra conducted by musical director Darryl Archibald.
Like the novel and the film that inspired it, THE COLOR PURPLE stage musical tells the story of Celie (played wonderfully on opening night by understudy Nikisha Williams), a young woman of color who has been beaten by life both physically and mentally. She prays to her God daily to alleviate her pains, but her problems arrive one after another, continuously testing her mettle despite her faith.
Such is life (particularly for Black women) in the rural South---where life involves praising the gospels on Sunday while people's possible sins become fodder for gossip the rest of the week.
When we first meet her as a shy 14-year-old, Celie is pregnant with her second child as a result of rape by her mean stepfather (J.D. Webster) who openly calls her "ugly." While at Sunday morning church services, she goes into labor and gives birth. And just like with her first child, Celie's stepfather yanks the newborn from her arms so he can "get rid of it." Rumors around town says both babies have been murdered in the woods... but in actuality, the babies were given away to a missionary couple who moved away with them to Africa.
Celie's already had a lot of trauma at such a young age. Her life's only shining light---and the only person that Celie feels truly loves her---is her sweet, younger sister Nettie (N'Jameh Camara). The two play as children would but have been forced to grow up much too quickly. Because Celie has to "work," the "prettier" Nettie is the one earning an education, which she happily passes down to her older sister.
The two very tight-knit sisters are seemingly inseparable, until, that is, the arrival of a man named Mister (Gavin Gregory)---which starts a chain reaction of events that would change the course of everyone's lives.
He has come to ask the sisters' "Pa" for permission to marry Nettie. "Pa" refuses and pushes a counter-offer: for Mister to marry Nettie's older sister Celie instead, adding that despite Celie's ugliness, she is a hard-worker that could tend to his children and his crops.
Reluctantly, Mister agrees to the arrangement, despite still lusting after Nettie.
Celie, in an effort to stay alive, essentially goes from being an indentured servant to one man only to end up being the same for another. During the day, Celie works tirelessly while being constantly being berated and abused, while in the evenings, Mister "climbs on top" of her to "do his business." All the while, Celie dreams of escape, even though she knows deep in her soul that she likely isn't worthy of anything better---because, sadly, no one has told or shown her otherwise.
A temporary sliver of happiness arrives when Nettie asks to stay at Mister's house after having to fend off their horny stepfather one too many times. But as expected, Mister himself tries to seduce Nettie. When Nettie refutes his advances, Mister forcibly banishes Celie's only remaining family out of their house, devastating a distraught Celie into deeper depths of despair. Nettie promised that she would write, but Mister threatens to kill Celie if she ever dares to touch the mailbox.
Several years pass and Celie has essentially surrendered to her lot in life and has settled into an unhappy existence with Mister. As far as she knows, no letters have ever reached her, prompting Celie to assume that her sister Nettie has passed away. After years of abuse, Celie is even more timid and meek than ever, often disappearing into the background while continuing to cater to all of Mister's every whim.
But soon, a couple of lively, strong-willed, outspoken women whirl into Celie's life, offering her a glimpse of what life would be like for a woman who felt free to speak her mind. Both bold women are poised to have a huge impact in Celie's mental and spiritual growth.
First she meets the take-no-shits Sofia (the scene-stealing powerhouse Carrie Compere), the brazen, loud-mouthed new wife of Mister's oldest son Harpo (J. Daughtry). Large and very much in charge, Sofia takes no guff from anyone and bulldozes anyone who ever dares to rule over her. To no one's surprise, Sofia even lords over her husband Harpo---which is, of course, the complete opposite of Celie in attitude and circumstance.
Naturally, Celie is fascinated by Sofia, and feels slightly envious of her---even though she has found a new friend and even an ally.
But when Harpo solicits advice from Celie over how to control his uncontrollable wife, Celie's immediate, automatic response is for Harpo to beat Sofia---a tactic she knows first-hand works very, very well in making someone scared, compliant and obedient. Unfortunately for both Harpo and Celie, Sofia doesn't like to be told what to do---and she definitely knows how to fight back. Nope, she didn't like that piece of advice one damn bit.
"I love Harpo! God knows I do!" Sofia yells at Celie. "But I'll kill him dead, 'fo I let him or anybody beat me!"
Later, Celie meets another fascinating figure: the infamous Shug Avery (the awesome Carla R. Stewart), a bawdy, sexually confident jazz singer who also happens to be Mister's long distance, on-again, off-again mistress (it is through her that Celie learns for the first time that Mister's real name is Albert).
Adorned in sparkly gems and bejeweled, body-hugging flapper dresses, the wild, uninhibited Shug is a star in every which way. And like Sofia, Shug also doesn't allow the men in her life to rule over her.
But there's also another layer to Shug that's brewing just below the surface: she's hurting deep inside, which she alleviates with lots of alcohol. She is initially cruel to Celie (drunkenly calling her "ugly" to her face during their first meeting), but after Celie nurses her back to health, the two become very close friends very quickly.
"My GOD, I love this woman!" Celie merrily exclaims.
Well...Sounds like Celie, too, is in love with Shug (the revival similarly shies away from much of the novel's lesbian overtones).
To her credit, Shug does offer a helping hand in not only nudging Celie to find her own voice and to stand up for herself, but to also break away from her life of abuse and go after what she wants (well, except Shug herself). For the first time in, um, forever... Celie finally realizes that she has worth.
Oh... and, uh, [SPOILER ALERT]... Shug also locates a bunch of letters from Celie's sister Nettie that Mister had hidden from her decades! Yay! Nettie's alive! And in Africa! Raising Celie's two babies! Holy coincidence!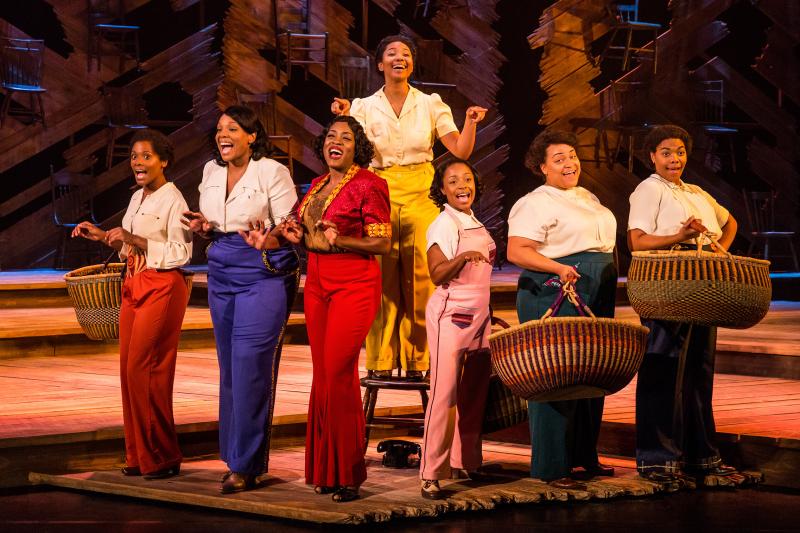 As a huge fan of both the original novel and the film adaptation, the stage musical iteration of THE COLOR PURPLE proves itself easily as a worthy third option to experience this incredible story of determination and perseverance. Celie's is a voice and a point-of-view that is a rarity in any medium to hear from, so seeing---and hearing---the musical feels extra special.
More than anything else, THE COLOR PURPLE---particularly this compacted, stripped-down revival---offers itself up as a guaranteed spectacular showcase for talented, soulful musical theater actors (even if the theater's sound system isn't working at its best).
Leading the pack is Williams---stepping in valiantly for Adrianna Hicks on opening night---who gives a palpably transformative performance as Celie, punctuated by her supple vocals that truly pierced my heart. Her thoughtfully-articulated performance makes you take note of the character's journey from a timid, shy, indentured servant unable to stand up for herself to a woman slowly discovering her own beauty and self-worth. Debilitatingly soft-spoken at first, then bursting with unbound confidence by the show's end, I really appreciated her notable build up to her version of "I'm Here" which was just absolutely exquisite---and such a worthy payoff that mirrored her character's journey.
Stewart turns in an excellent performance as Shug Avery, arming her with a smoky growl that hints at a vulnerable interior. Her take on "Push da Button" is ferociously sexy then she turns around and gives the audience a "Too Beautiful for Words" that feels like a heartwarming lullaby. Meanwhile, Compere is so much fun to watch as Sofia, making every appearance a complete delight. I literally couldn't stop smiling whenever she was on stage. And, of course, her lead vocals on "Hell No!" is a memorable highlight as is her endearingly flirty duet with Daughtry in "Any Little Thing."
Also worth noting are the women who make up the trio of gossipy Church ladies: Angela Birchett, Bianca Horn, and Brit West. Their hilarious busybody "observations"---sung in lovely harmonies, natch---are wonderful if too few. N'Jameh Camara's performance as Nettie gives Williams a worthy sisterly duet partner while Erica Durham's Squeak (Harpo's post-Sofia dalliance) is a comic standout.
Though the women do rightly own the show, many of the male cast members do provide excellent support---particularly Gregory and Daughtry in their respective father-and-son roles. Seriously... this entire cast is just exceptional---so much so that even with the theater's audio problems, the production still roared. It was like the most rousing church service I've ever attended.
Coincidentally, seeing the show on Juneteenth made the experience even more extra special, not to mention seeing the musical now as the nation grapples with pronounced tensions along color and gender lines. And, of course, seeing THE COLOR PURPLE now in the age of the #MeToo movement certainly reiterates just how ahead of its time Walker's book was, and just how revolutionary it was to highlight such characters.
If you have yet to see the stage adaptation of THE COLOR PURPLE, hers's your chance to catch an extraordinary production featuring a first-rate cast.
** Follow this reviewer on Twitter: @cre8iveMLQ **
Photos from the National Tour of THE COLOR PURPLE by Matthew Murphy, courtesy of Segerstrom Center for the Arts.
----
Performances of the National Tour of THE COLOR PURPLE at Segerstrom Center for the Arts continue through Sunday, June 24, 2018. Tickets can be purchased online at www.SCFTA.org, by phone at 714-556-2787 or in person at the SCFTA box office (open daily at 10 am). Segerstrom Center for the Arts is located at 600 Town Center Drive in Costa Mesa. For tickets or more information, visit SCFTA.org.