BWW Review: August Wilson's GEM OF THE OCEAN Gets Exquisite New Staging at South Coast Repertory
Considered one of the world's most celebrated playwrights---and deservedly so---American author August Wilson has gifted the world with work that aims to vividly dramatize and richly illuminate the African-American experience. In each of the ten plays that comprise his American Century Cycle---his impressive series of plays he wrote between 1979 and 2005 that are each set inside one decade in the 20th Century---Wilson provides audiences of all races, creeds and socio-economic backgrounds very poignant, truthful, and often times unflinching windows into the personal lives of his beautifully crafted characters, and, yes, their broader place in the whole of American society during their respective eras.
Wilson's efforts not only garnered two Pulitzer Prizes for Drama and overwhelming acclaim, he also earned many of the theater world's most coveted top prizes throughout his prolific career. Perhaps his most well-known work is FENCES, the Tony Award-winning 1987 play whose 2010 revival became the springboard for the Oscar-nominated 2016 feature film adaptation that starred Denzel Washington and Viola Davis reprising their Tony-winning roles. With Wilson and his work once again rightfully in the mainstream spotlight, interest in now seeing the rest of his decade-by-decade oeuvre is understandably in high demand.
Luckily for Orange County---and Southern California by extension---South Coast Repertory (who also staged its own admirable revival of FENCES a few seasons ago), has one particular Wilson drama on their sonar at the moment: GEM OF THE OCEAN, the riveting, epic-sized 2003 drama now continuing at the Costa Mesa theater through November 11. Because it is, in chronological order, the play that "starts" Wilson's decade-by-decade American Century Cycle, watching this specific play first is an enticing way to jump into Wilson's body of work.
An exquisitely rendered, mesmerizing production superbly directed by Kent Gash and featuring a truly impressive, excellent ensemble cast, SCR's new regional production of GEM OF THE OCEAN combines a bountiful interweaving of historical references, personal and emotionally-tinged character confessionals, and mystical, magical elements to fashion one of the most fascinating and engaging works of drama I have experienced in this theater.
Admittedly, my exposure to Wilson's work has been limited to SCR's own offerings as well as the one made-for-TV adaptation of The Piano Lesson in 1995 that I caught in passing. In those instances, I came to regard Wilson not only as a truly remarkable wordsmith but also as a strong writer with great, observant sensitivity to realistic characters and their realistic, grounded emotions and inward struggles. So to watch this more creatively expansive play---one that features a supposed 285-year-old larger-than-life persona and her home that doubles as a protective sanctuary and as a portal to soul-cleansing time travel---I was pleasantly surprised where this play took me to in its 2 hour and 30 minute running time. Part personalized history examination, part mystery thriller, and part fantasy adventure (!), the play is a wonderfully captivating piece of artistic theater.
Set in 1904---again, placing GEM OF THE OCEAN as the first, chronologically, of Wilson's 10-play series---the play examines the African-American experience through the gaze of the ever expanding generations of free blacks still haunted by the ravages of slavery while trying to survive in an only slightly-changed world where they are still considered unequal and less than with whites. Although technically no longer bound by shackles nor tethered to a slaveowner, black citizens must still contend with the open, unpoliced hostility towards them, as well as, of course, the very real dangers of racism and classism. Many live in abject poverty while some black citizens live in constant fear of being kidnapped and resold back into slavery or, worse, being lynched on made-up charges or for just being at the wrong place at the wrong time.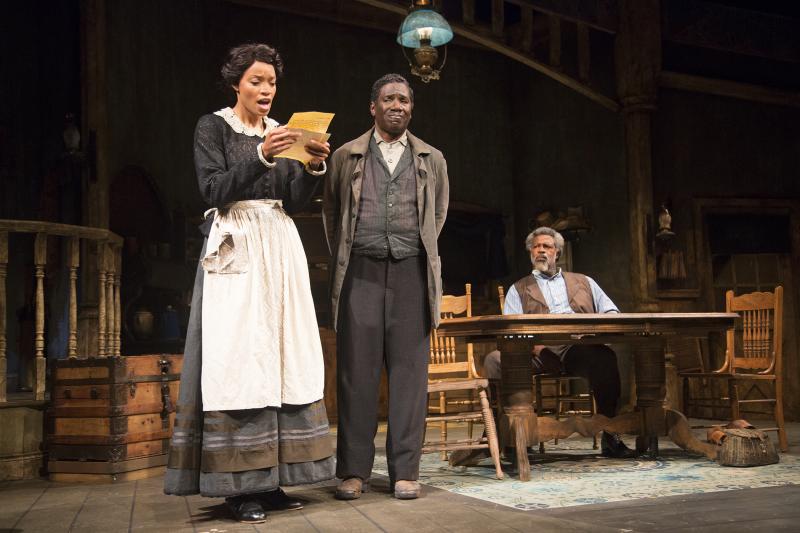 Jim Crow laws---state and locally-enacted laws that enforced the abhorrent practice of racial segregation---make livelihood for free blacks extra perilous, especially in the South. One would think that cities in the North---in this case, Pittsburgh, the city where most of Wilson's plays are set---would be a slightly better environment for this new generation of free African-Americans. On the contrary, even the supposedly progressive North doesn't hold the monopoly on the unfair treatment of black men and women.
For GEM OF THE OCEAN specifically, the audience is transported to 1839 Wylie Avenue in the Hill District of Pittsburgh, Pennsylvania. This is the home of Aunt Ester (the amazing L. Scott Caldwell), a former slave who claims to be 285 years old (!) and is now the head of this sanctuary-like home's household which, at the moment, includes Black Mary (Shinelle Azoroh), Aunt Ester's overworked, over-criticized housekeeper that's been staying with her for three years, and Eli (Matt Orduña), Aunt Ester's primary caregiver, protector, and overall household handyman.
Aunt Ester, it seems, has a well-known reputation far and wide as a so-called "soul-cleanser" which prompts many who are troubled, lost or generally in a state of helplessness and despair to seek her out so that she may dole out such a mystical service for them. Black Mary appears to be an apprentice soul-cleanser herself, while Eli, sometime ago was perhaps a satisfied recipient of Aunt Ester's miracle cure.
When the play begins, a large knock bangs loudly at the front door of Aunt Ester's home.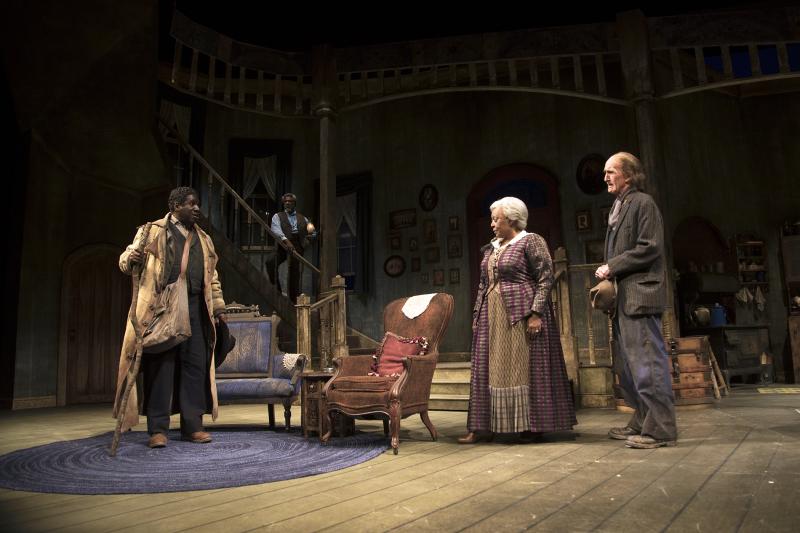 On the other side is Citizen Barlow (Preston Butler III), an exasperated young man who has come up all the way from Alabama to seek out Aunt Ester's soul-cleansing services. Despite his undeniable desperation and panic-stricken tone, Eli refuses to let him in, telling him that Aunt Ester is only able to receive anyone until days later. Having waited on the stoop outside the home for many days, Citizen grows impatient and eventually breaks into the house through a window to gain entry. Surprisingly, the sharp-minded but slow-footed Aunt Ester accepts him into her home anyway with the promise to fulfill his request for redemption because he reminds her of her "Junebug," one of her now passed on children. In the meantime, she has Eli task him to help construct a wall out back as she readies him for his "spiritual journey," while Citizen, for his part, begins a flirtation with Black Mary.
We soon learn that Aunt Ester's home is quite a busy hub of activity, as visitors pour in here and there with news of the day or requests for salvation. Among its frequent visitors is the amiable Rutherford Selig (Hal Landon Jr.) a white friend of Aunt Ester's who sells pots, pans, and other cooking tools; and Solly Two Kings (the superb Cleavant Derricks), another friend of Aunt Ester's who, like Eli, was also a former slave from the South who later became an active conductor in the Underground Railroad and a scout for the Union Army. He walks with a stick as a result of a leg injury and makes a living as a dog manure gatherer-and-seller (he calls the stuff "pure"). His name is derived from King David and King Solomon in the Bible. And guess what? He's kind of sweet on Aunt Ester, too.
Unfortunately, her status in the community also means that Aunt Ester has unwanted visitors, too---mainly Caesar Wilkes (Ariel Powell), Black Mary's d-bag of a brother who is a local, power-tripping policeman, baker, and landlord, hell-bent in upholding the "law" even if it means exacting harsh, fatal justice to suspects without due process. A rarity in that he is a black man given an alarming amount of authority, everyone in Aunt Ester's circle despises him.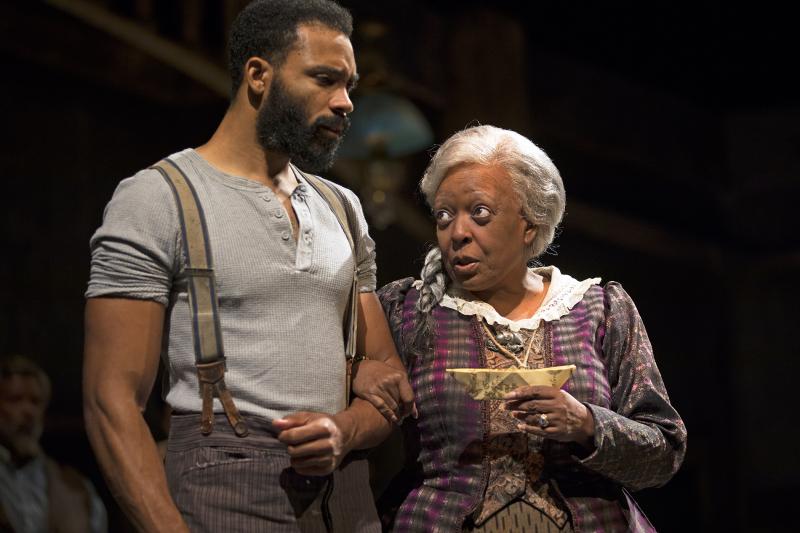 But, alas, Pittsburgh is rocked by a local scandal: a local black mill worker has decided to drown himself rather than face investigation and trial over accusations against him for the alleged theft of a bucket of nails. The talk among the black residents is that the accused man perhaps thought his days were numbered, because the mere accusation---here in this unfair, biased society---is already and automatically unaccepting of his plea of innocence. The incident has since caused rioting and a mass walk-out from the workforce. Caesar, for his part, is shockingly siding with the city's white population who reiterate the idea of the "black problem," and has subsequently arrested several people in the process. His house visit to 1839 Wylie has been prompted by his ongoing hunt for more clues, implying some suspicion that Aunt Ester may have someone under her roof with a connection or at least some information about the trouble down in the mill.
As Aunt Ester's circle discusses the ramifications of a "free" life in Pittsburgh and the harsh realities of being a slave not so long ago, the audience is given the privilege to hear some extremely illuminating monologues about what it means to be an African-American in that decade's environment---which, sadly, still feels very relevant even now in 2017 (on a side note... even the mention of Eli and Citizen "building a wall" got a few chuckles from the crowd). Solly, in particular, recounts the horrors of running away from Alabama all the way to the North in Canada where he claims to have found some evidence of the existence of genuinely nice white people who helped him. According to his recollection, Solly has helped save over 62 slaves from bondage during his time with the Underground Railroad. But the riots and the mill strike has help resurface old emotional wounds that haven't completely healed.
"What good is freedom if you can't do nothin' with it?" Solly passionately argues.
The play repeats this central idea that each character grapples with in some form: what makes a person truly "free?"
Another question it brings up: is redemption possible for anyone seeking it?
Powerful in impact and profoundly spellbinding in its scope and truth-telling---and then punctuated with an imaginative yet haunting mysticism that dazzles rather than perplexes---SCR's superior production of GEM OF THE OCEAN is captivating in both its richly layered story and its fascinatingly complex characters, enhanced further by top-notch production values and an outstanding cast that creates virtual magic with the material.
Starting with Edward E. Haynes' stunning period set---featuring a massive-looking, intricately ornate front door that booms like a hulking fortress entryway whenever it receives a fear-inducing knock---encircles the action like it is itself another character, which comes to even more life thanks to Dawn Chiang's striking lighting design and the gorgeous projections designed by Shawn Duan. Later, when Aunt Ester leads Citizen into his promised journey to the City of Bones, the set transforms into---SPOILER ALERT---a vessel that stuns the audience in awe, particularly when it finally dawns on us what this vessel really is. It's a smashing surprise that newbies unfamiliar with the material will definitely enjoy experiencing. The addition of Susan Tsu's period-perfect costumes and Lindsay Jones' music and sound design complete the look and feel.
The cast is nothing short of outstanding. Caldwell---who won a Tony Award in 1988 for August Wilson's JOE TURNER'S COME AND GONE---wonderfully leads the ensemble, ruling the roost with a regal flair and a commanding vocal delivery that reiterates her character's age, wisdom, trustworthy-ness, and overall mother hen attitude, which also hints at a woman that perseveres through life's challenges. When her "magical" properties come to the surface, you totally buy into her hard sell. She may be playing a 285-year-old, but Caldwell gives her a bit of a spry, playful side that will make you smile.
The incredible Derricks turns in one of the season's most electrifying performances as Solly Two Kings, giving his role a palpable gravitas and sincerity evidenced by his soul-piercing monologues that reveal a man still deeply wounded (physically and mentally) by his harsh past. Not only does he elicit the most laughs, he also manages to wring out tears. Meanwhile, Butler's portrait of Citizen---strong yet internally vulnerable---makes for a terrific contrast to the older gentlemen in the cast. Azorah's Black Mary begins the play quietly bubbling under the surface, trying very hard to squelch her inner voice, but then later bursts with hutzpah once she asserts herself. It's a subtle character shift that I actually appreciated, and Azorah made her role much more interesting to watch than how it's actually written by Wilson. Orduña's Eli is a big Poppa Bear that is all at once gentle and protective and yet can be intimidating in his own right. Landon's brief scenes as Mr. Selig confirms the idea why he's the sole white person that everyone can trust. And finally Powell gives his Caesar (aptly named, by the way) an appropriately intimidating stature, a power-mad tyrant emboldened by his position to instill fear in everyone that comes into contact with him. Like most well-crafted villains, he doesn't think his actions are evil, but, rather, they're for the good of his people.
Overall, GEM OF THE OCEAN---a fitting "first" play in Wilson's decade-by-decade play series---is, actually, for me, Wilson's most fascinating play amongst the ones I have personally experienced. Repeatedly, the play takes turns into pleasantly unexpected places that kept me engaged and interested---something I honestly did not expect when I walked into the theater. And despite its dense running time, I was enthralled by the majority of the play (admittedly, a few scenes could have used a trim here and there, but it's a minor gripe). While it certainly lacks the closer intimacy and deeper character development of, say, FENCES, I appreciated GEM OF THE OCEAN's ambitious attempt at an expansive examination of a bigger theme that, in its own way, is still manifested in the individual experiences of the characters we meet. I do feel that the important, still relevant themes touched on by the play is worthy of a revisit, if only as a necessary teachable moment that everyone needs to be reminded of, particularly during such volatile times we live in today.
* Follow this reviewer on Twitter: @cre8iveMLQ *
Photos by Jordan Kubat for South Coast Repertory.
-----
August Wilson's GEM OF THE OCEAN continues at South Coast Repertory through November 11, 2017. Tickets can be purchased online at www.scr.org, by phone at (714) 708-5555 or by visiting the box office at 655 Town Center Drive in Costa Mesa.