BWW Review: Ambitious BLOOD ROCK: THE MUSICAL Really Sings
BLOOD ROCK: THE MUSICAL/music & lyrics by Michael Berns/book by Mark Rich & Michael Berns/directed by Gary Thomas/Odyssey Theatre/thru September 30, 2018
More GREASE homage than a blood-sucking WEST SIDE STORY, BLOOD ROCK: THE MUSICAL pits two gangs of vampires against each other in a modern-day fight for survival. This entertaining, light romp receives its transfusion of wonderfulness from the amazing vocals and harmonies of the large talented cast singing the very credible lyrics of Michael Berns. Everyone has their moments to shine under Gary Thomas' able direction.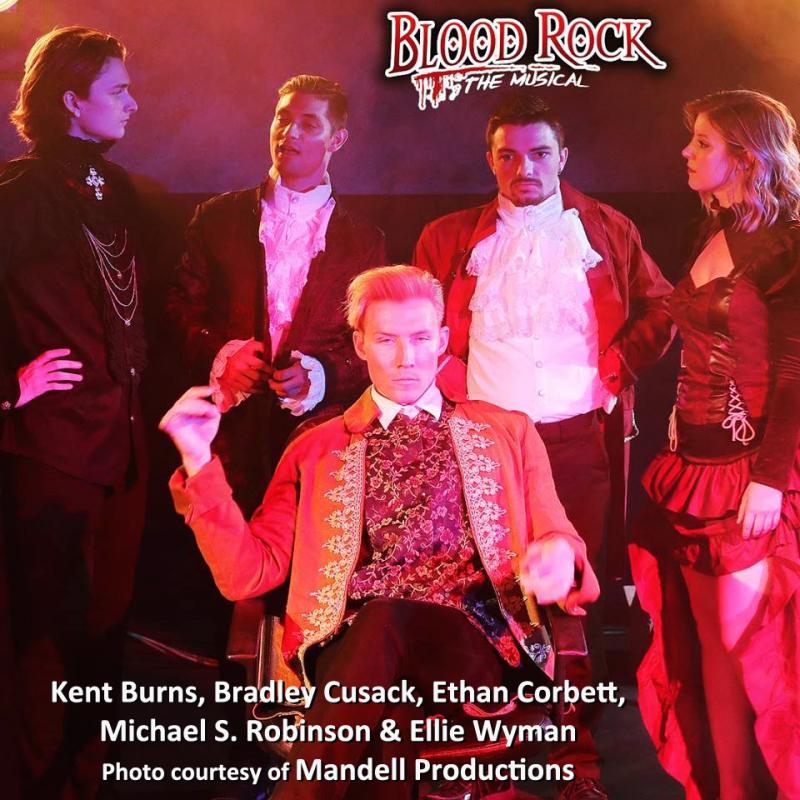 The "Blood Rock Gang," the human-friendly vampires, have been running a blood bank to obtain donated blood that they can transform into the synthetic solid form of 'blood rock' they sustain on. The newly arrived Carnoli's Gang, the more traditional human-killing vampires, require fresh blood to feed their eternal lives.
BLOOD ROCK opens with the Blood Rock Gang performing the title song, led by Sam Chan's stunning tenor vocals as Shingo, with Michael J. Ryan as Rohan, Allison J. Parker as Artura and Milan Magana as Keisha. The harmonies of these five (Rylee Domann as Liling enters later) remind you more of angels rather than citizens of the underworld. Simply heavenly harmonies!
In "Unalive," vampire hunter Dr Figatner (an animated Joseph Miller) and his trusty assistant Tina (a befuddled Carla Valina) come upon the coffins of Carnoli's Gang and inadvertently release them from their locked prisons.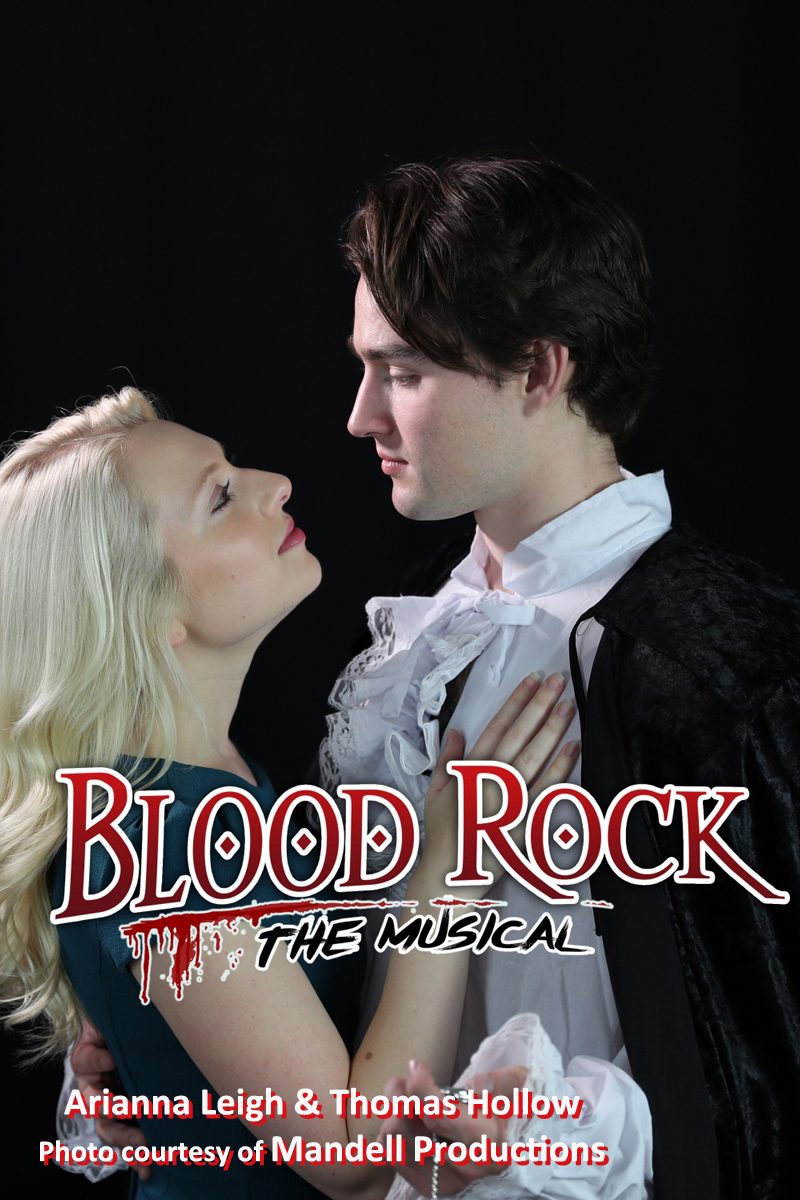 Ethan Daniel Corbett demands the spotlight as the preening Carnoli as he orders his four vampire minions around. Scene stealers all - Michael S. Robinson as McCabe, Kent Burns as Ricardo, and the master scene thief of all, Bradley Cusack as Mosi - Carnoli's 'personal' assistant. Corbett really commands centerstage in his "No Four Times In a Row." Emily Forest as Thomasina, the only female of Carnoli's posse, comes into her own and much more in her second act solo "Menacing." Forest's duet with Ryan "Change Your Mind" siz-zles!
Thomas Hollow, as Paul, the grieving son of Dr. Figatner (death by vampire), exhibits his melodic tenor in solos, "Father," "Paler Than a Ghost," and especially "This Means War" (backed by the aforementioned heavenly harmony).
Arrianna Leigh as reporter Carolin Mills enjoyably duets with Hollow in "Complicated," and "Bitten" (where she and Hollow execute sharp tango moves.)
Also providing solid back-up support - Roxy Seven and Brett Copeland.
Showstopper of the evening has to be Ryan's gorgeously sung, heartfelt "Thomasina."
All handle Kyra Burns sometimes intricate, always fun choreography nimbly.
Appealing gothic costuming for Carnoli's Gang from costume designer Vicki Conrad, with the nice touch of all vampires wearing fangs.
Sound designer Ryan Marsh adeptly keeps the vocals levels clearly audible over the instrumentals, although miking on some of the singing seemed much stronger than others.
Sets by Vision Scenery provides functional, side-by-side sets of the blood bank and of Carnoli's cellar; with Paul's living room, Channel 3 newsroom and a nearby park bench moved in when appropriate.
Very good chance of you leaving the Odyssey humming the melody of Michael Berns' title song "Blood Rock."