Review: AN UNDIVIDED HEART Deserves Your Undivided Attention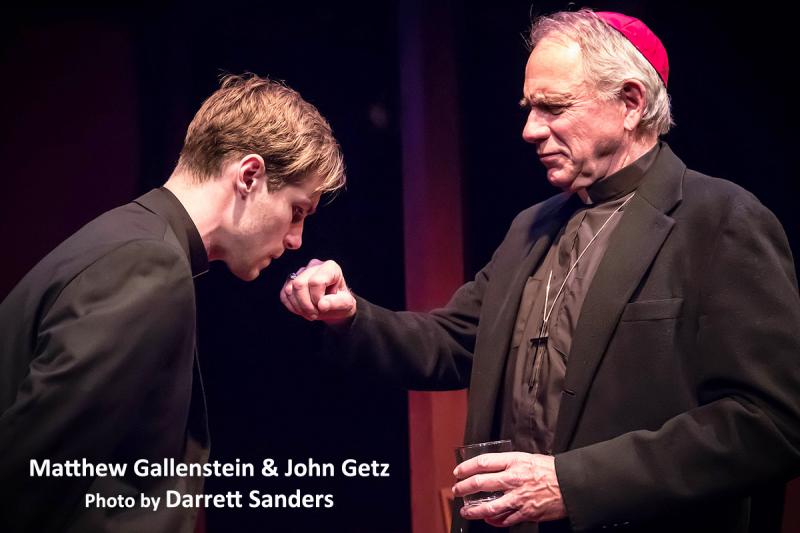 AN UNDIVIDED HEART/by Yusuf Toropov/directed by Chris Fields/Atwater Village Theatre/thru April 22, 2018
The world premiere of playwright Yusuf Toropov's AN UNDIVIDED HEART receives a stunning mounting by The Echo Theater Company and Circle X Theatre Co. Director Chris Fields sure-handedly guides his talented cast through the involving story of a passionate young priest striving to do the right thing. In this case, publish an exposé on the pedophilia prevalent in the Catholic church.
Toropov's smart script has valid arguments from Father Mike, the conflicted priest; and strong excuses from the established clergy.
The accompanying subplot of toxic drinking water in the town provides the opportunity for two actresses to exhibit their powerful acting chops. Alison Martin and Alana Dietze play mother Ruth and daughter Lynne, respectively, in constant battle with each other over responsibilities and religion. Lynne can't see the presence of any god with the tragedies she's experiencing, while Ruth can only see the strength of religion and the familial bond.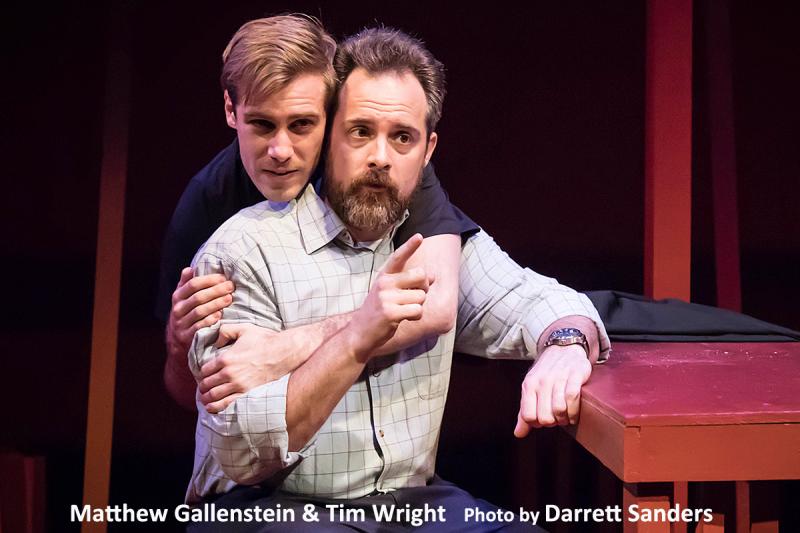 Matthew Gallenstein IS Father Mike, the play's focus, passionate in his vocation to serve his community as a priest, but indecisive on his possible whistle-blowing on the illicit conduct of some priests - with one priest in particular. Gallenstein commands the stage whether he's hesitant and doubtful on going through with publishing his book of truths, bewildered at the Little Girl who keeps showing up in his dreams, or standing up to the head of his diocese or the guilty, whimpering priest.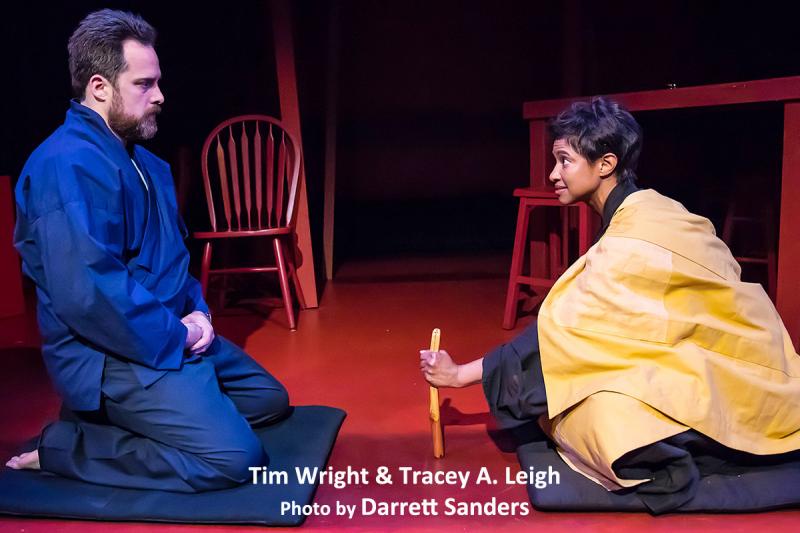 Tim Wright's sturdy as Mike's brother Max giving strong moral support (as well as, practical) to his younger brother's quest to right a long and ongoing wrong. Max, a book editor (his brother's book editor), introduces Mike to his Buddhist counselor Janice to help Mike get past (or interpret) his dreams. Tracey A. Leigh's Janice serenely gives down-to-earth advice in riddles for both brothers to solve. Leigh good-humoredly plays her zen-ness.
Ann'Jewel Lee proves the old adage of never sharing the stage with a child actor. Lee's so charming and cute as the Little Girl Mike meets that she steals the spotlight from even him. Lee also captivates as the Little Girl in Mike's dreams (although poetry verses this dream girl recites were at times inaudible opening night).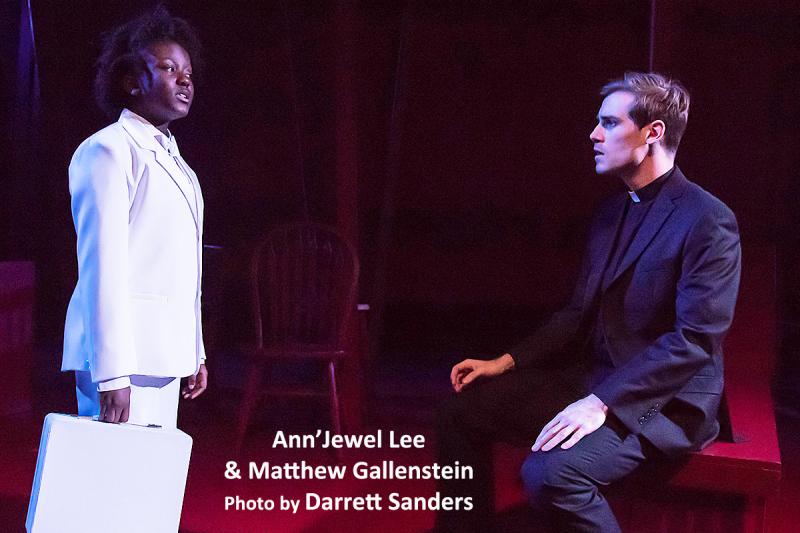 As the Cardinal who's gotten wind of Mike's proposed book, John Getz clearly exhibits his executive position with the most fitting carriage of his body language. Getz also gives his directives and 'advice' with much gravitas, eventually letting a little culpable sincerity slip through.
Jeff Alan-Lee readily oozes guilt as Father White, the perpetrator in illicit photos that prove his sick deeds. From a privileged upbringing, Fr. White's used to getting his way by wielding threats of eternal damnation to his young victims if they speak up, as well as, dropping subtle hints to the Catholic powers-that-be of his family financial contributions possibly drying up.
Michael Sturgis makes his marks as assistant priest Keenan. First, Sturgis' Keenan
recites a sermon memorized in the original template version, instead of filling in the appropriate phrases. Too funny! Then, Sturgis' Keenan gets carried away listening to a recording of Tammy Wynette's "Stand By Your Man," beginning in a few lip-synced phrases to a full-voiced ending chorus. Too, too, too Funny!!!
Paul Eiding adds able support as Antonelli, Mike's deflecting superior.
Kudos to scenic designer Amanda Knehans for her spartan wood planked set with set pieces doubling as fence sections and tables and chairs. Nice!
AN UNDIVIDED HEART - a fine, gripping piece of important theatre. Genuflect and do enter!