BWW Interview: Susan Edwards Martin To Appear at 54 Below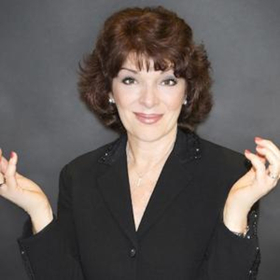 Actress/singer/vocal coach Susan Edwards Martin, Lady Blues in Torch Song Trilogy on Broadway and star of many other musical shows, recently premiered her solo cabaret show at Upstairs at Vitello's. I reviewed the show and she was sensational.* She is taking the show to Feinstein's 54/Below in New York on March 23. Edwards Martin also has created an original show about the optimistic way she lives her life called, 'Unlimited! You'll Have the Time of Her Life!", that had a spectacular one night presentation and is currently waiting in the wings for a full production. Busy, busy, busy, Edwards also recently performed with Musical Theatre Guild as the lead in Minnie's Boys to rave reviews. Ms. Edwards Martin sat down and discussed her career thus far, and about the story behind Unlimited! You'll Have the Time of Her Life! and her latest cabaret show. Before we start to look back I always ask a few less relevant questions about musical theatre.
Who is your favorite composer?
Susan: Gershwin. Musically his songs live on forever. They're timeless. In my view, the best of the best whether it be the lyrics or the music.
Do you have a favorite show? It need not be one you have done.
Susan: A show that had a major impact on me was Carnival. It starred Anna Maria Alberghetti. I was 10 years old, and it was my first Broadway show. The affect of the show on me involved the passion, the story, the music...the hand puppets just totally thrilled me. I went to a music and art camp and made marionettes and puppets. I came home with them and my mother helped me write a show; my father built a stage, and I started performing at kids' parties. Then it grew and I presented my show at assembly programs at schools, and boy scout and girl scout groups; I was working every weekend. Financially, I did very well. I was 10 years old making $100 a show! This was during elementary school, junior high school and almost through high school. I played the guitar, I sang and the kids related to my hand puppets. That was the beginning of realizing my talents.
Any newer show that you like?
Susan: Hamilton, a pioneer show in theatre history as Torch Song Trilogy was when I performed in it. In Torch Song no one had ever dared to do anything like that before...a love story about a drag queen who just wanted love in his life, a home, a family and a relationship, everything that we all want. Being a part of that was an extraordinary time in my life.
Looking back, tell our readers about your involvement with Torch Song Trilogy and how that began.
Susan: I was in New York. I had a thriving career, constantly working. I performed on Broadway, national tours, and Off-Broadway. I had developed a following. A friend in my building told me he had just seen a show at the Actors Playhouse called Torch Song Trilogy written at the time by unknown Harvey Fierstein. He told me, "There's a part in it that is perfect for you and it's coming to Broadway." I let my agent know and I got an audition at the Actors Playhouse. That's the video scene you see in my cabaret show where Harvey is auditioning me. I booked it. There was a girl playing it off-Broadway but when they moved it to Broadway, they split the part. Lady Blues became its own role. I also understudied the part of Laurel in Act Two, playing both roles quite often during our three year run.
Do you think playing Lady Blues prepared you to do cabaret?
Susan: Absolutely. I was performing every night. Especially when you have to sing, you've got to be in top form. Your voice has to be available to you, you have to get your rest and eat well to have the energy. You have to really take care of yourself to do 8 shows a week. While I was performing in Torch Song, I started doing cabaret all over town. I was performing at all the clubs, the West Bank Cafe, Back Stage, Inner Circle, Caroline's, and I met some of the best people. I had done an out.of.town tryout of a show called Prince of Grand Street and I met a gentleman, Colin Romoff, who was the musical director of that show and who did the orchestrations. When I started working with him he mentored me. He coached Mary Martin, Ethel Merman, Judy Garland... he worked with all those great classic women. He was my coach. I worked with him for quite a long time. The song "The Gypsy in My Soul" that I perform in my show, was his arrangement An amazing talent who is, unfortunately, no longer with us.
Who else mentored you?
Susan: David Krane, who most recently created musical arrangements for the Mary Poppins movie, was Colin's assistant at the time. He was just a young man. It's so fun to see how far careers evolve. In 2000, when I adopted my son Nick, I put everything on pause. What I created here in California in the 80s, was a show that I could perform everywhere. I was working with the very talented musical director Michael Orland (currently with American Idol) at the time and I put all the music on tape. I performed at women's groups, men's groups, clubs, and corporate events in California and Florida. I love to perform cabaret.
We'll come back to your current cabaret in a bit, but let's switch to your theatrical show Unlimited! You'll Have the Time of Her Life! Tell us how it got started and what is at the core of the show.
Susan: It's based on all true inspirational stories. I joined a writing group in L.A. Minda Burr, a talented and empowering advocate for women, has a master women's writing group. She convinced me that her class would be perfect for me. The first assignment was to write the story of one's life. Nobody ever asked me to do that. I thought, "OMG, I get to write about all my "stuff." When I started to think about it, I realized that I had experienced some really interesting things in my life. Most importantly, I was raised by a loving family on Long Island. My parents unconditionally adored me and my brother. They totally supported me. In college I auditioned for "Callback" a TV show which was being taped at the Village Gate. The musical director was an unknown talent named Barry Manilow. This was his first musical directing job. I went to his apartment to pick out the songs and work on the arrangements. I sang two songs in the show. Soon afterwards he played for me at my auditions. I paid him $10 (that's right, $10!!) and we took cabs together to my auditions. He wanted to do an act for me with Adrienne Anderson. He said it would cost me $2000. I was working with my puppets, playing piano bar gigs and starting college; $2000 was all I had. My point of view then in my young life was "How can I give him all the money I have? This is more than I've ever had." I asked him if he could wait four years while I went to school. But right after that, he met Bette Midler at the Continental Baths and the rest is history.
Close, but no cigar! What came next?
Susan: I auditioned for a new Broadway show called Bubbling Brown Sugar, and they told me, "We're looking for a white girl." I sang, read and danced, all in the same day... and got the part. The miracle was, I had walked into the wrong theatre. I was supposed to be at the Alvin Theatre at another audition and mistakenly found myself across the street at the ANTA Theatre and landed my first Broadway show! These are just two of my inspirational stories from Unlimited! You'll Have the Time of Her Life! Oh, my Aunt Doris was my mentor. She had an act as a ventriloquist. She had built an outfit that fitted on her body and the breasts, belly button and butt all doubled as characters. She would throw her voice and the boobs would talk to each other. I wrote a song called "My Aunt Doris and Her Talking Torso".
That's hilarious. Isn't your personal life included in the show as well?
Susan: I got married late in life at 49 and became a mom at 50. Adoption was fine with my husband Peter and me, as we were dedicated to nurturing another soul. Getting back to Minda's class, I realized in writing about my life, the stories had to be inspirational. I didn't want to just write "Wow, look at me and how fabulous I am!" The show I wrote had to be entertaining and inspiring. I started to look at other composers' songs such as Sondheim and Schwartz, but there are royalties to pay. Someone said to me, "You're a songwriter write your own!" So I did and with each song and story, I became obsessed. I wrote for a year. I went to bed every night with a pad of paper next to me. Every week in class I would present a monologue or a song just to get feedback. They were very supportive. I realized that once it was out there, it had to be my best effort. So, I asked my friend Larry Blank who writes, orchestrates, conducts and plays piano for Michael Feinstein to listen to what I had created just to see if I had anything good.
He stayed for four hours, sat down at the piano and consequently became my mentor. He was incredible. It was then I knew I had something. We worked all summer and he helped me to write more succinctly, as I have a tendency to overwrite. Then he told me to perform it in front of an audience. I thought, "I need the best place to do my show". I am a member of the North Hollywood Church of Religious Science, so I performed there for one night as a fundraiser, in November of 2017 and 300 people attended my show. It was a thrilling experience! I had worked on it for two years. It was a big hit so I went to APAP in January of 2018. APAP (Association of Performing Arts Professionals) is a marketplace for producers, directors, and performers, to sell and buy shows. I needed to work on the marketing, find the right producers and the best theatre for my show. Until I produce my show as a finished product, I have my cabaret show coming up at Feinstein's 54/Below on March 23.
Any changes to the show since I saw it at Vitello's?
Susan: The brilliant John McDaniel is on the piano! He has done many Broadway shows such as Bonnie and Clyde and Patti LuPone in Concert. He also accompanied and musically directed Rosie O'Donnell on her TV talk show. Recently, he did all the arrangements for the sold out Lights Out: Nat "King" Cole" in L.A.
He's amazing! Will he perform solo?
Susan: Yes, as Sam Kriger did at Vitello's, John will have his own solo spot. He's so great! I can't wait to work with him. Otherwise, the show is the same.
Anything you wish to add about your shows or life in general?
Susan: An important part of my life, besides adopting my son from Romania, is to devote myself to creating a positive role in the world... I'm very active at Temple Beth Hillel; we have a wonderful sisterhood there. I'm also very active at the North Hollywood Church of Religious Science. I love giving back, I love being part of the community and helping any way that I can by doing good work in the world. I was honored to be the recipient of an award called the Braille Review Award. It was created originally to honor Sisterhood women who made a positive difference in the Braille Institute. Now it's given to those who are dedicated and who go above and beyond in service to the community. I'm very grateful for that. I am also an advocate for the homeless epidemic here. I want to do it all but if we do one thing, as an act of kindness, we can all make a difference in the world. As the lyrics in my original song, "It's All Good", "...choose the thing that makes your heart sing"!
*Read my review of the cabaret show here:
https://grigware.blogspot.com/2019/02/cabaret-review-susan-edwards-martin.html
and to learn more about Susan, go to:
www.UnlimitedSusanEdwardsMartin.com
https://youtu.be/Cz2enf7CHck (music video)
https://store.cdbaby.com/Artist/SusanEdwardsMartin
Related Articles View More Los Angeles

Stories

Shows