BWW Interview: Portia's No SWEAT on Strong Roles, Nottage & Rashad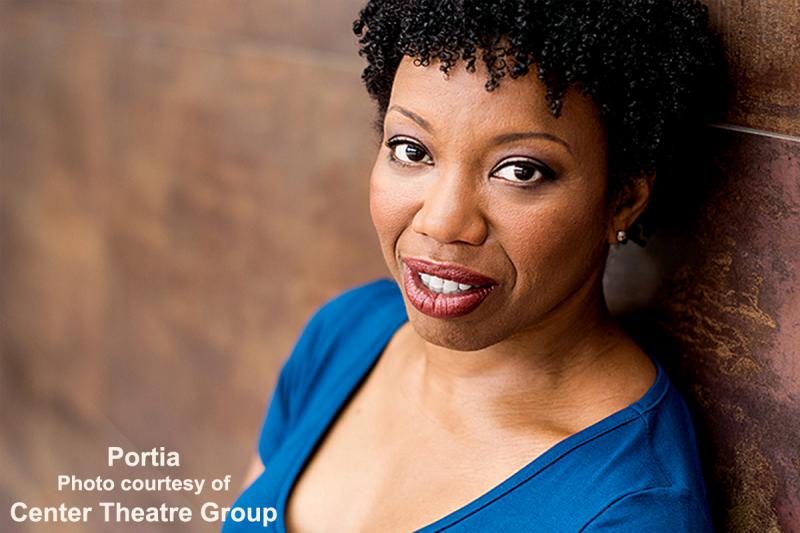 Playwright Lynn Nottage's 2017 Pulitzer Prize-winning SWEAT, her raw take on the intertwining issues affecting a close-knit group of Reading, Pennsylvania townsfolk, has just opened at the Mark Taper Forum. Portraying Cynthia, the inescapable lightning rod in SWEAT's volatile scenario, Nottage stalwart Portia brings a human face to a multiple of 'faceless' generalized preconceptions.
Portia managed to find some time between final rehearsals to give us her thoughts on working with Lynn Nottage, Phylicia Rashad and the late Philip Seymour Hoffman.
Thank you for taking the time for this interview, Portia
How would you describe your character of Cynthia in SWEAT?
Cynthia is a fighter, a survivor. She is a risk-taker and strong-willed. She believes in, and wants, a better future for herself and her family.
SWEAT is not the first Lynn Nottage play you've been in. You played Mrs. Dickson in her INTIMATE APPAREL last year at Bay Street Theatre in Sag Harbor, NY; and Mama Nadi in her first Pulitzer Prize-winner RUINED both at Manhattan Theatre Club Off-Broadway and The Geffen Playhouse in Los Angeles almost a decade ago. How would you compare and contrast your character of Cynthia in SWEAT with Mama Nadi and Mrs. Dickson? All women of character and strength, yes?
Cynthia and Mama Nadi are both very strong women, and both are blinded by their vision and desire for something more something better. They both have this burning desire for a piece of something they can hold on to and call their own. They give tough love, and at first glance, they have these tough exteriors. Cynthia is a hard worker. She goes above what is required because stability and a good life are i
mportant to her. She wants more, but her desire for more leaves her trapped/stuck. Mama Nadi's armor is built from her sufferings. It is what keeps her safe, and it is what garners respect. She keeps the world at arm's length. Mama is what I call a shape-shifter. She can be what she needs to be at any given moment in order to survive. It is when she is left with nothing that she finds everything. Mrs. Dickson has many of the same attributes (a visionary, a business woman and hard worker) in a very different way. She sacrifices love in order to live a life of means. One that is very different than the one her mother had. "Look what love done to me," Mama used to say. "Look what love done to me. So I did what was necessary to gain favor. I allowed myself to be flattered by gentlemen." While they are complicated, what I love are the love stories of these women. Some you see play out, some you don't. But they are intricate parts of the fabric that make these women dynamic.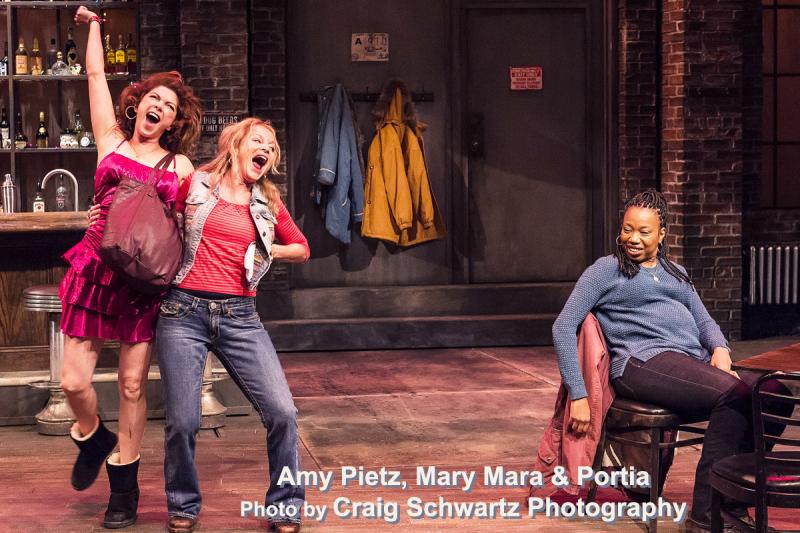 Did you first meet Lynn Nottage in LAByrinth Theatre Company that you are both members of?
My first introduction to Lynn was in 2000. I was cast in a production of CRUMBS FROM THE TABLE OF JOY that was produced at the Dallas Theater Center. SWEAT marks my fourth Lynn Nottage play. I audition just like any other actor, no special treatment. With each production, comes a different vision. Sometimes I'm right for it, sometimes I'm not. That's art, right? What draws me to Lynn's writing and her stories is that I can always connect to them.
Did you ever get to interact with the late Philip Seymour Hoffman, one of the co-founders of LAByrinth Theatre Company?
My friendship with Phil began when we were both cast in a production of MERCHANT OF VENICE that opened at The Goodman Theatre, and then toured through Europe. I was so new to the business, and it was my first professional job. He
and I developed a beautiful friendship. He then began directing, and I had the privilege of being directed by him in two productions: IN ARABIA WE'D ALL BE KINGS and OUR LADY OF 121st STREET, both written by Stephen Adly Guirgis
The theatre community is vast, but close-knit. Besides the playwright, have you had the opportunity to work with any of the other creative contributors of this Mark Taper production before?
I have wanted to work with Lisa Peterson - it seems like forever. I love the way she gives an actor room and is very aware of an actor's process and language and, most importantly, their instrument. I feel safe with her and that is a very, VERY good thing. I had the honor of working with Michael O'Keefe in a production of McREELE at the Roundabout in 2005. He became a forever friend. I love when that happens. I was blessed to be at Williamstown Theatre Festival this year where I was introduced to Will Hochman. We were in different productions, but I was able to see him perform and was blown away. I heard that we were going to be
working together on SWEAT and when the introductions were made, I just hugged him for a really long time. He brings me joy. Kevin Carroll and John Earl Jelks are two of the finest actors in the business. Though I have never been on stage with either, I have carried a deep crush on their artistry and longed for the day to work with them. So... I'm a lucky gal.
Is SWEAT your second time on the Los Angeles boards?
My first time on the L.A. boards was at The Geffen Playhouse in RUINED. I stayed here for two and a half years thinking I had to focus solely on film and television.
What was your very first impression of the Los Angeles theatre community?
I didn't know that a theater community existed in L.A.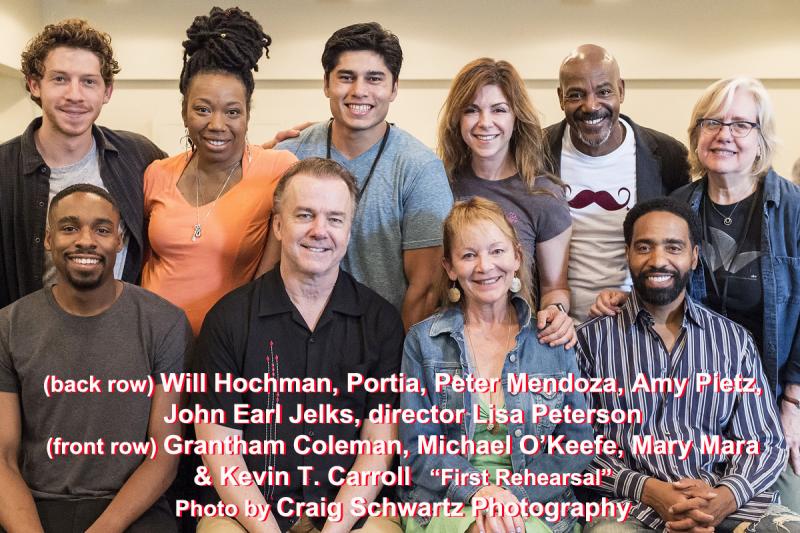 From what you've experienced so far, how would you differentiate between the New York City and the L. A. theatre communities?
I'm used to hopping on a subway to go to readings, workshops, shows uptown, downtown, and everywhere in between. New York City is a walking town and you are always running into someone from the acting community. L.A. is car culture and can be a bit isolating for me, if I let it. The community exists here, you just have to drive to it... or Uber.
In your early career, who did you look up to as someone you wanted to emulate?
Phylicia Rashad changed my life when I saw her in GEM OF THE OCEAN. Her performance is burned in my memory and I want to affect audience members that way. She transforms every time she takes on a character. Her entire instrument gives over. I said it then, and I continue to say it, "That's what I want to do." One of my greatest moments in theater was being directed by her in a co-production of FENCES, and again she changed my life.
When I went into acting (eons ago!); I opted to use my full name (first, last and middle) to fill up the marquee. You have gone the opposite route. A singular name
like Madonna, Rihanna, Cher - Portia! What was your thought process behind your gorgeous single moniker?
I always wanted to use my full name, which is Litha Portiaeyne Johnson; but I gave into the fear that I would lose opportunities because no one would know how to pronounce it. I decided to go with 'Portia,' which is what I have been called all my life. Growing up, no one ever asked, "Portia who?"
What's in the immediate future for Portia?
There are stories I want to tell and I am determined to get them out there whether I am acting directing or producing. This summer I met some fantastic artists while at Williamstown and my community in NYC has been growing as I have begun to cultivate my voice and vision in directing and producing. That's how it begins, right?
What emotions or thoughts would you like the Mark Taper audiences to leave with after SWEAT's curtain call?
I hope when audiences walk away from SWEAT, they walk with the realization that.....This Is America!
Thank you again for taking the time for this interview, Portia!
For ticket availability and show schedule through October 7, 2018; log onto www.centertheatregroup.org