Interview: Choreographer Janet Roston Makes MOVES Everybody Wants To Dance To
Uber busy, much in-demand choreographer Janet Roston will have three separate theatre productions running this month of July. Already opened - CABARET at Celebration Theatre and MUTT HOUSE at Kirk Douglas - Janet's latest choreographic piece GATSBY REDUX will be world premiering July 24, 2018 as part of THE MUSIC CENTER'S MOVES AFTER DARK. We had the opportunity to catch Janet in a rare, spare moment between her shows to see how her choreographic mind works.
Thank you for taking the time for this interview, Janet!
You are such a busy choreographer working on three projects- just this past month. Do you strive on multi-tasking, multi-projecting?
I have always been good at multi-tasking and organizing my time and focus. I'm happy to take on multiple projects. There's always an ebb-and-flow in work, so sometimes I'm super busy working on other projects, and sometimes I'm using my own time to develop new projects. My production ANAïS, A DANCE OPERA (that premiered in L.A., then was performed at the Avignon Festival, Paris, and Casablanca) came out of my down time. I started it between other projects.
Do you keep separate notebooks for each project? Or is everything in your head filed compartmentally?
I have separate notebooks for each project. For musical theater projects, in the script's spiral binder, I add plain three-hole punch paper at each musical number pages with notes, including drawings of movement, music structure and paths through space (that look like football plays).
My head is constantly working on material. I see it as choreographic options flipping through my head all the time. If I'm working on several projects at once, it can be like switching TV stations. If I've got that far-away look in my eyes, I'm working on choreography!
What modifications in choreographing for site-specific spaces (like the Blue Ribbon Garden and the Keck Amphitheatre at the Walt Disney Concert Hall) do you encounter as opposed to choreographing for a proscenium stage? Would staging be closer to working a theatre in the round or a thrust stage for sightlines?
In my work for Disney Hall, I'm moving the audience to three locations. In the Keck Amphitheatre, the audience stands on the stage area and looks up at the amphitheater seating area. The dancers use the seating and stairs as their performance space. That section is all about levels and movement that flows across the curved space of the amphitheater seating. The next location is on a garden path, the audience and dancers are in a very tight area together. The choreography is more intimate because of tightness of the space. I have two duets happening at once, so that everyone has a view of some kind of dance. The third area is the plaza, with the lily fountain. That choreography is more like a thrust stage with huge sightlines, including a path on the opposite side of the plaza that give extreme depth to the space. It's about formations, going from tight to extremely spread out.
Here's a question, I've always wanted to ask a choreographer. Is staging a part of the choreographer's responsibility in a musical? What's the technical differentiation between staging and a director's blocking? I'm thinking any patterned movement by a group would be credited to the choreographer?
Every musical is different. It's something the choreographer works out with the director. Some directors want me to stage every moment of music. So songs with simple blocking will be something I create. Even transitions between scenes could be done by the choreographer. Some directors block simple songs themselves and do their own transitions. Others block songs, but want me to solve transitions and add movement to "make it pretty." If there is patterned movement or group movement, it's usually created by the choreographer.
MOVES AFTER DARK consists of your Mixed eMotion Theatrix's (MeMT) GATSBY REDUX, as well as, pieces from Clairobscur Dance and Strange & Elegant Dance - three world premieres from three female-led, Los Angeles-based contemporary dance companies. How did you come about creating GATSBY REDUX for this program?
The work I create for my company Mixed eMotion Theatrix comes from a theatrical premise. It is the mission statement of the company to create work that is inspired by literature, biographies, personal histories, or folk and fairy tales. We combine theater, dance music and media to create hybrid live performance experiences. For my choreography for MOVES AFTER DARK, I am taking inspiration from The Great Gatsby. I am not using the entire novel (that would be a full night's work!) but am sprinkling in images, characters and scenes from its story. When I selected the Blue Ribbon Garden and Keck Amphitheater as my Disney Hall location, I wanted to create something that was magical, immersive and felt right for a summer night's performance. We have projections created by Joe LaRue. I am using vintage music from the 1920's, as well as, contemporary musical interpretations of music of the 20's. The audience should feel like they are in a 1920's summer garden party.
You are the current artistic director of MeMT that you co-founded in 2015 with Ryan Bergmann, the current executive director. What's the latest with MeMT?
Ryan Bergmann and I created Mixed eMotion Theatrix to produce work that is a hybrid experience combining theater, dance, music and media. Our first project was ANAïS, A DANCE OPERA, which premiered in Los Angeles at the Greenway Court Theatre and tells the story of famed diarist Anaïs Nin. Music and lyrics composed by Cindy Shapiro, I directed and choreographed the production. In 2017, we took the project to the Avignon Festival, and last March, performed it in Paris, and opened the Casablanca International Theatre Festival in Morocco. MeMT has also developed a storytelling/movement community-based production called "So Now You Know." Our next project is a Hans Christian Anderson story told with movement, music, shadow work and projections.
Before MeMT, much of my personal choreography work was done under the name Roston Dance, MeMT more accurately expresses the work I create, which is a true integration of theater, dance and music. I have also created, directed and choreographed musical theater projects with Mark Governor through our company Los Angeles Rock Opera Company.
Your knowledge of dance styles and history must be extensive. Any particular dance genre would you claim to be your favorite?
I love to research historical dance styles and movement coming from a folk tradition. I don't think I really have a favorite.
You have worked all over the world. Do you find you have to adapt your choreography to different nationalities' taste? Or is there a commonality/familiarity of some dance steps internationally that everyone reacts to?
I think dance and movement are fantastic because it comes from the commonality of human communication. As a non-verbal form of communication, it is absolutely international!
You must have held countless dance auditions. What's your words of calming wisdom to an auditioning neophyte?
I think more dancers should learn to sing! Often, if a dancer can sing on key, on tempo, they could get cast. Dancers psyche themselves out thinking they can't sing, but lots of productions need good dancers, a performer might not need to be a triple threat. A dancer with a good (but maybe not amazing) voice could get cast! It goes the other way, too. So many actors think they can't dance. My experience is that almost everyone can move. I have been able to push actors in to dance and movement performances they might never imagine themselves being able to do. Come in to an audition with an open attitude ready to move!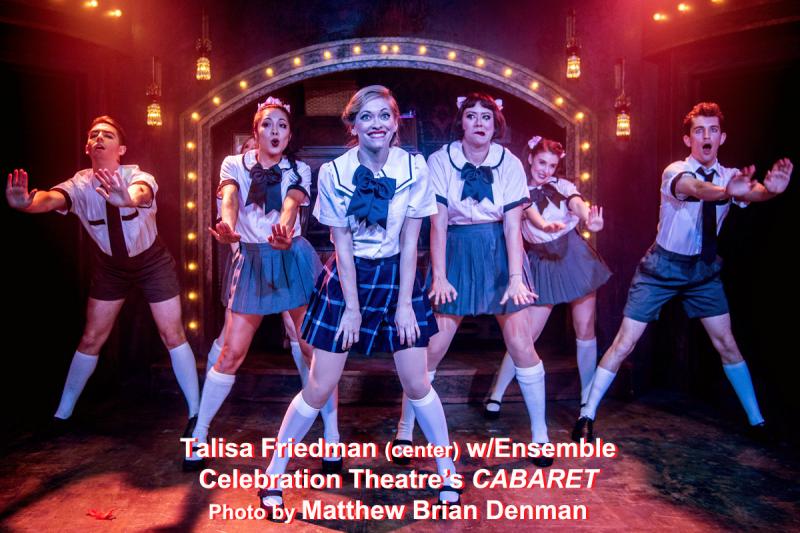 What are your 'non-negotiables' at an audition?
Tardiness. Wearing shoes you can't dance in. Talking. Showing any kind of attitude, even if it's "I'm the best dancer in the room." I have my Attitude Radar up from the moment an actor walks in to the vocal audition. It stays up through the dance audition. There are so many actors out there, I want to work with someone who seems positive. I'd rather have a performer who maybe isn't as good a dancer, but has the attitude to work hard and improve during rehearsals. Theater work takes so much time, I want people that are going to make the process positive.
At what point in the production process, do you, the choreographer, begin to create? As soon as you read the script? After the songs are written? Before the set is finalized?
Usually the songs are written, but perhaps a dance break hasn't been added. It's great to be able to give input to the director and set designer, so we can have levels, but enough open space for choreography.
How do you choreograph to the strengths of the non-dancing stars?
As I mentioned before, I believe that everyone is a mover. I think I have the ability draw a strong performance from actors. If the non-dancing star doesn't have traditional dance technique, I'm not going to add balletic technical leg work. That being said, I push the performers with positivity, you can draw so much from performers that they don't think they have. If an actor has been cast in a musical they usually have musicality, which is so fundamental to dance. It's a great starting point. Plus a star has that extra dose of charisma which works wonders if they are standing still and holding their space.
What's more challenging to your creativity - paying homage to a choreographing great? Or starting off fresh with a brand new theatrical piece?
It's much more challenging to pay homage to a classic choreographer. In working on classic musicals I never want to copy what was done before. If it's set in a certain time period I'm not going to make it look like it's 2018. In Celebration's CABARET, I was very aware of productions that had come before me. I didn't want to copy that, but, of course, I wanted to be true to a Berlin Nightclub in 1930. I asked myself a lot of questions: Why was the choreography done in a certain way before? Is it required? How could I take it in a different direction? For CABARET, I made a decision to make the club more burlesque and change the attitude. My Kit Kat Dancers, as burlesque dancers from the 30's, are there to make money from the customers. They weren't bored, "over it", as the 1998 revival portrayed them. My dancers want to please the customers, it's how they make their money. This turned around the motivation for the dance, it allowed me to brighten the numbers. Plus by making it a burlesque club, I could have all kinds of strips and classic burlesque which was totally fun for me! In MUTT HOUSE, I definitely channeled Fosse's "Rich Man's Frug" in one number, but making it danced by dogs put a crazy spin on it, and I thought made it really funny.
What feelings, or with what message, would you like the Walt Disney Concert Hall audience to leave with?
I'm looking for the audience to feel transported. Some of the movement is gorgeous, some is totally wacky and fun. The audience should come away feeling upbeat and energized. Hopefully they will note the way the three different spaces have been utilized choreographically. I know, in these times, experiencing something uplifting is necessary. It's a good thing to see some beauty, some humor, and experience an amazing space, in this case, Disney Hall, in a new way. Summer is a time for fun, I think the audience will experience this at the entire MOVES AFTER DARK event.
Thank again, Janet! I look forward, as always, to seeing your latest creations.
Wow! Those were amazing questions! I learned a lot about myself!
For ticket availability and dates for THE MUSIC CENTER'S MOVES AFTER DARK through August 1, 2018, log onto www.musiccenter.org
For ticket availability and dates for CABARET through August 5, 2018, log onto www.celebrationtheatre.com
For ticket availability and dates for MUTT HOUSE through August 5, 2018, log onto www.mutthousethemusical.com