BWW Feature: SON OF THE WIND Has its World Premiere on September 14 at The John Anson Ford Theatre - An All-Female Production of India's Ancient Epic, The RAMAYANA
Speaking with Seibi Lee and Rachna Nivas (of the Leela Dance Collective)
Performing in the Los Angeles Premiere
of "Son of the Wind"
An All-Female Production of India's Ancient Epic, the Ramayana
I had the great pleasure to speak with both
Seibi Lee and Rachna Nivas, of the Leela Dance Collective,
both directors, performers and disciples of the art form of Kathak, (pronounced Ka'ta'k'); both choreographers, followers, leaders,
teachers;
devoted, focused, grateful, studied and deeply, intelligently guided artists. In the truest sense.
I could go on, but I must write about the performance they are to give on September 14th, 2019 at The John Anson Ford Theatre, World Premiering the Indian saga "Son of The Wind," a
full-length telling of a story through dance, emotions, traditions, belief, wisdom, beauty, ancestry, soul-searching, the tempered future, and perfected performance. I am so excited to witness this amazing piece of theatre.
These inspiring women make up the core of the Leela Dance Collective, along with creator
Rina Mehta
. They are all long-standing senior disciples of
Pandit Chitresh Das'. We're talking decades... They have studied most of their adult lives under the same tutelage from a Master of his Craft.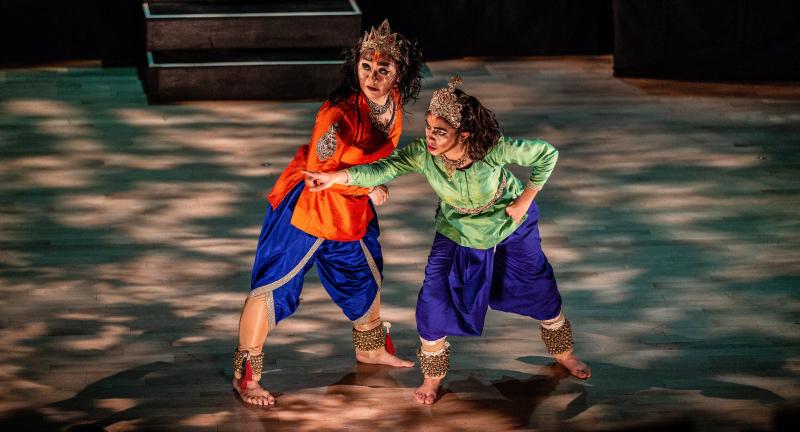 For
Pandit Chitresh Das'
,
as a Guru, his entire life, after accomplishing amazing achievements in his earlier life, was devoted to passing on and instilling in his disciples, his knowledge and wisdom. He passed away in 2015, and shortly after, Rina brought together her sisters in dance to start the Leela Collective. The core of this group consists of Rina, Rachna, Seibi, Sarah Morelli and Shefali Jain. For this special performance, they have added over 20 dancers to perform with them.
Kathak seems more like a calling, almost, than just a
passion, but there is something so profound in this principled and challenging practice. I am in awe of the realm of it's significance and urge you to go see this performance, and maybe google a few things beforehand to familiarized yourself with what you will be taking in. The musicians that perform are all from India and are also schooled in the same structured manner, as musical instruments and the specific sounds have as much to do with Kathak as anything else. The passage of time is an asset, as it takes that to fully understand Kathak and it's myriad of lessons.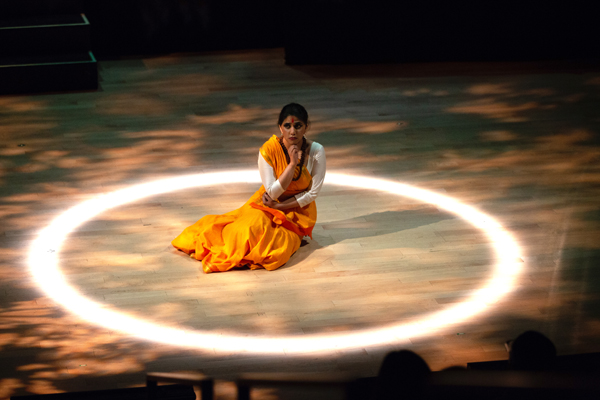 It is required to totally immerse oneself in this endeavor, to say the least. To harness that much discipline is such an admirable thing. The end result is what you will amazingly see and feel from the performance. The difference between relating and becoming a character is, the ones on stage are the characters, and we, the audience relate to what we are seeing and feeling and hearing, because they have become those characters.
This is the Los Angeles and World premiere of "
Son of the Wind
," a kathak dance drama that follows the trials and adventures of Hanuman as he helps rescue the princess Sita from the clutches of Ravan, King of Lanka. Featuring a cast of all female kathak dancers, "
Son of the Wind"
is a powerful force, as it turns history on its head by presenting a full cast of women playing both male and female roles, adding another dimension to women's capabilities as defenders and warriors, bringing a contemporary spin to India's ancient epic the Ramayana.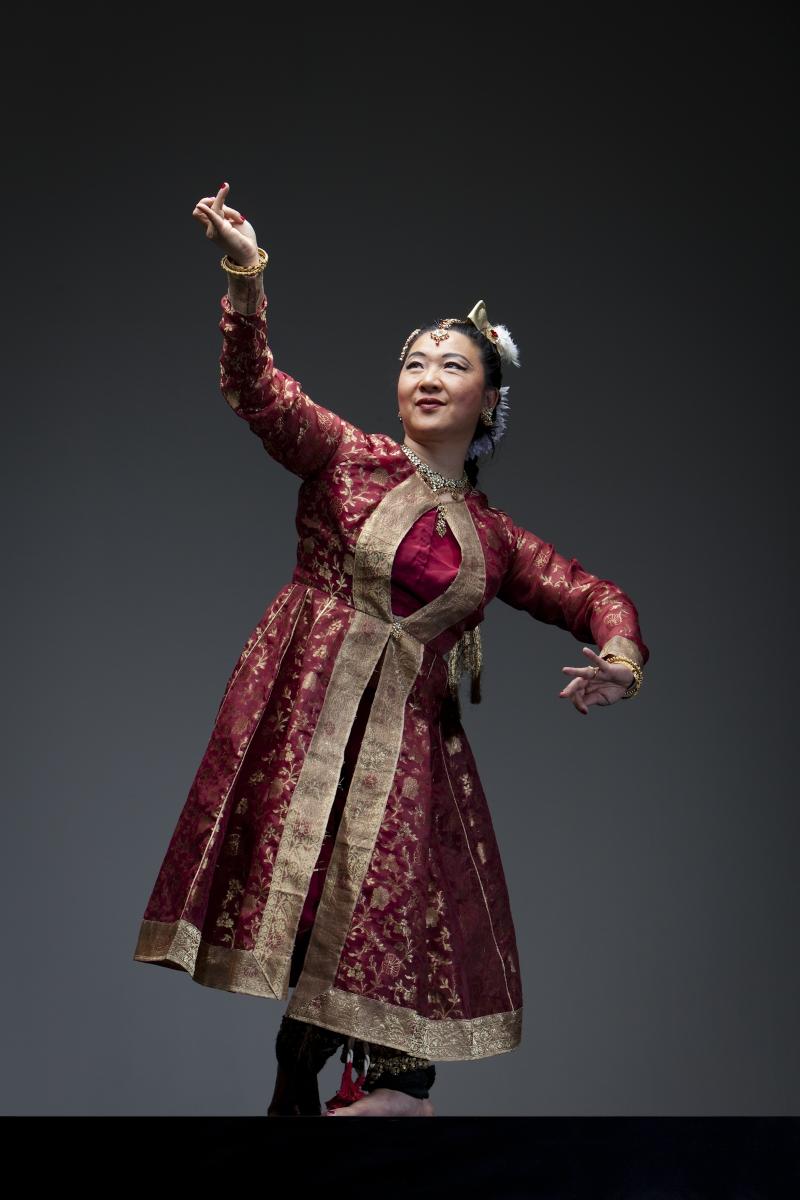 The Art form of Kathak, is an ancient way of preserving history. It also, believes Rina Mehta, who founded the Leela Dance Collective, "

can be a powerful tool for empowerment and social change." She received the prestigious Fulbright award and researched the effectiveness of Kathak dance education as a social intervention in underprivileged communities in Mumbai, India. According to Mehta, "I want to highlight the power inherent in the India's classical dance and music forms to facilitate individual transformation and social change." The show provides an opportunity for audience members to experience Kathak in its full expression - as dance, music, theater, poetry, mime - integrated into one. Directed by Pandit Chitresh Das' senior disciples, Seibi Lee, Rachna Nivas and Rina Mehta, the show features an original score along with an ensemble featuring some of India's finest musical artists. "Son of the Wind " takes the art form deep within itself and highlights its original expressive form - that of storytelling.
The artists who perform Kathak are storytellers of the highest level. But there are many components one must master. The individual life journeys of these women, are a true testament to what one can achieve when determinedly devoted to an artistic mission.
Seibi Lee is a dichotomy of heritage. She is half Chinese and half Japanese, her parents, each from those countries. Her journey to becoming proficient in her chosen craft was quite interesting. She was born in the U.S., raised in Canada and attended the University of Toronto. There were, at that time, not many Asians or their customs and history anywhere she had access to, and had no knowledge of her own ancestry... After seeing a performance of Kathak and taking an intense 5-day workshop, she decided, in 1997, to move to California to study with
Pandit Chitresh Das',
and has been here ever since.
She had already become a professional harpist after graduating with a music degree and had played piano and violin when younger.

She stressed the importance of mastering these instruments and then applying that knowledge to Kathak, which has been enriching to her performance. Seibi plays the lead character in "Son of The Wind,"

Hanuman, a male character, and was instrumental in developing first, the story, then threading together the many tales and escapades of

the popular underdog hero into a new narrative; recruiting the specific musicians, namely renowned tabla player Kalinath Mishra, his son, Pakawaj and dumbek player Satyaprakash Mishra, sarod player Ben Kunin;
Jayanta Banerjee, sitar and Composer, and Debasish Sartar, Harmonium and Vocals. From there, after recording the brainstorming sessions where they all worked together exchanging ideas and concepts in Rina's living room, they began to put it on it's feet, movement-wise. When you see this production, you will understand what a grand presentation it is; how amazing all these elements are to come together on one stage, in one performance.
The musicians, reverently spoken of by Seibi, are from India, coming here to California, to work with the Collective,
to collaborate and perform exclusively with them. The collaborative effort included them; from the very beginning of the concept, which makes this production all the more unique and special. The Collective Creativity
work is grounded in the principle of collective creativity, believing firmly that an open exchange of ideas and collaboration can lead to great discoveries and works of art. That is why the dancers, also, had input into the creation of the choreography, the characters represented and the story to be told. Using the 5-tone or pentatonic scale, with each Indian instrument having it's own distinct sound, and coupling that with what the Leela Dance Collective had assembled; there is nothing else being performed, quite like this, anywhere. Their 16-beat phrase is my (dancer's) automatic a-5-6-7-8; but they are referring more to a phrase, than just counting ~ it is a continued thought process in the portrayal of these characters. Talk about mastering something; to be involved and in tune that much is really another level of awareness.
The other principal collaborator, director and performer with the Leela Collective is
Rachna Nivas. From San Francisco, her parents immigrated there, from India, as part of the mid-'60s Immigration and Naturalization Act. It was not until she was a student at Berkeley, was she exposed to Kathak, and, after watching a class given by
Pandit Chitresh Das'
, she was "blown away" by the energy, the electricity, the focus and the entrancing bell sounds she was witnessing, and could not stay away.
She explained the level of commitment it takes to do what she does. She had no former formal dance training. And this training is brutal, with a "Do or Die" mentality; using sometimes intense conditions to test the stamina, build character and through insight help build the knowledge and skills needed, both physically, emotionally and spiritually. Another layer is that of understanding music and rhythm, and being able to be harmonious with any sound that you hear. She had played drums previously, which seems to fall in line with what her destiny turned out to be. She studied under her only Guru for 17 years, until his passing, before joining collective forces with these other gifted women to not only carry on this amazing practice, but to push the boundaries, i. e. deciding to cast all women in a mostly dominated male character story, workshopping with the most talented musicians to the point where they all can improvise, even on stage; making each performance unique and a little different. You have to be so in tune with everyone else and always ready at a moments' notice to adjust to some new challenge that may present itself. That is called mastery; when all you have studied, the accumulation of that brings an amazing piece of artistry to life.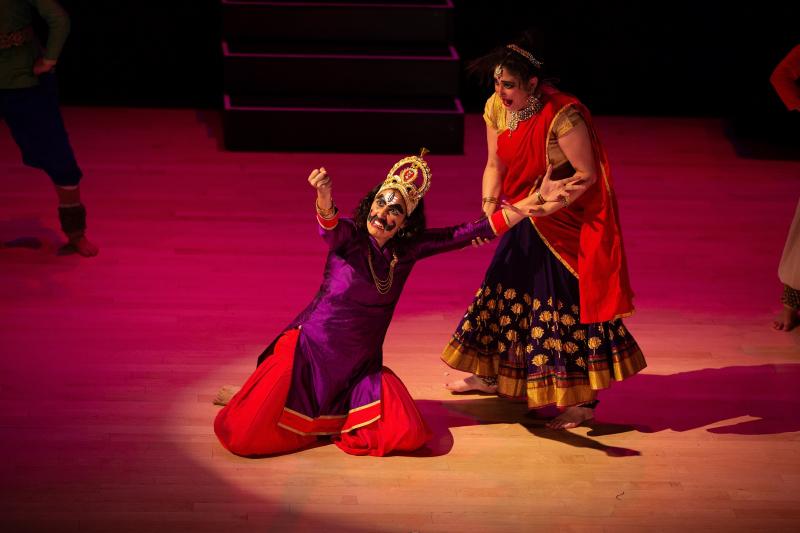 I wanted to touch on a different show that they have developed that is also touring, called "SPEAK." Rachna and
I spoke at length about this incredible endeavor, blending tap dancing and Kathak together, which she is a part
of, from development to performance.
The idea began when Pandit Chitresh Das' was still teaching, and over a
10-year period, he and a young tap dancer, the amazing Jason Samuel Smith, son of the famous JoJo Smith, Broadway dancer and performer who passed earlier this year at age 80, (could there be any more different two human beings brought together?) comprised a whole new dance technique, which they also filmed, at the time, as a documentary for PBS, and it just finished a very successful tour in India. This is a must-see for me, and makes me all the more excited to see "Son of the Wind,"
Quoting Rina Mehta, "As dancers, choreographers and artists we are in the business of art as distinguished from entertainment. The making of art requires soul searching, labor, conscientiousness, and time. In today's fast-paced world of YouTube sensations and Instafamous personalities, the making of art feels like a deviant act. Yet we persist and work to stay true to our values."
I say, bring it on, and widen our scope of spirit, passion and unification!
Seibi and Rachna say, "Come with an open mind," absorb all that this performance offers... Enjoy their passionate performance!
The Leela Institute and Foundation, in West Los Angeles, offers World-Class education and training in Kathak dance.
Photos courtesy of
Margo Moritz and
Rama Sivamani
I recently reviewed, also at the Ford Amphitheater, another powerful evening