Award-winning Cuban-born Writer Susannah Rodriguez Drissi Premieres HOUSES WITHOUT WALLS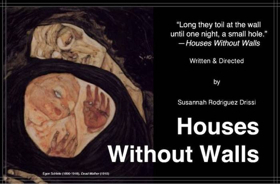 Manigua Productions is proud to present Houses Without Walls, written and directed by Susannah Rodriguez Drissi. Houses Without Walls portrays two generations of women coping with motherhood and madness in the aftermath of the Cuban Revolution of 1959. Candela and Gloria's stories are almost impossible to tell apart.
Each day, without reprieve, they speak to themselves and to each other across a wall. One day, however, the wall no longer holds, and Candela and Gloria come face to face.
Premieres at the Hollywood Fringe Festival on June 3rd at Stephanie Feury Theatre Studio, 5636 Melrose Ave, Los Angeles, CA 90038.
Torn between historical and personal traumas, love, fear, and resentment for their daughters, Candela and Gloria simply can't forget-if anything, they remember too much. Likewise, their daughters-now women living in exile-grapple with lives turned upside-down by history and personal choices.
Their mothers will die without them. Their own daughters, too, will leave them one day. Ultimately, Houses Without Walls reminds us that motherhood, like a revolution, is a life-altering event-often wrought with obligation, madness, and pain.
Houses Without Walls was inspired by events Rodriguez Drissi experienced while living in Cuba during the 1980 Mariel Boatlift when Fidel Castro opened the sea border, unleashing a major refugee crisis.
"The mothers and daughters of Houses Without Walls," Rodriguez Drissi explains, "could be any mother and daughter who has experienced separation, political violence, and the madness that ensues. This play is about walls-the ones we imagine, the ones we build and, ultimately, the ones we must tear down."
WHERE Stephanie Feury Theatre Studio, 5636 Melrose Ave, Los Angeles, CA 90038
PERFORMANCE DATES
Sunday, June 3 - 2:30 PM - Preview
Saturday, June 9 - 6:00 PM
Saturday, June 16 - 1:00 PM
Wednesday, June 20 - 8:30 PM
Sunday, June 24 - 1:00 PM
Running time:? Approximately 35 minutes, followed by Q&A (1 hr. total)
TICKET PRICE: $ 15 http://www.hollywoodfringe.org/projects/4939?tab=tickets
Appropriate for ages 14+?
Assistant Producer, Magdalena Emar, Starring, Yelyna De Leon, Magdalena Emar, and Maria Ignacia Hojas.
ABOUT THE WRITER
Susannah Rodríguez Drissi is an award-winning Cuban-born poet, writer, translator, playwright, producer, and scholar. She has an M.A. in Interdisciplinary Studies from California State University, Long Beach, and a Ph.D. in Comparative Literature from UCLA where she teaches in Writing Programs.
She is an associate and literary editor at Cuba Counterpoints, a new journal dedicated to dynamic analysis and commentary on Cuban affairs and has been a UC-Cuba Affiliate Scholar since 2009.
Her poems, short stories, creative non-fiction, and reviews have appeared in anthologies such as In Season-Stories of Discovery, Loss, Home, and Places in Between; and journals such as Saw Palm, Literal Magazine, Diario de Cuba (Madrid), SX Salon, Raising Mothers, Acentos Review and Cuba Counterpoints, among others.
Her first novel, Until We're Fish, is under review at a literary press. Currently, she writes Letters from Camus, her second novel.
Nocturno, a jukebox musical that pays tribute to music from the Spanish-speaking world in the 1960s and 70s is currently in the development process.
An excerpt from House Without Walls was published in December by La Casita Grande Press, an imprint of Black Rose Writing specializing in Latino/Caribbean literature.
More recently, and as a member of NALIP, she works on two original scripts for cable and network television.
This spring, she joined Padua Playwrights in "Shepard and the Avante-Garde," a groundbreaking and adventurous new interdisciplinary theatre workshop bringing together directors, playwrights, and actors.
She lives in Los Angeles with her husband and two daughters. Visit her at www.susannahrodríguezdrissi.com or find her on Twitter at @rsdrissi.