Alan Cumming Brings LEGAL IMMIGRANT to Musco Center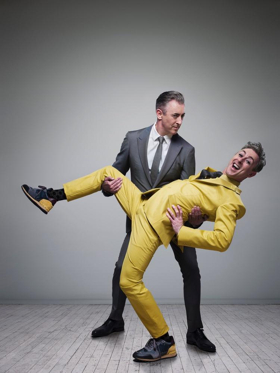 Musco Center presents actor, writer, singer, style icon, activist, and all-around Renaissance man Alan Cumming in Legal Immigrant on Wednesday, April 17 at 7:30 pm. The show is a cabaret of powerful songs and stories, anecdotes and social commentary written with the hope to change negative rhetoric around immigration. Cumming uses his own journey to obtaining American citizenship in 2008 to remind audiences that America is a country shaped by its rich diversity.

Classically trained at the Royal Scottish Academy of Music and Drama (now the Royal Conservatoire of Scotland), Cumming rocketed to Broadway legend status with his portrayal of the Emcee in the 1993 London revival of Cabaret. The New York Times called the role "a reflection of his waggish personality: the elfin party animal with a diamond edge." He went on to win the Tony Award for Best Performance by a Leading Actor for the 1998 Broadway revival.

The actor has been coming to terms with his early years in Scotland, captured in his 2015 book Not My Father's Son, which details his journey from an abusive home to his life in the headlines. His latest approach is Legal Immigrant, which debuted in 2018 at the Benaroya Hall in Seattle and toured the nation with an extended stay at Café Carlyle and Joe's Pub in New York. In it, he uses a wide range of songs to weave his story: from the Scottish folk ballad "Caledonia" to Walter Marks's "The Singer," made famous by Liza Minnelli, to a Disney medley of Moana and Frozen.

A star of screens big and small, Alan Cumming is known to American audiences across the spectrum of tastes. His performance as Eli Gold on CBS' The Good Wife earned the actor three Emmy and two Golden Globe nominations. His iconic dance scene with Lisa Kudrow and Mia Sorvino in Romy and Michelle's High School Reunion to "Time After Time" garnered an MTV Movie Award nod. He played Rooster in ABC's 1999 televised version of Annie and co-hosted the Tony Awards in 2015 with Kristen Chenoweth. Cumming crosses over from musicals to sci-fi and comic book culture, with appearances in Doctor Who and X-Men United. He wrote, directed, produced, and starred in 2001's The Anniversary Party.

Cumming straddles the realms of straight theatre, camp, and cabaret. He began his career in the Scottish theatre while simultaneously performing in a comedy double act - the now legendary Victor and Barry - on the same small club circuit as future late-night host Craig Ferguson.

Notable London stage roles include the lead in Bent and the Maniac in Accidental Death of an Anarchist for which he won an Olivier award. He won the Theatre Management Association's Best Actor Award for his role in Hamlet in 1993. His 2014 production of Macbeth featured the actor playing every role in what The Guardian described as "a feverish exploration of mental illness." His one-man plays include I Bought a Blue Car Today, Alan Cumming Sings Sappy Songs, and Legal Immigrant.

As a writer, Cumming has published a number of tomes, including #1 New York Times Bestseller Not My Father's Son, a memoir about the many dramas in Mr. Cumming's lineage. He's also penned Tommy's Tale: A Novel of Sex, Confusion, and Happy Endings, and You Gotta Get Bigger Dreams: My Life in Stories and Pictures, which features Cumming's impressive photographic talents. In 2017, he published a children's book, The Adventures of Honey & Leon, with a follow-up expected in 2019.

Tickets for April 17 are on sale now for $40-85 and may be purchased through the Musco Center online at www.muscocenter.org or by calling the box office at 844-OC-MUSCO (844-626-8726). All print-at-home tickets include a no-cost parking pass. Musco Center for the Arts is located on the campus of Chapman University at 415 North Glassell, Orange, Calif.
More Hot Stories For You