Photo Flash: CRAZY FOR YOU Hits The John W. Engeman Theatre At Northport, Tickets On Sale Now
The John W. Engeman Theater at Northport is delighted to announce its latest production, Crazy For You.  You'll be swept up in this artfully constructed tale of boy meets girl in the Wild West!  The songs of George and Ira Gershwin are the inspiration of this Tony Award winning musical comedy that brings to the stage the nostalgic showmanship of 1930's Broadway.  With a book written by Ken Ludwig, Crazy For You is perfect blend of classic American music, unforgettable dancing and riotous laughter, featuring such Gershwin hits as I Got Rhythm, Someone To Watch Over Me, Embraceable You, and They Can't Take That Away From Me.
 
Crazy For You will play the following performance schedule: Thursdays at 8:00 p.m., Fridays at 8:00 p.m., Saturdays at 8:00 p.m., and Sundays at 2:00 p.m.
 
There will be matinees on the following days:  Saturdays July 11, July 18, August 1, and August 15 at 3:00pm.
There will performances on Sundays July 5, July 26, and August 9 at 7:00pm. Tickets are on sale and are $60.  Tickets may be purchased by calling (631) 261-2900, by visiting
www.engemantheater.com
, or at the Engeman Theater Box Office at 250 Main Street, Northport. Visa, MasterCard, Discover and
American Express
accepted.Crazy For You is produced for the John W. Engeman Theater by Richard T. Dolce, the theater's Producing Artistic Director.  The director is
Alan Souza
whose regional credits stretch up and down the East Coast from The Maltz Jupiter Theater to The NJ Repertory Company. Recently he directed the debut of the musical Cupid and Psyche for The NJ Repertory Theater and Little Women for the John W. Engeman Theater. The choreographer, replicating
Susan Stroman
's original choreography, is
Vic Dimonda
who is currently the Associate Artistic Director for the John W. Engeman Theater at Northport. He directed and choreographed the inaugural production of Smokey Joe's Cafe and is a faculty member of The Ailey School, The Ailey Extension and The American Academy of Dramatic Arts. The musical director is Donny Jones, who has played on Broadway in the pits of Flower Drum Song, and Wicked, as well as having musically directed numerous shows including Jekyll & Hyde, A Wonderful Life, Man of La Mancha, Little Shop of Horrors, and Oliver! for the John W. Engeman Theater at Northport. The Casting Director is Stephen DeAngelis who has been a valued member of the John W. Engeman Theater since its inception and has cast all of the main stage productions to date. Stephen is on staff at Grey NYC having cast over 2,200 network television and radio commercials. The Design Team includes
Michael Bottari
&
Ronald Case
(Set and Costume Designers) who return to the John W. Engeman Theater after designing Man of La Mancha last season. They created original set and costume designs for the new South African production of Hairspray, and were nominated for the 2008 Drama Desk ,Outer Critics Circle, and won the
Lucille Lortel
Award for costume design for "Die Mommie Die". Martin E. Vreeland (Lighting Designer) who returns to the John W. Engeman Theater after designing The Foreigner and Little Women.
Katherine Miller
(Sound Designer) who has been the sound engineer for the John W. Engeman Theater since its inception in 2007 and has designed Over the River and Through the Woods, Other People's Money, Barefoot in the Park for the theater.
Mark Adam Rampmeyer
(Hair and Wig Designer) returns to the John W. Engeman Theater after designing numerous shows in its first two seasons. He recently completed work on the
Hartford Stage Company
production of The Milk Train Don't Stop Here Anymore starring
Olympia Dukakis
and also recently worked with
Cybill Shepherd
on her one woman production of Curvy Widow for the Post Street Theatre in San Francisco. The Production Stage Manager is CJ LaRoche. The cast of Crazy For You features
Eric Santagata
as Bobby Child, who comes directly from the new
Susan Stroman
production, Happiness, where he served as dance captain on the piece and
Pilar Millhollen
as Polly Baker who originated the role of Bebe in the National Tour of the acclaimed revival of A Chorus Line and has appeared in the National Tours of Evita (Peron's Mistress) and the Tony Award-winning Chicago.The cast also features
Brian Gonzales
(Bela Zangler) who was in the Broadway and National Tour productions of The 25th Annual Putnam County Spelling Bee;
Erin Mosher
(Irene) who was most recently seen as Sandra in All Shook Up at the Media Theater and starred in the Las Vegas production of Mamma Mia!; Michael Sample (Lank) who has performed in regional theaters across the country in such productions as Dream a Little Dream, Songs for a New World, and Thoroughly Modern Millie.The cast also includes John Cormier, Laurie DiFilippo, Rebecca Fale-Chiu, Brody Hessin, David Houston, Danielle Kelsey,
Amanda Kloots
-Larsen, Beau Landry, Chris LeBeau, Erika Odegard, Jessica Pierson, Nicky Romaniello,
Richard Rowan
, Joan St. Onge, and Shaver Tillit. The John W. Engeman Theater at Northport is Long Island's only year round professional theater company, casting our actors from the Broadway  talent pool. From curb to curtain, we have made it our business to provide affordable, quality theater in an elegant one-of-a-kind location with outstanding facilities and extraordinary service. The renovated Theater offers stadium-style seating, state-of-the-art lighting and sound, a full orchestra pit, and a classic wood-paneled piano lounge with full bar. For a complete show schedule and more information contact the theater directly at 631-261-2900 or visit their website at
www.engemantheater.com
.
All photos by Paul DeGrocco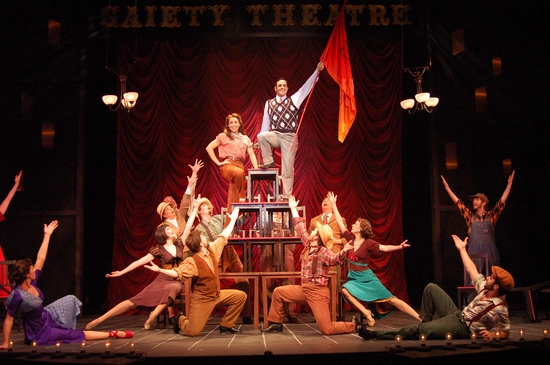 Laurie Difilippo, Rebecca Fale-Chiu, John Cormier, Brody Hessin, Danielle Kelsey, Nicky Romaniello, Joan St. Onge, Richard Rowan, Beau Landry, David Houston, Chris LeBeau. Top: Pilar Millhollen and Eric Santagata

Cast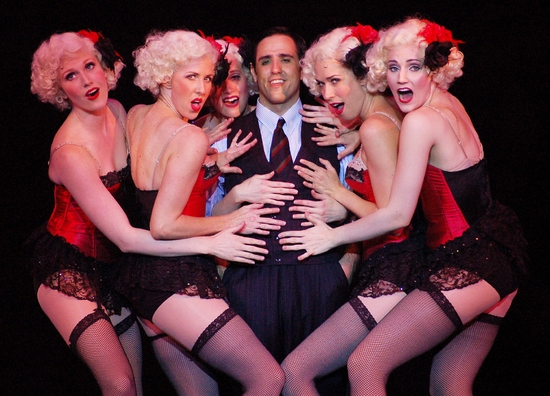 Erika Odegard, Laurie Difilippo, Jessica Pierson, Eric Santagata, Danielle Kelsey, and Rebecca Fale-Chiu

Eric Santagata and Pilar Millhollen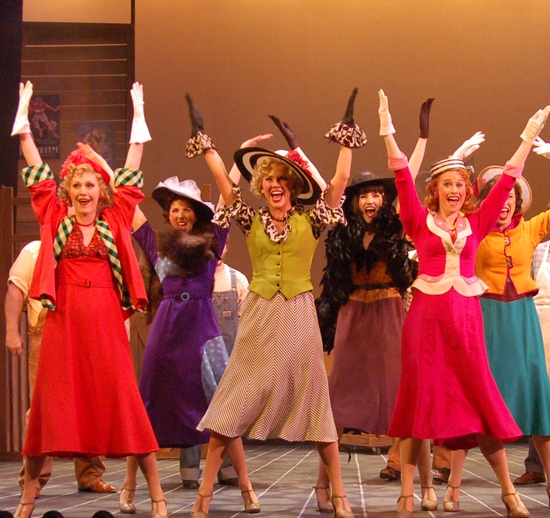 Erika Odegard, Laurie Difilippo, Amanda Kloots-Larsen, Rebecca Fale-Chiu, Jessica Pierson, and Danielle Kelsey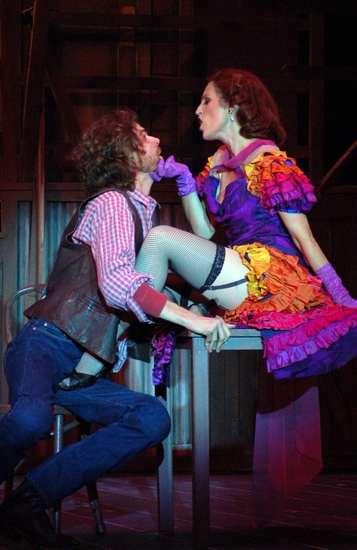 Michael Sample and Erin Mosher