BWW Review: BIG RIVER at Argenta Community Theater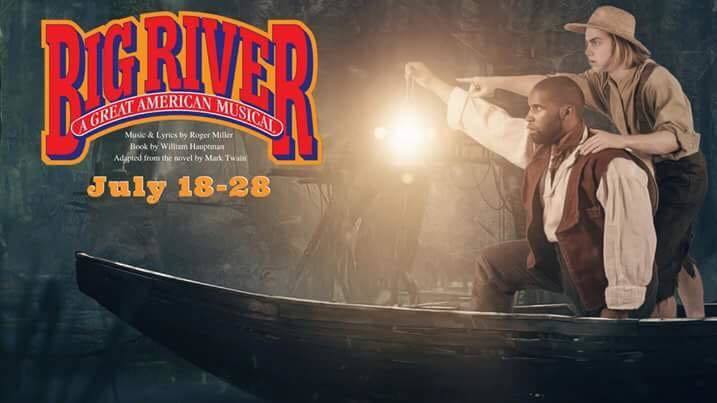 Nestled at 405 Main Street in North Little Rock, the Argenta Community Theater deserves its spot amongst the other "artsy" venues and clubs taking residence in the Argenta district. Though it isn't a very big setting (not as small as a black box theater, but definitely not auditorium size), they impress this writer with their creative use of space. And the talent? It's surprising that these people are not professional actors, though I do take the liberty to prophesize that some of them very well may be in the near future. The Argenta family never disappoints.
Their latest production is the musical BIG RIVER, which continues on through Saturday, July 28, and is written by William Hauptman, music and lyrics by Roger Miller, and based on Mark Twain's "The Adventures of Huckleberry Finn." The show is directed by Brandon Box-Higdem, choreographed by Christen Pitts, with vocal and music direction by D. Brent Miller.
For those unfamiliar with the story of Huck Finn, Huck (Payton Justice) and runaway slave Jim (Jeremiah Herman) travel down the Mississippi River to escape their respective pre-Civil War societies for a better, freer future. During their journey, the duo meet a couple of con-artists (Shelton Harden as "King" and Jeremy Clay as "Duke") who bring entertainment and more trouble to their already existing circumstances.
Though the performers in BIG RIVER were entertaining throughout the entire show, there were a few scenes and musical numbers that really stood out. The younger talents in the cast proved that they could carry the show as well as the seasoned actors. During the number "The Boys," Huck (Justice), Tom Sawyer (Will Porter), Simon (Nathan Clay), Dick (Jack Clay) and Ben (Max Green) executed their choreography and harmonies beautifully; they were so much fun to watch. Also, Porter's feature song "Hand for the Hog" was tongue-in-cheek and so cute! In Act two, Mary Jane (Grace Pitts), Susan (Annslee Clay), and Joanna (Annie Harris) almost broke my heart as they were mourning their father with their song "You Oughta Be Here with Me."
The adults were equally great as well. Pap (Tony Clay) was hilarious with his song "Guv'ment." I've never cheered so loudly for a drunken man than I did for this one. Herman's Jim lead several soulful songs, including "Free at Last" with the slave ensemble. I could feel every emotion during "The Crossing" and the heart-wrenching scene where Alice (Patrice D. Phillips) and her daughter (Sela Booher) were being torn apart due to being sold to separate owners.
With a cast of 27 people, plus musicians and the behind-the-scenes crew, recognizing everyone is impossible. I do want to mention that "live" music always earns bonus points with me. Even if it is just a handful of players accompanying a track, some is better than none in my opinion. However, that was not the case with BIG RIVER; the music before the show and during intermission were noticeably prerecorded, but the music during the performance was done with in-house musicians. I applaud whoever made the decision to go the extra mile in adding even more people to the cast instead of taking the easy way out with canned music. Your efforts did not go unnoticed.
Don't miss your chance to float down the ole Mississip' with this incredible cast! BIG RIVER will make you laugh, cry, and go home singing unforgettable songs like "Arkansas, Arkansas, I just love ole Arkansas. Love my maw, love my paw, but I just love ole Arkansas."
For more information on the show and how to purchase tickets, visit their website at www.argentacommunitytheater.com, or call (501) 353-1443.

Related Articles View More Arkansas

Stories

Shows