Las Vegas Interviews
The latest interviews about live + streaming theatre in Las Vegas.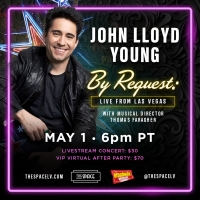 John Lloyd Young Shares Details About Upcoming Fan-Request Concert at The Space!
by Chloe Rabinowitz - April 21, 2021
The incomparable John Lloyd Young is back at The Space in Las Vegas for a brand new concert, this time with songs chosen entirely by his fans! Join John Lloyd Young and his music director, Tommy Faragher, on Saturday, May 1st to hear R&B tunes, Broadway classics and more....