Las Vegas Interviews
The latest interviews about live + streaming theatre in Las Vegas.
Donny Osmond Talks New Vegas Show, His New Album, the Masked Singer, Andrew Lloyd Webber & More
by Kevin Pollack - May 18, 2022
, Las Vegas
The One. The Only. Donny Osmond sits down with BroadwayWorld's Kevin Pollack backstage before his brand-new Las Vegas show, DONNY....
Katy Perry Talks PLAY Las Vegas Residency, Broadway & More
by Michael Major - March 02, 2022
, Las Vegas
Katy Perry's larger-than-life Las Vegas residency PLAY includes smash hit singles, such as 'Firework' and 'Teenage Dream,' plus the recently-released 'When I'm Gone' with Alesso. BroadwayWorld caught up with Katy Perry to discuss PLAY, her new music, and the possibility of Perry ever appearing on Br...
Ross Mollison And Petra Massey of ATOMIC SALOON at Atomic Saloon Theatre
by Jonas Schwartz-Owen - October 24, 2021
, Las Vegas
SpiegelWorld gives Vegas audiences a chance to laugh again. An Interview with creator Ross Mollison and performer Petra Massey...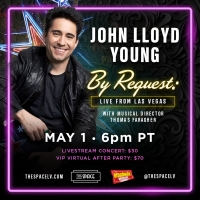 John Lloyd Young Shares Details About Upcoming Fan-Request Concert at The Space!
by Chloe Rabinowitz - April 21, 2021
, Las Vegas
The incomparable John Lloyd Young is back at The Space in Las Vegas for a brand new concert, this time with songs chosen entirely by his fans! Join John Lloyd Young and his music director, Tommy Faragher, on Saturday, May 1st to hear R&B tunes, Broadway classics and more....