BWW Interview: Dolora Zajick of INSTITUTE FOR YOUNG DRAMATIC VOICES at University Of Nevada, Reno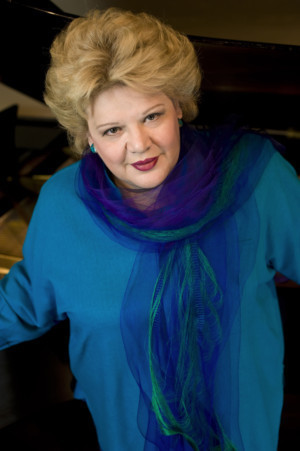 American mezzo-soprano Dolora Zajick is one of the world's leading exponents of the dramatic Verdi repertoire. Her talent was first noticed when she was a pre-med student at the University of Nevada in Reno. Some years after that, she debuted with the San Francisco Opera as Azucena in IL TROVATORE, and it brought her international stardom. Decades later, she is best known for her interpretations of Amneris in AIDA, Eboli in DON CARLO, Ulrica in UN BALLO IN MASCHERA, Ježibaba in Dvo?ák's RUSALKA, and Adalgisa in Bellini's NORMA.
MN: I understand you have just finished singing the important role of the Mother in Francesco Cilea's L'ARLESIANA at the Deutsche Oper in Berlin. What is that opera about?
DZ: I sang the role of Mamma Rosa. She's a controlling Italian Mamma with two sons. One is developmentally delayed, and the other is unstable. She favors Federico, the unstable one, who sings the famous tenor aria, "E la solita storia del pastore" often called "Federico's Lament," in Act I. He falls in love with an unfaithful woman and his mother tries everything to manipulate and change the course of events.
At one point her slow son, called L'Innocente, almost falls from a second story window. At that point L'Innocente seems to gain a wise maturity and stability despite his mental limitations. For the first time she sees this and realizes that she has neglected her second son. She then begins to appreciate him more. Later, she sings her aria, "Esser madre é un inferno" "(To be a mother is Hellfire)." Despite Mamma Rosa's desperate attempts to save him, when the older son loses the woman he loves, he jumps out of the second story window.
Written at the turn of the 20th century, Cilea's music is ultra romantic. Paolo Arrivabene conducted the Berlin performances, which had a wonderful cast that included Maltese tenor Joseph Calleja. That was the first time I sang with Calleja, an artist for whom I have much respect.
MN: Has your home base always been in Northern Nevada?
DZ: Reno has been my home base for most of my adult life. I was born in Salem, Oregon, and when I was little we lived in various small towns along the Oregon coast, such as Toledo, Newport, and Florence. We moved to North Las Vegas when I was twelve, and I attended high school in South Lake Tahoe.
MN: How did you get interested in opera?
DZ: Due to circumstances, my family was unable to arrange piano lessons for me, which I had asked for at a very young age. By the time I was in high school, I knew it was too late to pursue an instrumental career. I did, however, play percussion in the band in my senior year and I sang in the school madrigal group. At that point I was intending to pursue a career in medicine, but when I discovered I had a voice with operatic potential, I switched majors.
My first exposures to classical music were the snippets of Mozart, Rossini and Wagner in Bugs Bunny cartoons. I saw my first opera, Menotti's THE MEDIUM, on television when I was sixteen. I actually sang in the chorus of an operetta, THE MERRY WIDOW, before I had ever seen live opera. At that point, I was a freshman in college, and had never listened to an opera recording. However, through a work-study grant from the university, I was able to work in the music library where I could indulge in my burgeoning passion for listening to opera recordings.
MN: Where did you begin singing opera?
DZ: Ted Puffer, chairman of the Voice Department at the University of Nevada in Reno, founded the Nevada Opera Company in 1968. He was the one who gave me my basic vocal technique. A gifted polymath, Ted played piano, conducted and directed. In its heyday, Nevada Opera was an interesting regional company. Its chorus was robustly operatic and Ted's vision was ambitious, but the company did everything on a shoestring. Sometimes it showed, and sometimes the work was brilliant despite a lack of resources.
Nevada Opera did the American premieres of Ferruccio Busoni's DOKTOR FAUST and Pyotr Ilyich Tchaikovsky's MAID OF ORLEANS. In 1993, composer Bern Herbolsheimer and librettist Ben Shallat wrote a work for Nevada Opera, MARK ME TWAIN. Nevada Opera was a perfect place for me to get my first grounding in singing, and it allowed me to gain experience early in my training. There were few young artist programs during the seventies, so Reno was a good place to be.
MN: Did you begin your international career at the Met?
DZ: No, I began my international career with San Francisco Opera after completing my training there as an Adler Fellow. However, I made my first professional debut in 1974. Since I sang small roles and covered (understudied) larger ones with the Nevada Opera before my stint at San Francisco, I have actually been singing professionally almost 43 years.
MN: What happened when you first auditioned for the Met?
DZ; No matter how things appear, it seems that some things were meant to be. While I was attending University of Nevada Reno, I was working full time on the graveyard shift at an all-night café in Harrah's Casino to put myself through school. I couldn't afford a dress, and had completed a particularly grueling night of work. The auditions were in the morning. So I arrived in a pair of holey jeans, a worn T-shirt, no make up, and my hair long and straight. I sang any way. It was the only time I won the Met Auditions in Nevada. The ladies committee was so upset, they got some people to donate the money for a dress at Joseph Magnin's and they dressed me, for which I was very grateful.
When I went to seek my fortune in New York City after I had graduated from college, I arrived with $200 and a one-way bus ticket. I had a job interview at the Jewish Guild for the blind in the morning and an audition at Juilliard in the afternoon. It's a lot drier in Nevada, and I didn't take into account that it takes longer for hair to dry in curlers in New York. I figured the audition was more important than the interview, so I decided to take my chance wearing curlers to the interview.
Hurrying on my way to the interview I crashed into a young man who was also in a hurry-and not looking where he was going-with a cup of coffee. We tumbled to the ground, running my nylons and spilling coffee all over my dress. I arrived in this bedraggled state for the interview. The secretary looked me over dubiously and said the boss would be going over my application and would not see me unless he approved it. After waiting a while, the secretary came out and said the boss would see me.
Unfortunately, I was told that with a masters, I was overqualified for the job. Most people who take this job have only a year or two of college. Then, after looking me up and down, the interviewer said "Oh what the Hell, they can't see you anyway" and I was hired. I auditioned for Juilliard and they turned me down.
The Met and Juilliard now seemed like an impregnable fortress. I thought, well, if I can't be in an opera, at least I can go see one. So with the last of my money, I bought a standing room ticket at the Met. The Opera was AIDA, and the Amneris was Fiorenza Cossotto. It began to dawn on me that I could do that. All I needed to do was learn the role. With renewed determination, I auditioned for the Manhattan School of music and was accepted.
MN: How many years have you been singing at the Met?
DZ: I have sung there for almost 30 years. During a recent Met performance of IL TROVATORE, I was presented with golden anvil. It was meant to celebrate twenty-five years. I broke some kind of record because I've sung the most Azucenas there. The anvil was a nice gesture and I enjoy having it on my mantel.
MN: What are your favorite roles?
DZ: I don't have a favorite role per se, but as I look back I probably enjoyed doing Eboli in Verdi's DON CARLO, Adalgisa in Bellini's NORMA, and Jezibaba in Dvorak's RUSALKA the most.
MN: Which of the Met's HD presentations have you appeared in?
DZ: I've done three of them: IL TROVATORE, AIDA, and RUSALKA.
MN: Has Northern Nevada had more classical music in the past than it has now?
DZ: No, but it's very different now. When I was a student, the Nevada Opera was the main show in town. Now, the main shows are the Reno Philharmonic, Classical Tahoe, the Reno Chamber Concert, and the annual Institute for Young Dramatic Voices Concert.
We are lucky to have the Reno Philharmonic, which has a winter season in town. Led by Music Director Laura Jackson, the Reno Phil is northern Nevada's largest performing arts organization. In addition to the orchestra itself, the Orchestra Association oversees and operates a symphonic chorus, three youth orchestras, and numerous outreach programs. The core of the Reno Phil's concert offering is a six-concert classical music series, CLASSIX, performed on Sunday afternoons and Tuesday evenings at the Pioneer Center in downtown Reno.
In summer, we also have Classical Tahoe, an excellent festival orchestra that includes players from major ensembles such as the Metropolitan Opera Orchestra. Under the leadership of Joel Revzen, it performs near the lake, which is located in the mountains above Reno.
MN: In addition to her performing career, Zajick created the Institute for Young Dramatic Voices to address the severe shortage of large voices that can be heard over 80 to 100-piece orchestras. The Institute offers an intensive three-week coaching program each summer to singers aged 15 to 35 who have large or unusual voices. Notable contemporary singers who have received training through the Institute include Rachel Willis-Sorensen, Issachah Savage, Javier Arrey, Mikhail Korobenikoff, Karolina Pilou, and Solomon Howard.
MN: How did the Institute for Young Dramatic Voices come about?
DZ: In 2007, Sarah Agler, Rosemary Mathews, and I co-founded the Institute in order to address the current lack of dramatic and unusual voices. These types of voices are sorely needed in order to adequately cast the operas of Verdi and Wagner.
MN: Why are there so few dramatic voices singing today?
DZ: That's a complicated question and requires a long answer. Most dramatic voices are lost at the high school level. Students with unusually large voices simply don't fit in with the typical high school choir. I remember auditioning a sixteen-year-old bass. He cocked his ear and mumbled an insipid out of tune sound. Then all of a sudden, he sang a beautiful full low note. The he went back to the way he was singing before, but followed it with a decent high note. It turned out that the range where he was having problems was where he was trying to blend in with his high school a capella choir.
We told him he needed quit the school choir. He was very upset about this, so we got him into an adult choir that doubled with a university chorus to sing Handel's MESSIAH. There his real voice came back, and he got to sing a solo. He also learned how to sing coloratura and to follow a conductor. Today, not all high schools have choruses and existing groups may not do classical music, since so much music is being cut from the curriculum.
Singers are also lost at the conservatory level. Singers with larger voices are often not used because in the early stages, their voices are unwieldy. Even if their voices are ready, it's difficult to find others with large voices to cast with them. It takes longer to polish a larger voice, and many teachers don't want to take the time. As a result of this, many singers with large voices lose out on the experience their more lyric colleagues are receiving. By the time they audition for young artist programs with major companies, they are considered too inexperienced.
MN: Where have some of your former students and graduates sung?
DZ: Several of our singers have debuted in international houses including: the Metropolitan Opera, La Scala, Rome Opera, Vienna State Opera, Salzburg Festival, Semperoper in Dresden, the Royal Opera Covent Garden, Chicago Lyric Opera, Houston Grand Opera, and San Francisco Opera. We also have several singers in major opera company young artist programs. They are making their debuts with the Chicago Lyric, Metropolitan, and Washington National Operas.
MN: What parts of the Institute's program are open to the public?
DZ: The public is invited to the master classes and concerts, all of which are free.
MN: When does your Institute take place and how do prospective students apply?
DZ: The program takes place in July. Students apply by filling out online applications and submitting MP3 recordings beginning in October. Applicants will then be selected for live auditions. From the live auditions we select the singers who will participate in the program. See www.iydv.org
MN: Who are the judges?
DZ: We have an audition committee including myself, comprised of some of our faculty members. The applicants send in MP3s. We carefully listen to these and decide which candidates we will invite for live auditions.
MN: What do you look for in the singers?
DZ: First we look for whether or not a singer has a dramatic or unusual voice. Then we look at innate musicality, an ear for language and a desire to communicate. After that, we look at the skills necessary to school those abilities such as acting skills, musicianship, linguistic training, and marketability. We also look the singer's realistic window of opportunity to realize what remains to be schooled in order for the singer to have a career. The older the singer, the more skills need to be in place before we invest in that individual. Singers who have been accepted must improve at a rate that will realize that goal.
MN: Dolora Zajick also composes. She and nuns of the Carmelite Order premiered her dramatic vocal scene ROADS TO ZION at The Cathedral Basilica of St. Joseph in San Jose, California in 2014. The next year Chanticleer premiered her choral piece BIRDSONG in San Francisco's Davies Symphony Hall.
MN: What is your current composition project?
DZ: I'm composing a chamber piece for flute, cello, piano, harp, mezzo and overtone singer.1 I'm trying to balance three careers, but would like to spend more time composing.
The website for Dolora Zajick's Institute is www.iydv.org
A list of her recordings can be found on www.dolorazajick.com
1According to Wikipedia, Overtone singing - also known as overtone chanting, harmonic singing or throat singing - is a type of singing in which the singer manipulates the resonances (or formants) created as air travels from the lungs, past the vocal folds, and out of the lips to produce a melody.
Zajick as Amneris at Houston Grand Opera