Review: KINKY BOOTS at The White Theatre
Delightful and Unexpected
Live, local musical theater in Kansas City opens for 2023 with a delightful, surprising, unexpected production of 2013's six-time Tony Award winner "Kinky Boots." The premise of "Kinky Boots" whisks the audience back in time to Northampton in the landlocked north midlands area of the UK just before the turn of the twenty-first century.
The more or less true tale of "Kinky Boots," performs in the unlikely setting of the White Theatre inside Overland Park's Jewish Community Center. The show teaches life lessons about finding one's passion and finding value in people different from ourselves. Despite the rather risqué logo, the show is not about what you might fear. The play has a clever book by Harvey Fierstein and a sparkling score by rock star Cindy Lauper.
Charlie Price (Zane Champie) is the fourth generation scion of a quality men's shoe manufacturer, which is a major employer in Northampton. He is expected to take over the business someday. Charlie is engaged to his childhood sweetheart, Nicola (Ashton Botts), who longs for the bright lights and exciting lifestyle of London.
Much to his Dad's dismay, men's shoes bore Charlie. He accompanies Nicola to that more exciting lifestyle. No sooner have the couple set up their new flat, the phone rings with news that the elder Price has died. Charlie is needed at home.
Meanwhile, we are introduced to Simon/Lola (Robert Vardiman), a professional boxer's son, who has an attraction to performing in women's clothing. He grows up to be a drag queen.
Charlie travels back to Northampton only to be faced with an additional crisis. The shoe factory's primary customer has just canceled their orders, and The Warehouse is full of unsold, top-quality men's shoes. Just like in the U.S., much of manufacturing has outsourced to lower-cost labor overseas. Charlie's father has borrowed on his own assets rather than discharge the people who have worked at the family business for generations. What to do?
Charlie returns to London and leans on an old friend at a local pub to buy the excess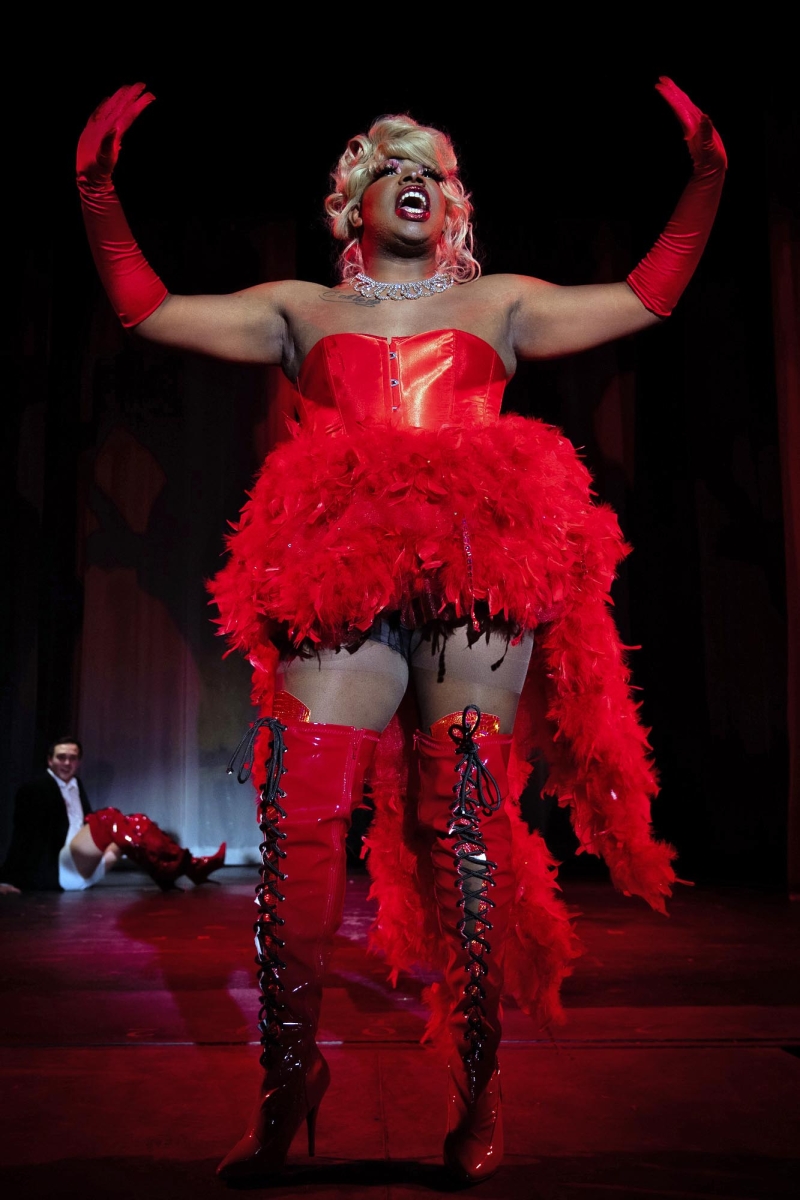 inventory. On leaving the pub, Charlie notices two drunks harassing a "woman." He intervenes and is knocked out for his trouble. The "woman," the Lola/Simon character, Charlie has tried to save turns out to be a local drag performer and a former professional boxer. She takes care of her harassers with his/her fists, and tends to Charlie, the "would be savior."
This is a new world for Charlie. He notices these male performers have difficulties with high-heeled shoes designed for women. It turns out that Lola/Simon her backup singers (The Angels) prove to be excellent performers.
Charlie returns to Northampton to close up the business and discharge staff. One worker, Lauren (Maryann Traxler) is angry about being let go. As part of her rant, she helps Charlie give birth to an outrageous notion. Perhaps Charlie can save the Price and Sons factory by attempting to serve a "niche market."
Charlie puts Lauren's idea and his experience in the drag club together. He wonders if making "Kinky Boots" might just be his "underserved niche market" needed to save the company. Charlie contacts Lola/Simon and convinces him/her to come to work at Price and Sons and help him achieve his goal.
Charlie and Lola/Simon create a line of "Kinky Boots." Charlie is running out of money to market his creations at the Milan equivalent of Fashion Week. He feels desperation, but the combination of his factory staff and Lola/Simon plus the backup singers save the day by turning back their paychecks and serving as the models.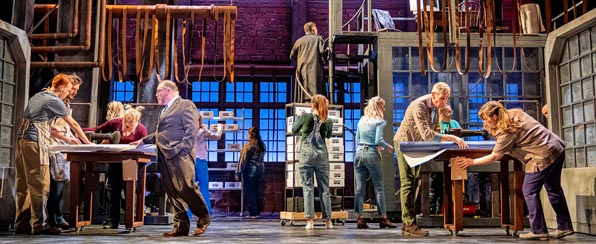 The show is enormously entertaining and makes some important points. Director by Tim Bair and choreographer Liz Ernst have done an amazing job with a community cast. Musically, the cast and orchestra led by Marsha Canaday pulled a fine performance out of a super cast and ensemble. These folks produced high-level locals and production numbers.
All the support staff, including scenic designer Jeremy Smith, lighting designer Justin Dudzik, and sound designer Jonathan Robertson deserve credit for an excellent production.
"Kinky Boots" continues at the White Theatre through February 19. Tickets are available at www.thejkc.org or by telephone at 913-327-8054.