BWW Review: TROYA BY PRASETIYA MULYA UNIVERSITY STUDENTS at Teater Kecil, Taman Ismail Marzuki
(Contributed by Albertus Raynaldi and Nathalia K.)
Inspired by the classic story of Helen of Troy, Prasetiya Mulya's Student Activity Club, with the help of director Venantius Vladimir Ivan managed to divide the audiences' attention to Troy vs. Greek, where forbidden love caused the great downfall to one of the kingdom.

Teater Kecil Taman Ismail Marzuki was swept into ancient Greece as both characters and audiences were immersed into the tale of love and war.
Venantius Vladimir Ivan is a name all are familiar with in the theatre industry in Jakarta. He has directed a lot of plays and musicals, and has nurtured a lot of young talents in pursuing their dreams to become a performer on stage. I was lucky enough to set foot and witness his masterpiece yet again at Teater Kecil, Taman Ismail Marzuki.
TROYA is based on the ancient history of the war between the Trojan Kingdom and Greek Kingdom. It tells a story about Hellen, the most beautiful girl in the world has married to Menelaus a King from Greek Kingdom. But she falls in love with Prince Paris of Troy, runaway with him and hid in the Trojan Kingdom. Menelaus with the other Kings of Greek then starting a war with Troy to get Helen Back.
I love how they divided the colour between the Kingdoms where Blue is for Troy and Red for Greek. There are not much of stage properties, so the scene changing was done smoothly without any delay.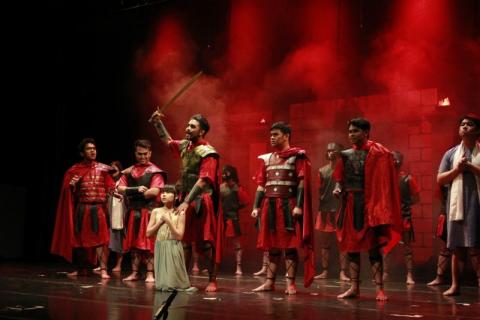 The dancing was awesome. Especially during the war scene, where the choreographer designs the fights scene like a dance battle so it became so much fun to watch. All the actors brought their best for the performance, but my favourite one is Achilles (played by the talented Gerry Randy). The scene where Achilles' brother died wearing his armour, Randy played the scene perfectly. He's crying and screaming and even trembling so hard. I really love that scene.
I'm actually not sure to call this a musical, because apparently there are only 4 songs during the show. And I found that when the actors singing the songs, I couldn't hear the singing properly as the sound of the band was louder than the singer. But despite the lack of vocal power, I must admit that the band were amazing! All the music instruments were played perfectly in harmony. Kudos to the music director.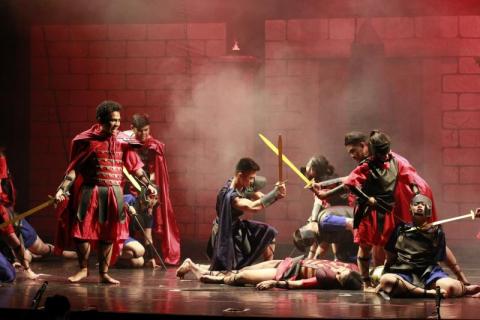 It was a good show overall, but the most memorable moment for me where suddenly there was an electricity break down for a couple of minutes in the middle of the show. But as the show must go on, the performers try to keep calm and continue doing the scene. Then one by one without noise the audience turn their phone's lights on to light up the stage. It was so beautiful. Oh how I love theatre because of this lovely moment.
Related Articles View More Indonesia

Stories

Shows
Albertus Raynaldi's passion for theater began at the age of 12 when he was asked to be a part of Annie : The Musical in (read more...)