BWW Preview: Teater Abang None presents the legend Benyamin Sueb in Theatrical Concert BABE, MUKA KAMPUNG REJEKI KOTA in September 2017
There are many stories about Benyamin Sueb, but no one has ever told his biography on stage.
Benyamin Sueb is not just a name. He is a multi-talented legendary artist mostly known for his satirical humor. Jakartans are often heard saying catchphrases made famous by him, such as "muke lo jauh", "kingkong lu lawan", "makdikipe", and many more.
For the first time, Teater Abang None Jakarta will perform a theatrical concert performance about the life journey of Benjamin Sueb in the title BABE - MUKA KAMPUNG REJEKI KOTA. Inspired by Benyamin Sueb's biography by Ludhy Cahyana and Muhis Suhaeri in 2015 titled "Muka Kampung Rejeki Kota", the Producer for the show, Maudy Koesnaedi, adds a different concept as a form of appreciation to the legend who died in Jakarta on September 5, 1995. "The idea of adding BABE as the title in this show is because during his life, he was familiarly called babe (father) as a father figure to us all. Babe is an artist who inspires people, especially Betawis. Babe's antics often remind us to stay upbeat and cheerful. This theatrical concert is a perfect choice for Teater Abang None's tenth performance, to commemorate Babe's figure".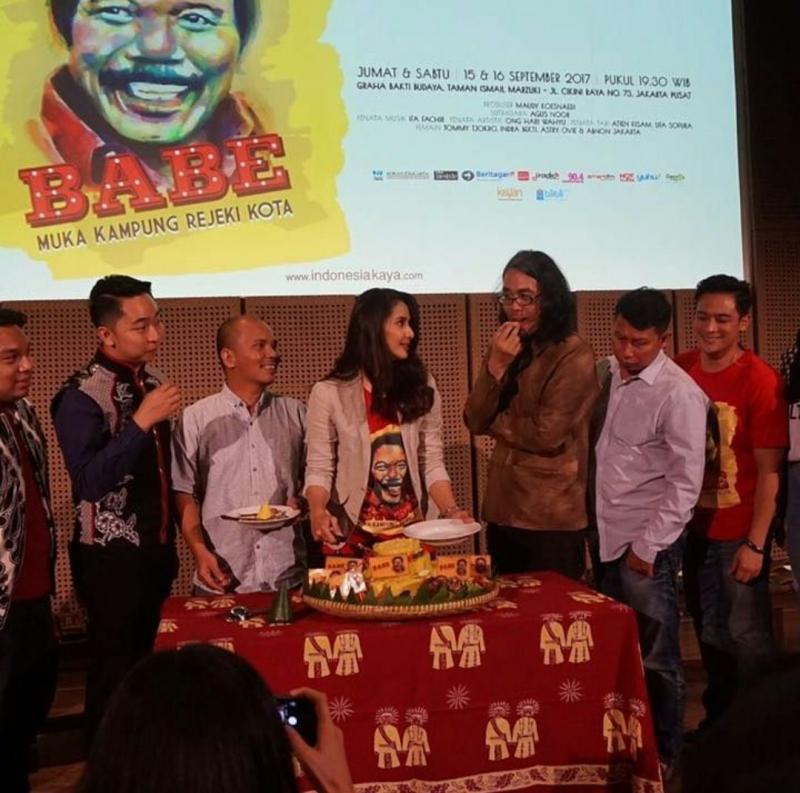 Ifa Fachir as a Music Designer has re-arranged more than 30 songs popularized by Babe to accompany the irreplaceable life of this artist. In preparing for this theatrical concert, Fachir said, "The BABE show is my first comedy-themed musical performance. I must say that working (and reworking) the great works of Benjamin Sueb is a very interesting learning process. To complete this musical, and as a token of my appreciation to Babe Benyamin Sueb, I created two songs with Simhala Avadana titled 'Karya Untukmu' and 'Muka Kampung Rejeki Kota' whose song lyrics were inspired by the titles of Benjamin Sueb's songs.
Agus Noor as the Director said, "Benyamin Sueb is known for his spontaneous and populist humor, as if inviting us to live with joy. I think this performance not only serves as a remembrance, but to celebrate the return of Benjamin Sueb with the traces of the joy he once inherited".
BABE: MUKA KAMPUNG REJEKI KOTA - 15 and 16 September 2017 7.30PM at Graha Bakti Budaya, Taman Ismail Marzuki. Director Agus Noor. Producer Maudy Koesnaedi. Cast including Tommy Tjokro, Indra Bekti, Imam Wibowo, Ayumi Astriani, Astry Ovie and Abang None Jakarta. Ticket Price: VIP Rp. 500.000, Kelas 1 Rp. 300.000, and Kelas 2 Rp. 200.000. Ticket information: Kayan Production & Communications : 083899715725, 085693427788, 081311630001, 0895372014902 or online at www.blibli.com.
About Teater Abang None
Teater Abang None is a community-based non-profit organization engaged in arts and culture, especially Betawi cultural performing arts, whose members come from alumni and those who serve as Abang None Jakarta. This community theatre stands on the initiative of Maudy Koesnaedi (None Jakarta 1993) as a form of contribution and effort in preserving Betawi culture, as well as a means to motivate and give opportunity to Abang None Jakarta to participate in the effort. Initially, Teater Abang None only consisted of Abang None from North Jakarta. They succeeded in making a performance held in 2009 titled "CINTA DASIMA", in 2010 "DOEL: ANTARA ROTI BUAYA DAN BURUNG MERPATI, KEMBANG PARUNG NUNGGU DIPETIK" and in 2011 "SANGKALA 9/10". For their 4th performace in 2013, Teater Abang None performed 'SOEKMA DJAJA" and in the end of 2015, "JAWARA! LANGGAM HATI DARI MARUNDA". Then public interest grew bigger, as well as the potential and interest from Abang None from other areas, and finally Teater Abang None opens to all regions of Jakarta. For more information, go to www.teaterabnon.com.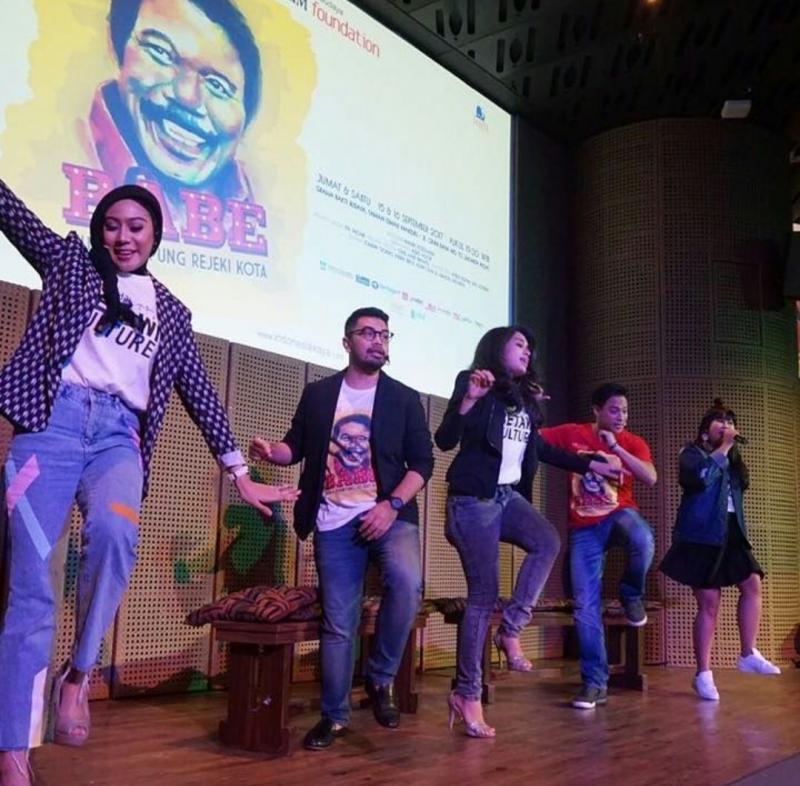 Muka Kampung Rejeki Kota, cuma Babe yang bisa bikin ketawa.
Photo credit: Kayan Production Documentation
Related Articles View More Indonesia

Stories

Shows
Originally from Jakarta-Indonesia, Yuliani graduated from Journalism and Media Studies in 2009. Aside from her busy schedule freelancing in various events, she also done some (read more...)