Photo Flash: Theatre At The Center Presents SLEUTH
Trickery and deceit take over in Anthony Shaffer's SLEUTH, which kicks off Theatre at the Center's 2011 season. This edge-of-your-seat mystery begins February 17 and runs through March 20 at 1040 Ridge Road, Munster, Indiana, with the press performance on February 20, 2011 at 7 p.m. The production, directed by William Pullinsi, stars Larry Yando and Lance Baker.
Larry Yando (Andrew Wyke) most recently appeared in Goodman Theatre's production of Candide. He starred as "Scar" in the national tour of The Lion King for three years and has also appeared at the Goodman as "Ebenezer Scrooge" in A Christmas Carol for the last three years. He was honored as Chicago Magazine's "Best Actor in Chicago" and received DePaul University's prestigious Excellence in the Arts Award. Yando has taught advanced acting classes at The Theatre School at DePaul University, Northwestern University, Columbia College and Chicago Shakespeare Theater's Classical Training Program.
Lance Baker (Milo Tindle) is a Jeff Award-winning actor with Chicago credits at numerous theaters including Chicago Dramatists, Goodman, Steppenwolf, Lookingglass, Northlight, Chicago Shakespeare, ATC, Theater Wit, Victory Gardens and A Red Orchid. His directing credits include the world premiere of Brett Neveu's The Earl, and the Chicago premiere of A Very Merry Unauthorized Children's Scientology Pageant, both at A Red Orchid, where he is an ensemble member and will appear in Machiavelli's The Mandrake in the spring of 2011.
SLEUTH has all the ingredients of a top-class thriller - a plot whose twists and turns are breathtakingly audacious and fiendishly cunning; suspense and excitement galore; and a brilliant parody of the Agatha Christie country-house thriller, mercilessly satirizing the genre at the same as using its technical devices to the full. For immensely successful mystery writer Andrew Wyke, life is an elaborate game where others are merely pawns at his disposal. He has amassed wealth and fame as a best-selling author of murder mysteries featuring the great detective St. John Lord Merridew.
Andrew Lures his estranged wife's lover, Milo Tindle, to his country manor house and proposes a plan. Milo will "steal" the jewels that Andrew owns and sell them abroad. The plan seems like a win-win situation for both men. What unfolds is a cat-and-mouse game of epic proportions as Milo becomes unwittingly drawn into a tangled web of intrigue and gamesmanship where nothing is quite as it seems.
SLEUTH premiered in 1970 at St. Martin's Theatre in London's West End, where it ran for more than 2,300 performances. After that, it moved to Broadway's Music Box Theatre where it ran for more than 2,000 performances and garnered a Tony Award for best play of the year. In 1972, SLEUTH became a film starring Laurence Olivier and Michael Caine. Harold Pinter's screenplay of SLEUTH was released in 2007 and provided a fresh take on the original film. This film starred Michael Caine and Jude Law.
The design team for SLEUTH is Scenic Designers Rick and Jackie Penrod, Lighting Designer Denise Karczewski, Costume Designer Brenda Winstead, Wardrobe Supervisor Alice Broughton, Wig Designer Kevin Barthel and Props Designer Libby Fandrei. The Stage Manager is Rebecca Green and the Assistant Stage Manager is Robert Hildreth.
Founded in 1991, Theatre at the Center is a year-round professional theater at its home, The Center for Visual and Performing Arts, 1040 Ridge Road, Munster, Indiana. Theatre at the Center is Located off I-80/94, just 35 minutes from downtown Chicago, and has free parking. Performances are Wednesdays and Thursdays at 2:00 p.m.; Fridays and Saturdays at 8:00 p.m.; Sundays at 2:30 p.m.; and select Thursday evening and Saturday matinees. Join us for our Wine Tasting event on Friday, February 18, 2011 and our Dinner/Theatre event on Thursday, March 10, 2011. Individual ticket prices range from $36 - $40. Season subscriptions for the full 2011 season are available for only $150. To purchase season tickets and/or individual tickets call the Box Office at 219.836.3255 or Tickets.com at 800.511.1552. Group discounts are available for groups of 11 or more and gift certificates, perfect for all special occasions, are also available by calling the Box Office at 219.836.3255. For more information on Theatre at the Center, visit TheatreAtTheCenter.com.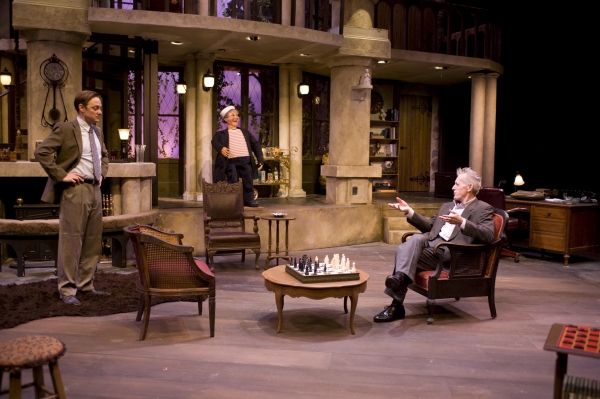 Lance Baker, Jack & Larry Yando

Lance Baker

More Hot Stories For You