Review: GHOST Wonderfully Haunts at Beef And Boards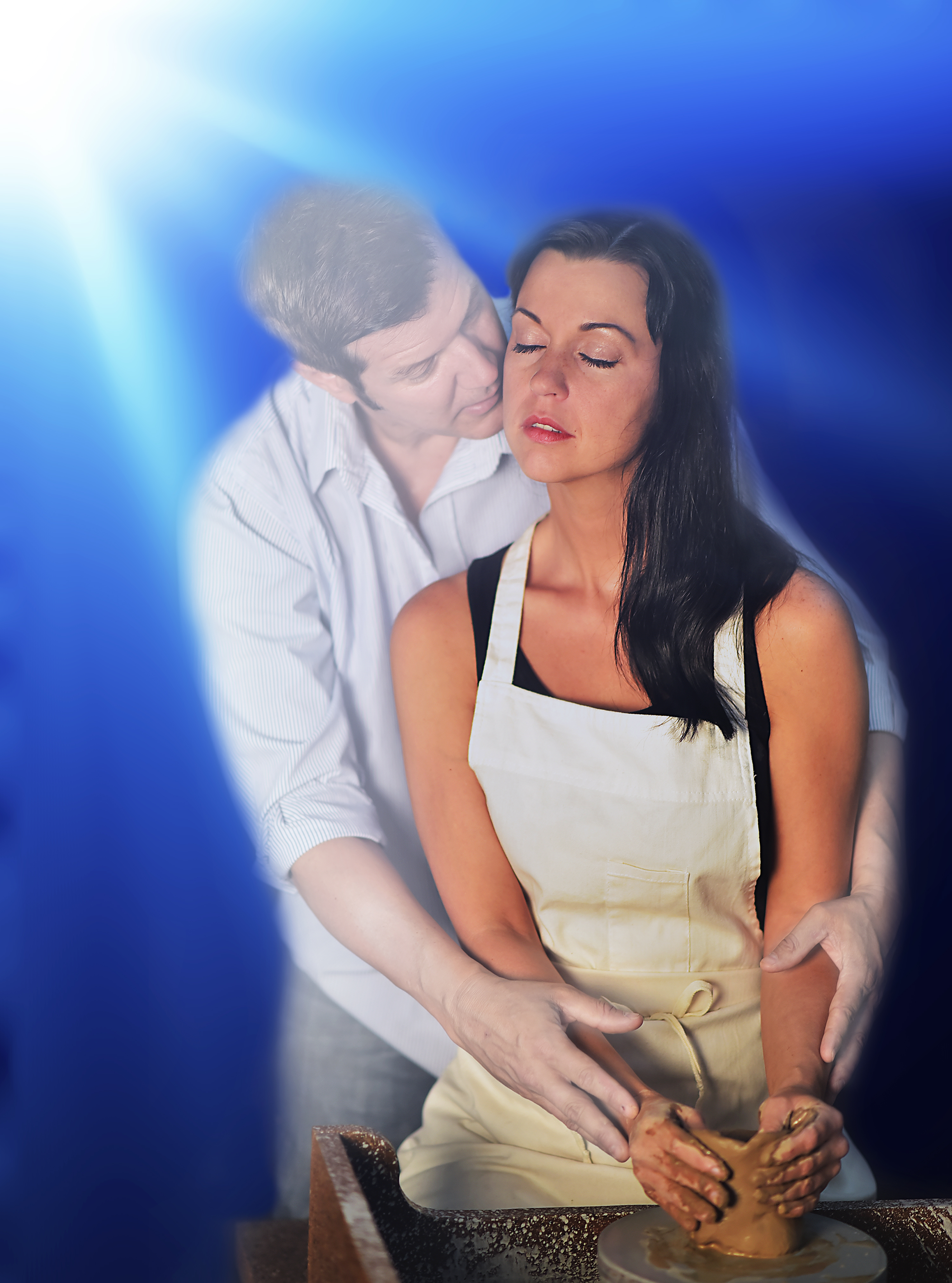 If you are a fan of the cult classic film Ghost, you will enter the musical with high expectations. Luckily, you will not be disappointed because the musical includes the presence of all your favorite lines and the requisite sounds of "Unchained Melody" underlying some of the most tender moments of this love story. What I found surprising was the ease with which the stars of this cast took on the larger-than-life roles first portrayed by Patrick Swayze, Demi Moore, and Whoopi Goldberg.
Celeste:
Andrea Laxton portrays Molly in the Beef and Boards production of GHOST with a strong presence and vocal delivery. Her performance initially evokes the impression of the girl next door. She comes across as sweet and devoted to a simple life with the man she loves. However, what is revealed through the passionate notes of "I Can't Breathe" and "Suspend My Disbelief" is that Molly's love is far deeper and more devoted than anyone could have guessed. What I most appreciated about her performance is the balance between emotion and vocal clarity. Her intonation and dynamics enhance and strengthen her character without sacrificing the integrity of the melody.
Molly's love found its equal in the portrayal of Sam by Eddie Egan. His love is most in doubt as the musical first unfolds. He does not seem to want to make a serious commitment. This is evident in the first performance of "Unchained Melody" when he jokingly takes out his guitar to serenade Molly and again when he cannot say I love you in reply to Molly. This struck me as different from the film, where Sam and Molly have a very passionate love story from the start, especially in the iconic pottery scene. While this change in plot initially perplexed me, I saw its purpose when the iconic scene did make an appearance later in the musical. As Sam's ghost sits down to hold the woman he loved and left too soon, Eddie made sure the longing and passion that had been in question before came into sharp focus with every word of "Unchained Melody," the song that had come across as hollow before his death.
Finally, one cannot help but be apprehensive for whoever has to step into the shoes of Whoopi Goldberg, who first portrayed Oda Mae Brown in the film. However, Renee Jackson rose to the occasion with the hilarity I had come to expect from her character. All of Oda Mae's lines are preserved from the film, but Renee gives each moment her own unique spin. This was a welcome addition for those who, like me, were looking to see how something so well-known could be made into something new. Her personality shone for me the most when she first makes her appearance in "Talkin' 'Bout a Miracle," an homage to her conning ways that are so quickly thrown over by Sam when she finds she really can hear ghosts. Renee is sure to let the audience know through her delivery that Oda Mae is a feisty woman who will help Sam in her own colorful way.
Dylan:
I'm going to preface this review admitting that I have never seen the movie Ghost before, so this show was a special treat for me, and I think it almost made the show an even better experience.
Coming from a large tech theater background, I would have to admit that I was completely blown away by the effects and execution during the show. As a ghost, Sam was portrayed with an eerie glow that completely conveyed his status in the supernatural world. Spotlights along with other lighting effects emphasized everyone's role and feelings perfectly. Especially during death scenes, gobos and other darker lighting made the audience feel an almost spooky feeling, which made the whole experience wonderful.
As Sam and Molly's story progresses the show obviously becomes darker, and the scenery did not disappoint either. With a more simplistic design of the various locations, the actors were not swallowed by the scenery like other shows often do. From the technical side of theater, I couldn't be happier and more impressed.
As a dinner theater, one could not pass up the opportunity to sample the wonderful food. It seemed like there was something for everyone. There was a fish, a meat, noodles, salad, and much, much more. I'd even go as far to say this is easily the best dinner theater in the Indianapolis area, and the hospitality was a definite cut above the rest.
If you are looking to relive the best moments of GHOST while also seeing it come to life in new ways, be sure to visit Beef and Boards through November 18th.