Click Here for More Articles on THE LION KING
BWW Interview: THE LION KING Becomes a Servant King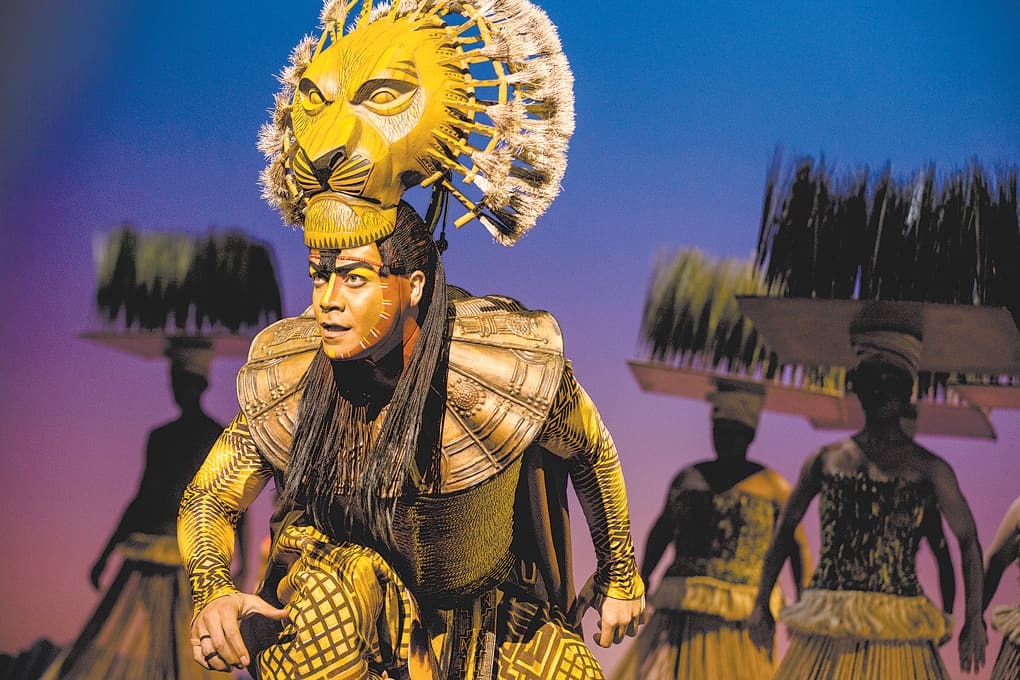 Dylan and Celeste Caraker:
We had the honor to speak recently with one of the stars of the upcoming production of The Lion King that is coming through Indianapolis shortly for Broadway Across America. Gerald Ramsey is portraying the iconic character of Mufasa and has done so for a few years now. His interview gave us great insight into what drove him to join the show and what helps ensure he continues to evolve in a role he has held for an extended period of time. Beyond that, he was very humble and gracious and truly wanted to communicate the gratitude he has to not only be a part of this production but also to promote and represent his culture.
When asked how he came to join the show, he offered a very entertaining anecdote: he auditioned because he was bribed. With a free lunch from his friend. He had never been involved in musical theater previously but instead had the most experience as a Polynesian dancer. The friend who pushed him to audition met with multiple rejections on his part, but it was the offer of a lunch that finally compelled Ramsey to take the leap. He said, "I did not expect them at all to take a serious look at me," so it didn't seem much of a risk. Once he had the part, however, he let it be known that friend was entitled to "a roundtrip ticket to any city she wanted" because it was "the least I could do for her." That is definitely a friend worth keeping!
At first, Ramsey couldn't quite find his connection to the show he had fallen into by chance, but he said he was "pleasantly surprised when I got here; there's like a spiritual connection in the Zulu culture that African music has to like the Earth and it like resonated with me as a Samoan who also was raised to love the Earth" and "our spirituality is connected to our ancestors." This connection between his culture and that of the Zulu people gave him more confidence as he joined the production. In true humility, Ramsey reflected, "I did not feel worthy at all to step into such an iconic character." This feeling of camaraderie across cultures eased the transition for him.
Another obstacle in preparing for this role was what he described as a "head-butting" between him and the director when he first joined to show over the definition of a king. "My inspiration comes from my grandfather in Samoa who was a chief, and there's a saying in Samoa," which is translated "the road to leadership is through great love, is through service." Ramsey wanted to portray Mufasa not as a lordly king but instead as a servant, one who is intent on serving his people. Eventually, he and the director worked together "to create a unique take on what a king is." This gives his performance another level of resonance, since he sees in Mufasa something more than just the master of his subjects.
One clearly challenging hurdle for someone who seeks to become the new Mufasa is to either equal, exceed, or in no way attempt to imitate James Earl Jones. Ramsey decided he'd try to make a hybrid of the film version of his character and the way it was portrayed by the actor who came before him. "I went into my first rehearsal, and I tried to do all my scenes with a mixture of those two and what the first director told me was um, that's great, but we don't want any of that. We want you specifically." To that end, he was able to incorporate his dance background, which draws on his Samoan culture and lets him bring the "mana" to the role.
When speaking of the most impactful moments for him in the show, he noted the scene where Mufasa saves Simba from the hyenas and, "he has to have this kind of a really kind of a tough talk with his son about begin disobedient and life and death. Finally also speaking to his son about the ancestors and how they live in you, which is one of the like THE song that Mufasa has to sing." Ramsey is able to draw on a deep emotional source for this scene as he remembers his own ancestors, specifically his aunt who passed shortly after seeing him in the show. This makes the song more difficult to perform but also ensures it comes from a place of true feeling. Another reason this show is important to him is "I feel like a responsibility to represent where I come from, and not just me, but also to represent for the Zulu people that I work with here. You know, I take that responsibility very seriously." He hopes that by representing these cultures, which he notes aren't abundantly represented on Broadway, could create opportunities for more people like him to frequent the musical stage.
In his final reflection with us, Gerald Ramsey wanted to share, "I was so self-conscious coming into the show, like, I don't have the degree, and I was really like hard on myself , I was like you don't have the degree and you don't deserve to be here. But then I speak to the South Africans or to elders back in the Islands, and they reminded me that we come from a culture that passed down all of our stories through song and through dance and through chants. At the end of the day, that's what musical theater is. We're telling stories through singing, through dancing and through movement, and it's kind of given me this boost of confidence of like, you know what, just tell the story at the end of the day. Just tell the story."
To see Ramsey and the rest of The Lion King production tell their story, be sure to attend between Wednesday, September 12th and September 29th.
Photo Credit: Matthew Murphy
Related Articles