Review: CHAMPIONS OF MAGIC DAZZLES AUDIENCES WITH A SHOW LIKE NO OTHER at The Hobby Center
There is only one more week of this show in Houston- be sure to see the magic happen!
I personally have never been to a magic show before. I could only imagine what a magic show would consist of...perhaps a few white rabbits, a deck of cards, and a fabulous dancer in a sparkly dress that gets cut in half. I imagined that the magicians were going to all have big, black capes and large top hats, and I wondered if there were going to be flashy lights or loud explosions. I went to the show with all these images in my mind, but due to a lack of experience, I ultimately had no expectations.
To say that the show exceeded what I was imagining is an understatement.
---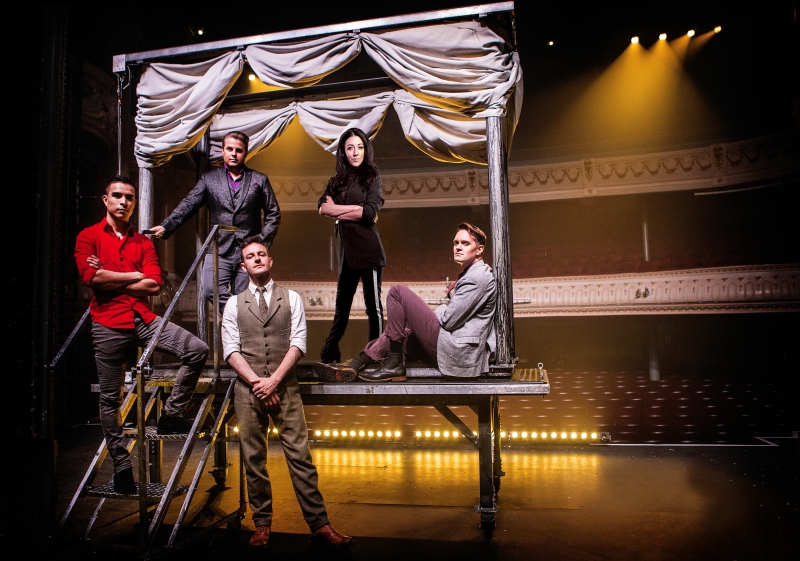 CHAMPIONS OF MAGIC consists of 5 magicians: Hollie England, Alex McAleer, Fernando Velasco, and the duo Young and Strange. I really appreciated that they seemed like such a great team; each performer had their own talents that complimented each other's, and they even had acts that had every magician involved. For example, at one point, everyone manipulated a dollar bill by changing it into a different currency, setting it on fire, and more...and then they returned the dollar bill back to the owner unscathed. At another point, all the magicians shared what inspired them to pursue careers in magic; it was fun to watch them talk about famous magicians who I had never heard of before, get an intimate look into their lives, and then watch them complete a variety of small tricks. For every single piece of magic, I found myself saying aloud, "How did they do that?" People of all ages- kids and grandparents alike- were heavily invested in the show, cheering and clapping at every mind-bending illusion. I never knew that there was a show like this, and each and every performer added a special energy to the production.
Hollie England, a performer trained in dance and musical theatre, shared that she became interested in magic after consistently getting hired as "the girl in the box". After working with many illusionists, she went on to associate produce, cast, direct, and/or choreograph many shows consisting of magic tricks and spectacles. For the performance I saw, she completed two individual acts, one of which included artwork designed by fire and another which had her somehow regurgitating needles with a dark "Alice in Wonderland" twist. You could tell that, with every step she took, she had strong dance technique and skill; each movement she did was so smooth and eye-catching.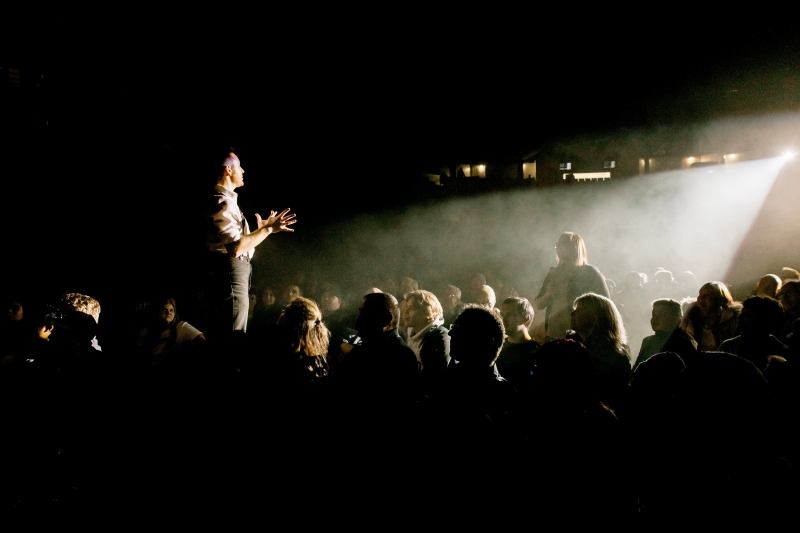 Hailing from the UK, Alex McAleer certainly was mind-blowing. He was able to tap into audience members' minds and read their thoughts at will. I have absolutely no clue how he was able to know the specific names and stories of all these different people who were strangers to him. At one point, with magical creatures called "imps", he was even able to get an audience member to read the minds of other people in the audience, and then he taught a random young spectator how to know what cards people were choosing in their mind. I adored that about McAleer's act; it was never all about him, which made his acts special. Additionally, he made such witty comments and clearly had a flair for showmanship, so despite his acts not being as decked out with technical effects as some of his fellow performers, his acts were as entertaining and mind-boggling to watch as anyone else's.
I am convinced that Fernando Velasco is the Harry Houdini of our time. During the performance, he completed large, crazy feats. One was an escape trick where he got out of a straitjacket while hanging upside down high above the stage. While he was trying to do this, he also had to avoid sharp, metallic jaws (known as the "Jaws of Death") that were timed to close in one minute.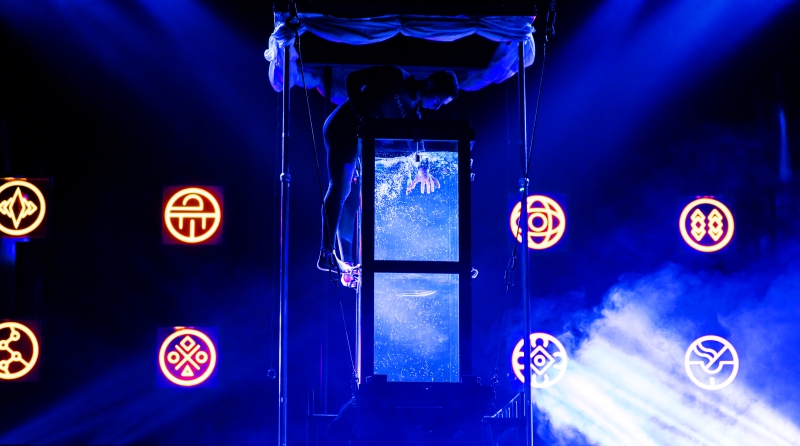 Another one was the "Houdini Water Torture Cell"; I feel that the name is a perfect description of the trick. After reading the performers' biographies on their website, I learned that Velasco is the world's youngest person to perform this dangerous illusion. For the act, he even put on a heart monitor that the audience could hear, and we were told that if his heartbeat slowed down too much, the curtains would close, the backstage crew would do what they needed to do, and we would have to sit still in our seats until they took care of Fernando. With a warning like that, I could not help but have my own heart racing while I watched him complete his final escape trick. His acts were an amazing addition of thrill to the show.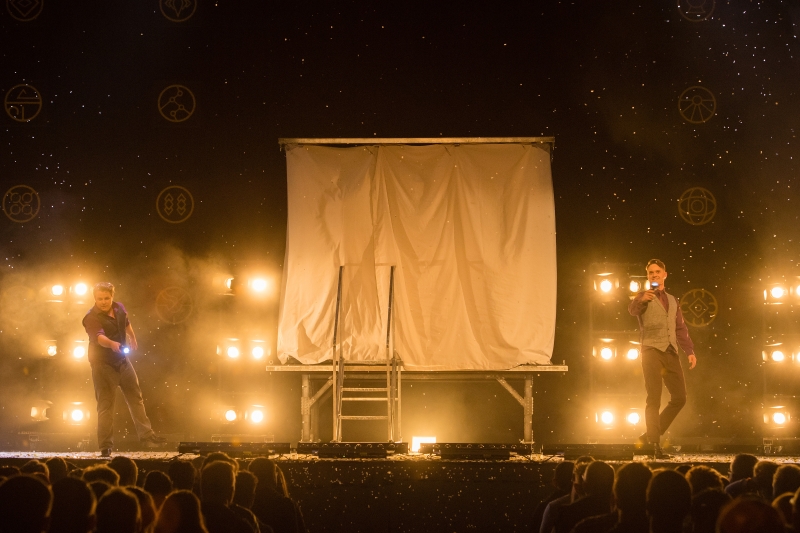 Childhood friends Young and Strange bonded over their common interest of magic when they were growing up in the UK. Their goal was to make illusions like the ones found in Las Vegas, but due to lack of money, they were forced to innovate new magic tricks, leading them to become incredibly unique magicians.
Due to their comedic genius and banter with each other, they were my favorite act of the show. They did a little bit about red lights and green lights throughout the show, which was a crowd favorite...you'll have to see it for yourself to know what I am talking about! This duo also finished off the show with a grand line of illusion after illusion that included an aerialist in a dazzling outfit and lions! Well, performers dressed as lions....but doing tricks that stunned me nonetheless! Young and Strange kept shouting, "1 more!" and I just kept thinking that they could not possibly do another trick and top their last one. After such a big finale (which included numerous lighting spectacles and explosions), the audience could not help but give a standing ovation to the fabulous show.
---
CHAMPIONS OF MAGIC is leaving the Hobby Center in Houston on February 17th, so be sure to buy your tickets here NOW! In case you miss them while they are here, they will be touring around the U.S. throughout May, so everyone can still catch them before their tour ends. Who knows, they may even come back to Houston in the future, and if they do, you bet that I will be there again to see what they come up with next! You can read more about the show and see their full tour dates here. Be sure to not miss out on the fun; it is truly a show like no other!