Brave Little Company Presents GRANDPA'S GARDEN
Performances will take place at Garza Studios, Houston Botanic Garden, MECA, The DeLUXE Theater, and Bayou Bend (MFAH).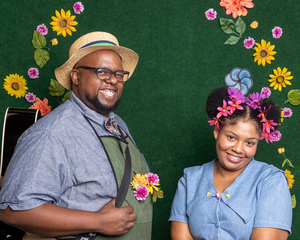 In observance of Black History Month, Brave Little Company will partner with 5 venues to present Grandpa's Garden, an original musical. This immersive and interactive piece for kids aged 5-12 and their families explores Black history through an encounter with the fictional Hollis family, and their traditions of gardening and making music. Performances will take place at Garza Studios, Houston Botanic Garden, MECA, The DeLUXE Theater, and Bayou Bend (MFAH) between Feb. 4 - Mar. 19, 2023.
The show was originally created by Brittny Bush, Rodrick Randall, Troy Scheid, and the students of Mitchell Elementary, with original music composed by and played live by Rodrick Randall. Tickets are pay-what-you-wish starting at $10, but space is limited. More information, a detailed schedule, and tickets can be found at www.brave-little.com.

Directed by Brave Little Company's Consulting Creative Director, Brittny Bush, Grandpa's Garden introduces audiences to the Hollis family. Mr. Hollis, a world champion gardener, arrives with his granddaughter Bebe to teach the audience about the value of planting your own fruits and vegetables. Bebe can't stop wondering what's hidden inside Grandpa's mysterious garden shed - and with the help of the audience, her curiosity brings the audience along on a journey into the past, through song, senses, and stories.

The sharing of stories of Black history does not need to be approached with fear, and it can feature regular families in addition to celebrated heroes. "There's a depth and a richness to Grandpa's Garden because Bebe and her grandfather are Black people whose legacy was touched by slavery," said director Brittny Bush. "They're able to have that undercurrent of a painful past, but still bring the audience into something that's very joyful. We can be present together in the moment, building, creating something together, and I think it's so healing."

Many of Brave Little Company's productions take place on an intimate scale, where audience interaction drives the plot. Grandpa's Garden is no exception, with attendance limited to 25 kids and their grown-ups for each performance. Participants are encouraged to sing along to the live music, interact with the characters, and get their hands dirty as they plant their own seeds to take home. Using the senses of sight, hearing, smell, sensation, and imagination, participants will explore not just the practicalities of gardening, but memory and tradition as well.

The creation of Grandpa's Garden was originally funded in part by a Founder's Project Development Grant from the Children's Theatre Foundation of America in 2017 - 2018. With the 2023 production, Brave Little Company returns to live, public performances in addition to its recent offerings of touring productions and alternative format theatre.