BWW Review: LITTLE SHOP OF HORRORS is in bloom at STAGES REPERTORY THEATRE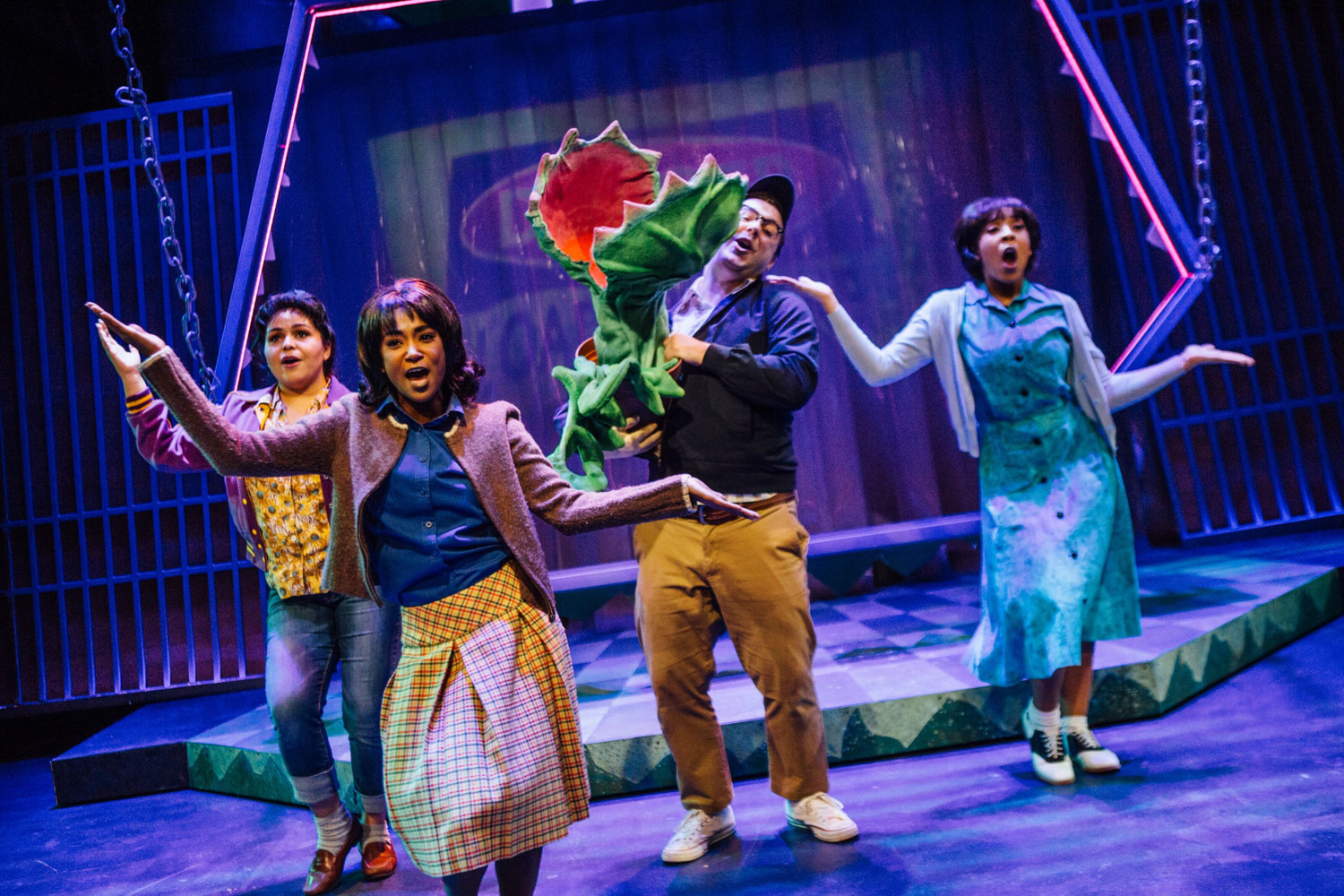 It's the right time to resurrect the 1982 off-Broadway phenomenon LITTLE SHOP OF HORRORS. It's a catchy little musical that says a lot about greed combined with materialism, and it reminds audiences of how brilliant Howard Ashman and Alan Menken have always been. The music writing team now is burned into pop culture conscience thanks to all that Disney work, but it's fun to remember a time when they wrote fast funny lyrics set to 50s rock styles. STAGES REPERTORY THEATRE is the perfect Houston company to put it on, and fitfully right before they move into a bigger venue. The show benefits greatly from a smaller intimate house and talent grown in our own backyard rather than touring pros. Don't miss this one, because like an award winning rose - it is worth seeking out while still in full bloom.
---
LITTLE SHOP OF HORRORS began as a B-grade Roger Corman movie in 1960 about a carnivorous plant that threatens a nebbish down on his luck shop clerk. The mysterious hybrid flytrap brings fame and fortune to a languishing plant store, but demands human blood to survive and thrive. Certainly the film was a cult hit in large part because a young Jack Nicholson made a cameo, but it was never destined for greatness or notoriety beyond that. In 1982 the musical version opened off-Broadway, and managed to legitimize the idea hits could happen way off the Great White Way in the seedier parts of NYC. As if all that wasn't enough, in 1986 the Geffen Company turned LITTLE SHOP into a movie musical with Muppet contributor Frank Oz directing. Since then it has become a staple of regional theaters, and has also enjoyed an inevitable Broadway revival in 2002.
Young prodigious musical director Mitchell Greco helms this iteration of the story of a plant who is out to eat the world and the sweet kids in love caught in its tentacles. The NYC Skid Row plant shop is brought to life with inventive minimalism by Laura Fine Hawkes. Bryan Ealey adds complexity with his lighting design that works in pitch black, strobes, and even neon to make LITTLE SHOP lit. Musical director Steven Jones heads up the band hidden somewhere in the ceiling that performs so perfectly you will swear the cast is singing to a backing track they rented. Technically STAGES keeps it all slight and tight, saving the fireworks for the actors to deliver. The plant seems to be rented from another production, as it has a lived in feel that still works to great effect. This one feels a bit retro and less slick than you would imagine, but it's all still very charming.
What makes this show bloom is a pitch perfect acting troupe that doesn't have a weak link at all. I was curious going in about Mark Ivy as Seymour. Most of his roles at Stages have been flashy and fabulous, but he finds a way to slip into the earthy character and disappear. Something about Seymour must inhabit Ivy's soul, and you can tell by how easily he knocks number after number out of the park all the while retaining the simplicity of the down on his luck clerk. Opposite him is Kiaya Scott who takes on Audrey, the ditzy yet super earnest love interest. She brings a fresh sense of racial diversity and man can she sing! She reminds me a great deal of Rosie Perez, and her finale take on Audrey was sweet and soulful.
Blake Jackson takes on multiple roles including a stunning turn as the sadistic dentist who thankfully becomes plant food. He manages to steal any scene he is in, and absolutely proves that he's a man of many impressive talents. Jimmy Phillips gives great authentic Mushnik as the Yiddish floral shop owner who clings to his moral compass tightly. You won't see him much after the first chorus number, but Phillip Brown gives Audrey II life as the voice of the murderous flytrap. His super bass voice and Isaac Hayes delivery of the score is spot on, and he never misses a beat throughout the evening. He's LITTLE SHOP's MVP! Anna Maria Morris, Raven Justine Troup, and Tamarah Nicole Tucker play the girl group Greek chorus, and they are such a hoot! Not only can they sing like Supremes, but they weave in and out of every scene with comic flair and inexhaustible energy all night long. I dare you to get their version of the opening number out of your head days later.
STAGES is a special type of theater that can do intimate shows like LITTLE SHOP OF HORRORS more effectively than anybody else in town. TUTS or the ALLEY would be far too big and bombastic to take this one on. It's no surprise that Mitchell Greco has done a great job bringing this one to life with the help of a surefire local cast and the slick arrangements of Steven Jones. This is the show that made artistic director Kenn McLaughlin change his profession to theater, so you know this is a production that they are all heavily invested in. They provide a retro feel in the technical department, a soulful feel in the performances, and together the two create magic that proves why LITTLE SHOP is a contemporary classic of the musical theater.
Little Shop of Horrors is at STAGES through April 28th. The easiest way to get tickets is through their website at https://www.stagestheatre.com or by calling the box office at (713) 527-0123. It's a small house, so I would advise buying tickets well in advance to avoid inevitable sell outs.