Review: DRY LAND at Mildred's Umbrella Theater Company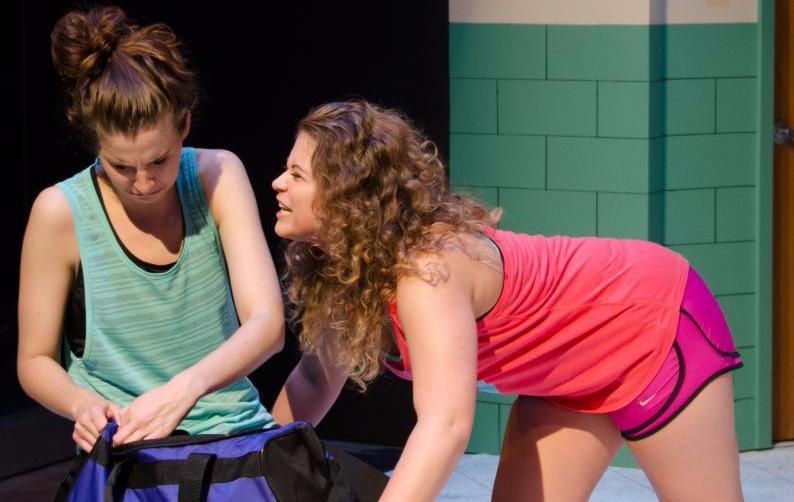 DRY LAND centers around Amy and Ester, two teenagers on the swim team at a Florida high school. When Amy decides to terminate an unplanned pregnancy, she and Ester must wade through the difficulties of teen pregnancy while dealing with the everyday tumults of adolescence like bullying, betrayal, romance, and friendship. Mildred's Umbrella Theater Company brings this weighty play to Spring Street Studios through November 5, 2016.
---
DRY LAND is a sobering look at how we as a society have sealed the pathways of communication when it comes to delicate issues like teen pregnancy and abortion. It is a reminder of the importance of sex education, the reality of childbirth, and inequitable gender role expectations. This play is dark, sweet, and shocking. It is graphic and may be offensive to some people. But if you enjoy theatre that pushes boundaries and not easily offended by sensitive topics, then you will enjoy this story.
The play opens with Amy (Skyler Sinclair) imploring Ester (Kat Cordes) to punch her in the stomach again and again. She is trying a list of pregnancy termination methods she found on a website, all of which seem unsafe and include drinking laundry detergent, throwing herself down a flight of stairs, and having someone sit on and punch her stomach. Amy and Ester's relationship is complex, and their exchanges fly in a whirlwind of emotions as the play progresses. One minute, the two are shooting funny quips and laughs, and the next, Amy is embarrassing and teasing Ester in front of fellow teammate, Reba. The play culminates in a disturbing yet realistic pregnancy termination in the locker room. It displays brutal realities of the event, something that occurs in general across our nation more often than some people like to admit. But despite the gruesome scene, there is an actual relationship developing here.
Ester is is timid, but hardworking. She wants to be liked, and jumps at the opportunity to be entrusted with Amy's secret. Amy is a bit of a sociopath, playing with people's emotions and manipulating situations for her benefit. She befriends Ester partly to use her, and partly because she knows she is the only one she can trust with her decision to terminate her pregnancy. Both actresses capture the scope of these characters on a deep level. Amy is direct, caustic, and abrasive on the outside, but on the inside, she is craving real love and friendship. Ester is the only one in Amy's life willing to stick it out to find this side of the conflicted teen.
Gabriel Regojo did well as Victor, and played him as calm and collected, but nervous nonetheless, when Ester visits him at Florida State University (FSU). Ester is there for a swim tryout with FSU. Through an arrangement through their mothers, she is set to stay the night in his dorm room. Unfortunately, Victor's roommate has a sock on the doorknob, and you can hear Victor's roommate and a girl's intermittent moans. So, Ester and Victor are stuck out in the hallway for most of the night, giving them an opportunity to bond.
The set was primarily in the locker room with only one scene change to Victor's dorm hallway. The scene change occurred seamlessly. The walls shifted, and the center wall was turned around, all in one fluid motion. The rest of the transitions went off without a hitch, the technical elements all seeming to move the story forward. The set pieces, costumes, and lighting were realistic and seemed flawless. There were a few minor concerns in terms of writing. There was one very short scene with little to no dialogue. Perhaps lights came up to soon? There were also a couple of other moments that didn't seem to move the story forward, such as their shaving scene after the climax of the play. Perhaps a second viewing would clarify why it was necessary. However, these moments didn't detract much from the relationship of the two friends developing and the overall story from being told, and if you have the chance, go see it.
---
DRY LAND by Ruby Rae Spiegel and Directed by Julia Traber runs from October 20 - November 5, 2016 at Spring Street Studios at Studio 101, 1824 Spring Street, Houston, TX 77007. This play contains graphic subject matter and is suitable for mature audiences only. For ticket information, please visit http://mildredsumbrella.com/Productions/dryland/.