Meadow Brook Theatre Announces 2018-2019 Season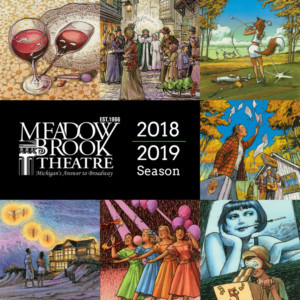 Meadow Brook Theatre's 2018-2019 season promises to please with a Michigan Premiere, a hilarious comedy, and a nostalgic musical sure to take you on a trip back in time! "This is going to be an amazing season," said Cheryl Marshall, Managing Director. "We're so excited to kick off our 53rd Anniversary with a great event this summer and such a wonderful line-up of shows!"
The summer event Marshall is referring to is the 4th annual Concert & Cuisine Benefit. The benefit event, will take place July 14, 2018 and features a boardwalk theme, strolling dinner, drinks, silent auction and one-night-only concert by The Drifters. Tickets are on sale now!
But Concert & Cuisine isn't all MBT has to offer for their upcoming season. The regular season gets underway in October and features a sure-to-please line-up of seven productions.
The season opens October 3rd with Arsenic and Old Lace by Joseph Kesselring, which will run through October 28, 2018. This classic comedy involves two spinster sisters who have taken to murdering lonely old men by poisoning them with arsenic laced elderberry wine. When their nephew Mortimer discovers their latest dead body in the window seat, he fears he may have to break off his engagement to protect his fiancée from his crazy family.
The regular season then breaks for the special 37th holiday production of A Christmas Carol, by Charles Dickens, adapted by Charles Nolte, running November 9 - December 24, 2018. Subscribers to the MBT season receive a 20% discount for tickets to A Christmas Carol.
January 9 - February 3, 2019 MBT brings audiences Ken Ludwig's A Fox on the Fairway. The farce takes audiences on a hilarious romp, which pulls the rug out from underneath the stuffy denizens of a private country club. Filled with mistaken identities, slamming doors, and over-the-top romantic shenanigans, it's a charmingly madcap adventure about love, life, and man's eternal love affair with...golf.
The third production of the 2018-2019 season is the musical The Spitfire Grill, based on the film by Lee David Zlotoff, music and book by James Valcq, lyrics and book by Fred Alley. The Spitfire Grill, is the story of a feisty parolee who follows her dreams to a small town in Wisconsin and finds herself working at Hannah's Spitfire Grill. It is for sale, but there are no takers for the only eatery in the depressed town. Newcomer Percy suggests to Hannah that she raffle it off. Best essay on why you want the grill wins. Soon, mail is arriving by the wheelbarrow full and things are definitely cookin'. The Spitfire Grill runs February 13 - March 10, 2019.
Detroit native Lydia R. Diamond's drama Stick Fly is the next show in the 53rd season. The affluent, African-American LeVay family is gathering at their Martha's Vineyard home for the weekend, and brothers Kent and Flip have each brought their respective ladies home to meet the parents for the first time. As the two newcomers butt heads over issues of race and privilege, long-standing tensions bubble under the surface and reach a boiling point when secrets are revealed. Stick Fly, on stage March 20 - April 14, 2019, is full of family conflict, romance and gasp-worthy revelations.
Running April 24 - May 19, 2019, the musical comedy, The Marvelous Wonderettes, written and created by Roger Bean, will have audiences dancing in their seats and singing along. This hit takes you to the 1958 Springfield High School prom where we meet four girls with hopes and dreams as big as their crinoline skirts! As we learn about their lives, the girls serenade us with classic '50s hits including "Lollipop," "Dream Lover," and "Stupid Cupid." When the girls reunite to take the stage and perform at their ten-year reunion we learn about the past decade's highs and lows.
The season will conclude May 29 - June 23, 2019, with the 1920's musical, The IT Girl by BT McNicholl, Michael Small and Paul McKibbins. A lighthearted tribute to silent movies and Clara Bow, The IT Girl reinvents the 1927 Paramount Picture "IT." Betty is a sassy department store sales clerk who wins an advertising contest held to find the girl with the elusive, thrilling quality known as "IT". Among those she enchants with sexy charm is the heir to the retail empire that employs her.
Season tickets are currently available by calling the Meadow Brook Theatre box office at 248-377-3300. They range from $161 - $234 per seat for the six-play season. When you subscribe to the 2018-2019 season, you may also purchase tickets for A Christmas Carol at a 20% discount before they go on sale to the general public.
Single tickets go on sale Monday, August 27, 2018 at 10:00 a.m. Tickets range from $30 - $45 for individual plays.
Meadow Brook Theatre is also proud to present their annual Children's Series. Details will be announced soon. These shows are often presented with two performances per day. So don't miss out on this wonderful chance to share live theatre with the ones you love. Subscribers to the MBT season receive a 20% discount for tickets to the Children's Series.
For additional information on Meadow Brook Theatre, please visit www.mbtheatre.com. Meadow Brook Theatre is a non-profit, cultural institution serving southeast Michigan for over 50 years.
Related Articles View More Detroit

Stories

Shows
More Hot Stories For You