BWW Review: FLY BY NIGHT at Runway Theatre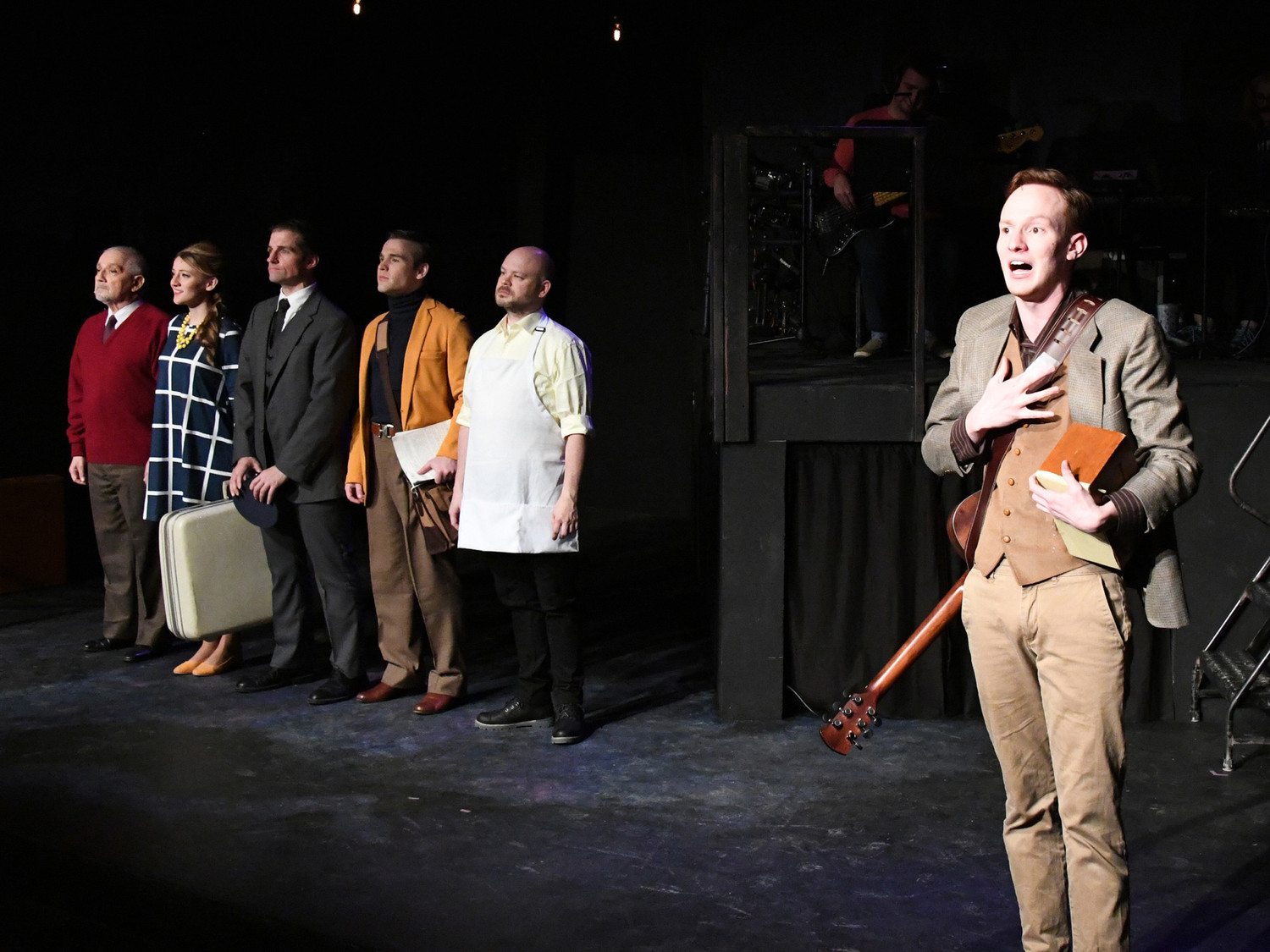 We are all connected to everything we can see and can't see. That is one of the themes of the hilarious, heart-filled, not-to-be-missed musical FLY BY NIGHT, opening this weekend at Runway Theatre.
The story of FLY BY NIGHT is a basic love story that becomes a lot less basic when you add death, a love triangle, and inescapable fate. The show takes place over the course of one specific year: 1964 - 1965. During this year, two sisters, a father and son, a playwright, and a sandwich shop owner all search for purpose and connection to those around them, as well as to the universe. However, the plot is filled with several flashbacks and flashforwards - but the addition of a narrator to guide you through the various time jumps keeps it easy to follow.
Dallas audiences may be more familiar than most with the show, as it had an out-of-town tryout here at Dallas Theater Center before its 2014 New York premiere. Not knowing how much the show has changed since then, there are definitely some real strengths, but also some opportunities. The book has so many hilarious one-liners that the audience was often rolling in the aisles, and the humor is nicely balanced with bits of reflection and some tender moments. The music is catchy and makes a great match for the story. The show is quirky, fun and charming. Sadly, it is also about 20 minutes too long. Normally, this might be blamed on the director and pacing, but that is not the case here. The authors (Will Connolly, Michael Mitnick and Kim Rosenstock) clearly had challenges deciding on a closing, as there were a couple of spots that could have been the ending. There is also an unnecessary twist at the end that does nothing to progress the audience takeaway. That being said, overall the piece is really endearing and still quite enjoyable.
However, it is the cast who are telling the story at Runway Theatre who are the reason it clicks so well. For a musical, it is a fairly intimate cast, with just seven actors - and all of them are bringing their A game. Briana Berk and Emma Bruce play the two sisters, Daphne and Miriam. Daphne is a small-town girl looking to be a Broadway star. Miriam is a small-town girl content to stay in a small town where she can see the stars in the sky. Both actresses did an incredible job in drawing the audience into their story. Their performances are honest and refreshing. If I had one regret, it was that neither of them belted their power numbers, but their musicality is still very pleasant. Billy Betsill has found his calling in the role of The Narrator. In addition to guiding the audience through the timeline, he also plays all of the minor characters in the story, and Betsill transitions seamlessly from person to person with humor and ease. Mr. McClam (Jackie L. Kemp), Crabble (Tripp Jackson) and Joey Storms (Jonathan Hardin) are all more minor characters who each get their special moment to shine, and the actors all do a wonderful job in making their moments memorable and impactful.
The standout performance of the night was without a doubt Cameron Potts as Harold McClam. Harold is a dissatisfied sandwich maker who loses his mother, distances himself from his father, and then finds himself through music. Mr. Potts embodies this role: his acting choices are spot-on, but when he opens his mouth to sing, he is perfect. There is just the right touch of nuance in his performance and he captures the audience's attention with every move.
The technical side of the show lacks a bit. The lighting design is hit and miss. There are moments where the lights are a focal point and there is some real creativity at play. But, for most of the scenes, the stage lighting was full of shadows, not lighting the correct spot or just not allowing the audience to see the actors. In addition, the music hit some bumps. The pop-rock score needed to be given more energy. Whether this was sound design or music direction, I am not sure, but the band sounded like they were all playing on mute. The sound balance between performers and band was great, though, so I am thinking this may fall more on music direction. The musicians are doing a great job: they should be heard! Neither of these technical challenges are showstoppers, but they do detract from full enjoyment or the piece. Set design by Jeremy Ferman should also be mentioned: it was a very creative use of the space to simply and cleanly indicate the multiple locations.
This story of destiny is well worth your time to attend. (I may even try to go back for a second round!) Don't let this performance of FLY BY NIGHT fly by without seeing it! It is running at Runway Theatre in Grapevine through February 17th, 2019. Tickets and more information can be found at runwaytheatre.com.