Interview: Chibueze Ihuoma of HADESTOWN at Proctors
The national tour of the Best Musical winner arrives soon to Schenectady!
The national tour of Hadestown is due to arrive in Schenectady on February 28 and will be here until March 5. If you haven't heard of it, you are missing out on a beautiful story that won eight Tony awards in 2019, including Best Musical! Leading this retelling of two Greek myths will be Chibueze Ihuoma (pronounced chih-beh-zay ee-hoh-mah) in the leading role of Orpheus. Making his touring debut, Chibueze was in Cleveland when I caught up with him.
BWW: How are you this morning?
Chibueze: Doing pretty good. I always try to do as much as I can to get sleep, but I didn't want to wake up and answer the phone from bed. So, I got up, did a little steaming and now I'm feeling like a person again.
BWW: I'm excited to chat with you and learn more of your background. What first inspired you to start performing?
Chibueze: That's a good question! I don't remember being a super singing kid around the house. My parents always played music in the car, but they had pretty much three modes: they would either play Nigerian Gospel music, Nigerian club music, or Christian Rock. Those were the only three things that ever played. I started performing first in choir: you had to choose some type of art elective in elementary school and I gravitated toward that. I really enjoyed it. I remember there was one day in fifth grade. We were doing the little Winter concert and it's all cute and adorable, but I was getting upset because I kept seeing other kids keep getting solos and I didn't understand why I didn't get one. So, I asked my music teacher how I could do a solo and she said, "Well, you have to sing for the class." I was like, "Sing for the class?" So, I mustered up all my courage - because this was the first time singing for people in any capacity. I picked the main theme from a video game I was playing, and just came in and sang it a cappella. I breathed a sigh of relief that I had done it, but people were looking at me like, "Chibueze! You can sing?!" And I said, "I guess I can!" The solo I got to do was during our LION KING medley and it was "I Just Can't Wait to Be King" and I got to sing Simba's part for it. It was very cute, and was my first moment of feeling, "Wow! This is kinda nice!" And from there, I was just singing all the time.
BWW: So, did you grow up doing theater?
Chibueze: Yes. I started theater in sixth grade. I think everyone has that shift, early or late, where you realize, "Oh! I like doing this all time! This would be cool as a job." For me, this happened while I was doing a Summer Intensive program at New Jersey Performing Arts Center. It was the first time that I did performing, dance, music, everything as an all-day thing as opposed to an after-school, extracurricular type of situation. It was also the first time I was working with proper professionals. I've been very lucky where, throughout my time learning music and theater, I've always had either people of color or specifically black men and women who were able to be teachers for me in these moments. I never had trouble seeing myself onstage because I had so many examples growing up. Someone that looks like me, someone who is Nigerian like I am, is able to perform and make a living and be happy doing this! So, that made me think I wanted to go for this myself. I did a similar type of program at NYU and that's when I knew 1) I definitely want to go to college for it and 2) NYU seems like a pretty fun time! [Laughs] At the NYU program, they gave us a report card with comments and evaluations, and one of the teachers just simply put: "This is the kind of student that we want to have here at NYU Tisch in the program ." [That's what] inspired me to eventually apply!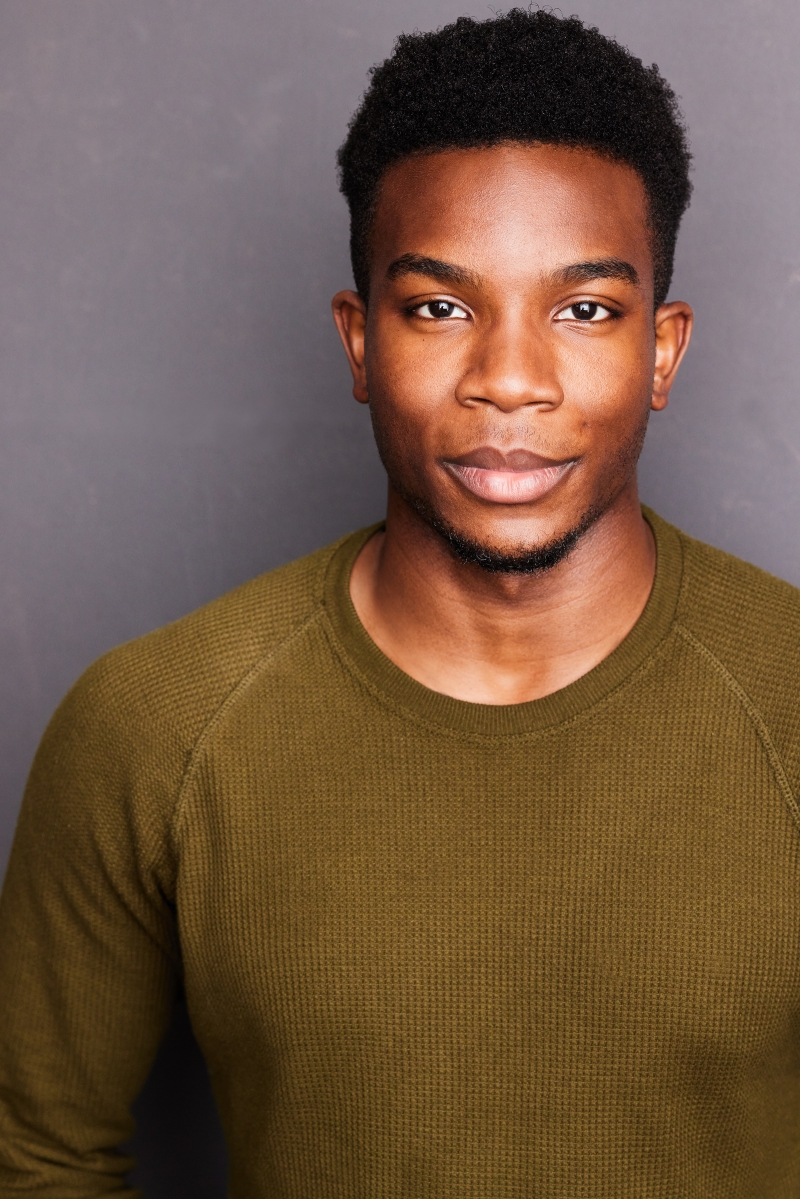 BWW: I loved reading on your website that your parents wanted you to be a doctor - so now you're "healing people" with your art. Has your family been supportive of you in this journey?
Chibueze: Yeah! It took some time, but they found their way. They definitely wanted me to be a doctor or lawyer. Some type of job where there is job security and you're doing well for yourself. That's the direction my older two siblings chose. I think up until I booked this show, they were always nervous. When they saw Hadestown the Kennedy Center with three levels of seating and over 2000 people and it was full, they were just astounded. They have always come to shows and support! That was a given. But, they started to acknowledge, one, that this is hard work, but two, that this is really quality - and he seems to be pretty good at it, too. And now, I'm happy because my little sister is in school and I was able to make her feel like she could do it, too. I hope that I'm able to be an example - for her or for anyone that wants to get into theater. It doesn't matter your financial background, ethnic background, where you're from geographically, there is a way.
BWW: Hadestown is your first national tour - and you're playing one of the leads! It feels like the show is definitely a dark horse - well-known in the theater community, but still waiting to have the name recognition of HAMILTON or PHANTOM. What can you tell us about the show?
Chibueze: Basically, this show is a retelling/remix of two Greek stories: [first is the story of] Orpheus and Eurydice, two lovers who fall madly in love with each other. The world that they live in is Depression-era-esque. Not in terms of literal politics and situations, but [it is] the aesthetic of depression and hard times. People are struggling and people are hustling. That story is told in conjunction with the story of Hades and Persephone. For six months of the year, Persephone, who is the goddess of springtime, lives in the above ground with all humans and other gods and everything is great in spring and summer. But, for the six other months of the year, she spends those months with her husband Hades in the underworld and that's what brings fall and winter. However, they are having some marital problems! So, the schedule of when she is above ground and when she is below is starting to shift a little too much into the winter, making the hard times above even harder. In our version of the stories, Hadestown isn't just the underworld for the dead - it is a huge factory town where there is work and you will have shelter and get food, but it will come at a cost. But, when you're above ground struggling like Eurydice, you have a choice to make: am I going to stay above with my lover Orpheus and enjoy times with him, but we'll be starving for most of the time, or am I going to Hadestown where I don't know fully what will happen there, but I am promised that I will be taken care of? There are themes of trust, of love, betrayal, and self-doubt in both your ability to effect change in a very harsh world and in the stability of your relationships. Hadestown is a celebration of love in all its forms and the good and the bad, and a celebration of life and community and what it means to really be alive. Is being alive simply just making enough that you can survive and keep pushing, or [is] there something more to it, a spiritual aspect of being fulfilled so you know you're alive? What are you willing to do for the person/people that you love?
BWW: Amazing. How have your audiences been?
Chibueze: One of the joys of touring with this show is that you get a really good mix of people who have no idea about the show and the opposite end are these Hadestown fans who just can't make it all the way to New York so they have been patiently, eagerly waiting to see this show - and the enthusiasm that they have when you see them in the audience, in their full cosplay or see them at stage door...
BWW: Cosplay?
Chibueze: Oh yeah! There have been tons of times when I'm singing "Wait For Me" and I'm looking at another Orpheus! [Laughs]
BWW: What is your favorite moment in the show?
Chibueze: I really love that beginning meet of Orpheus and Eurydice. They have this really cute song, "Come Home With Me," where he just outpours his love and says I want to be with you and marry you and she's like, "This guy cannot be for real! What is happening?" She is wary, but there is something about him that she sees and is pulled toward. Leading from that is the "Wedding Song" - my absolute favorite song in the show to sing. It's very bluesy, folksy. It's also my favorite because, in each iteration of the show, it's such a drastically different vibe depending on who the Orpheus is. That song is the song that will change the most; each person makes it their own and it's really lovely.
BWW: What do you hope audience members walk away feeling?
The main thing that I hope people feel is that they do have the power to change the world, whether with their voice, with their actions, on their own or with part of a group that stands up for something they believe in. They do have the power to take control of their own destinies and help mold the world into the better place that they want it to be. I also want people to know that love is at the core of that. It doesn't always manifest in lovey-dovey "I love you" type love. Sometimes love manifests in, "We love this planet so much that we are going to protest about all the things that are occurring that are harming it." Righteous anger in that sense. Or, "I love my community enough that I'm going to stand up for the injustices that they are facing and the discriminations that they are facing." But, at the root of it all, it is empathy that really changes peoples' hearts. Leading with love in your heart is really the key to both making positive changes in your own life, as well as making changes in your world.
BWW: Thanks, Chibueze. I am looking forward to seeing you and the show when you get here!
Chibueze: We were in Schenectady for tech [prior to the tour], so it will be a fun return!
HADESTOWN arrives in Schenectady at Proctors on February 28, 2023 and runs through Sunday, March 5th, 2023. Tickets and more information may be found at www.proctors.org.