Connecticut Theater's Top Picks for August 2017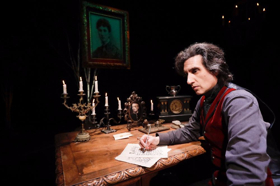 By Lauren Yarger
Summer slows down a bit for Connecticut theaters this month, but there are still some simmering selections receiving "Top Pick" status for August:
HARTFORD STAGE
Hershey Felder (George Gershwin ALONE; MONSIEUR CHOPIN). returns to Hartford Stage in another one-man show, OUR GREAT TCHAIKOVSKY, directed by Trevor Hay. Experience the breathtaking compositions of Piotr Ilyich Tchaikovsky who gave us classic like "The Nutcracker Ballet," and "Swan Lake" as brought to life by the actor/writer/musician (who also designs the set....). Nine days after he conducted the premiere of his "Symphony Pathétique," Tchaikovsky died and his death remains a mystery.
AUG. 19-27; http://www.hartfordstage.org
IVORYTON PLAYHOUSE
Remember the hot sounds of the disco rage and tunes like "Stayin' Alive," "Night Fever," "Jive Talking," "You Should Be Dancing" and "How Deep is Your Love?" Now you can relive them all with SATURDAY NIGHT FEVER at Ivoryton Playhouse, featuring most of The Bee Gees' score form the hit movie starring John Travolta. This production will star Michael Notardonato (who has played Tony twice before, and Caroline Lellouche, who starred in Ivoryton's acclaimed production of Chicago, as Stephanie. Todd underwood directs and choreographs.
Aug. 9-Sept. 3; ivorytonplayhouse.org
When the Lafayette children gather at the crumbling Arkansas plantation of their recently deceased father to catalog his estate, they discover a shameful legacy in Branden Jacobs-Jenkins' Obie-Award-winning play, APPROPRIATE at Westport Country Playhouse. Here, the family is "a metaphor for the nation, going right to the heart of important questions about who we are and where we come from," according to Director David Kennedy.
Aug. 15-Sept. 2; westportplayhouse.org