Review: FEEDING THE DRAGON at Hartford Stage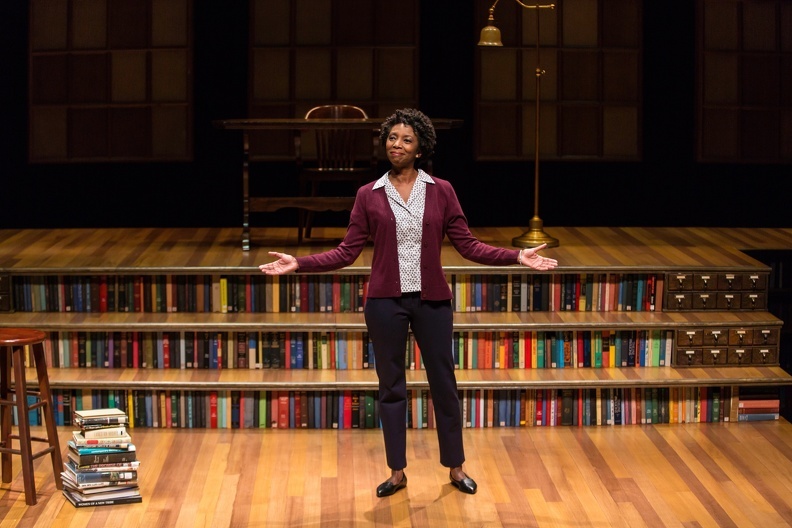 Many children dream of what it would be like to live in a unique and magical place. They dream of castles and princesses and, yes, even dragons. For most, living in a place like I have described only exists in those childhood dreams. But for one young girl, this fantasy was her life. That little girl was Sharon Washington, who grew up to become an award-winning stage and screen actress and who has created a play, FEEDING THE DRAGON, now playing at Hartford Stage, that conveys the story of her unique and colorful life.
As you might expect, the story of Sharon's life is fascinating, even just on the surface. A family living in a private, hidden away apartment above the St. Agnes branch of the New York Public Library sounds just like the plot in a children's novel. And that is the perfect analogy for this gem of a play. Sharon Washington spends the entire 90 minutes of FEEDING THE DRAGON telling her story with skill, love and the utmost of care. She does this through anecdotes and dialogue with her family members (nimbly, and skillfully slipping into her father's Charleston drawl, her mother's stereotypical New York accent, or her soft-spoken, yet wise Gramma Ma, just to name a few.) Throughout the evening Ms. Washington also interjects literary quotes (from noted African-American writers such as Langston Hughes and W.E.B. Dubois) into her story and uses imagery from classic children's literature to describe some of the more impactful scenes. It is quite apparent from both Ms. Washington's words and her expression throughout the evening that books, and the library that held them, hold an extremely special place in her heart.
While I have reviewed plays before with a single actor playing multiple roles (as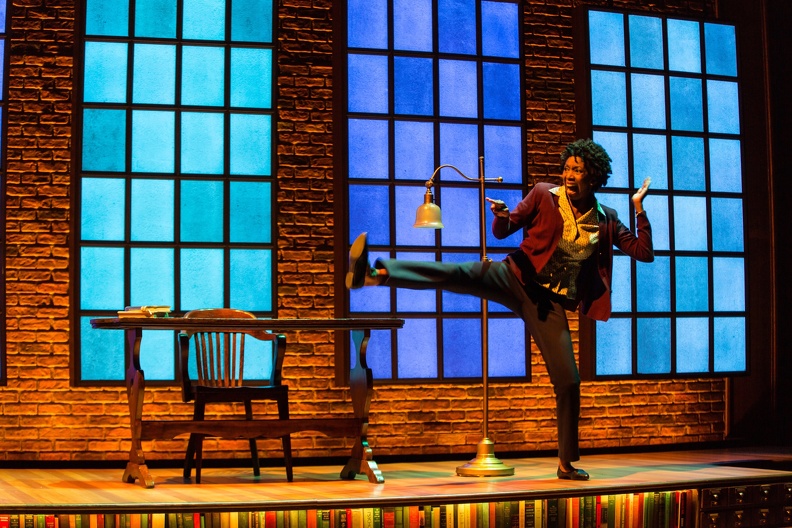 recent as THE ABSOLUTE BRIGHTNESS OF LEONARD PELKEY at Hartford Stage last year), what is so special, and so unique about FEEDING THE DRAGON is it is not only a beautiful story, performed by the author, but a story about her own life. This makes Ms. Washington's words, her emotions and her actions resonate on an entirely different level. Take that element away and the play is still brilliant, engaging and beautiful, but when you add the personal connection it makes it that much better.
FEEDING THE DRAGON is told in a series of stories (not surprising) that give the audience a glimpse into the larger-than-life characters that made up Ms. Washington's world growing up. We hear the tales of her mother and her proclivity for thrift stores, her Gramma Ma and her love of reading, and her one-legged Uncle Gene who paints beautiful scenes to escape from reality. But it is the tale of her father and his job "Feeding the Dragon" (a reference to keeping the coal furnace burning in the basement) is the one that provides the most dramatic and poignant moments and brings to light the other "dragons" lurking in The Shadows of her fairy tale life in the library.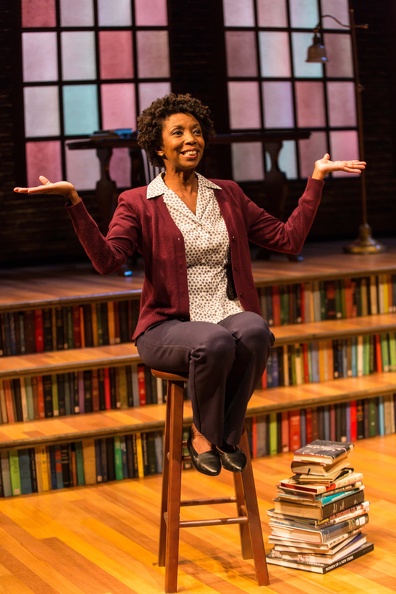 Helping bring Ms. Washington's beautiful story to vivid life is Maria Mileaf's nimble direction and Tony Ferrieri's creative scenic design (both beautiful and functional). Lindsay Jones' Music/Sound Design and Ann Wrightson's Lighting Design add an extra bit of magic to the evening punctuating Ms. Washington's tale and creating extremely effective backdrops for the story.
Overall, Hartford Stage's choice to bring Sharon Washington's FEEDING THE DRAGON to its audiences is both inspired and inspiring. The play does what every good story should - it captures the mind, inspires imagination and transports the audience to a place that seems too magical to be real (yet it was!) But considering the fact that what makes this play so special is the personal connection between writer, character and performer, it is likely a once in a lifetime opportunity to see, one that I am certainly glad I experienced.
FEEDING THE DRAGON runs at Hartford Stage in Hartford, CT through February 4th. Hartford Stage is located at 50 Church Street, Hartford, CT 06103. Performances are Tuesday, Wednesday, Thursday, and Sunday at 7:30 p.m., Friday and Saturday at 8:00 p.m., and Saturday and Sunday at 2:00 p.m. Wednesday matinee at 2 p.m. on January 24th only. Weekly schedules vary. For tickets or for more information call 860-527-5151 or visit www.hartfordstage.org.
All Photos: Sharon Washington in FEEDING THE DRAGON